Sometimes I miss the beautiful ordinary in life because I'm looking for the extraordinary. I don't know what the extraordinary looks like in your life. In my life it looks like an intimidating combination of The Duchess of Cambridge and Katie Davis.
Seriously!
I was fourteen when I was told that God had a unique and wonderful plan for my life and I instantly started trying to live up to that plan. I understood "unique and wonderful" as extraordinary. Yes, of course I did, because I was fourteen and that's what we do when we're fourteen.
Right?
Extraordinary, for the record, means, "unusual or remarkable" whereas ordinary means "with no special or distinctive feature" or — in other words — "normal". The last thing I wanted to be was ordinary. Ordinary meant normal. And normal meant boring.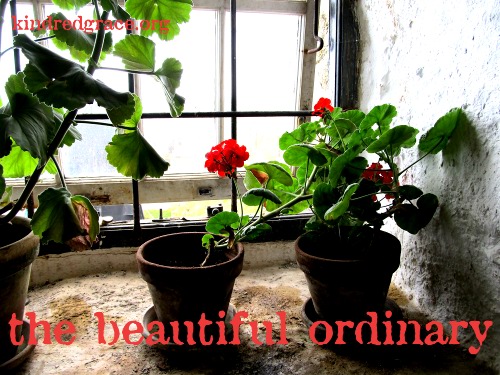 I was eight-and-twenty when I read an article by Lanier Ivester that described my resulting predicament exactly:
I was exhausted, body and soul, from striving to be and do and think and believe and say and exemplify everything that I was supposed to. (Mercies)
I thought I was supposed to be extraordinary. I was trying with all my heart to be extraordinary! And I was exhausted because I'm not naturally extraordinary. I'm naturally ordinary. Normal. Maybe even boring by the standards of a novel or the internet.
And for eighteen months now I've been learning to embrace and enjoy the beautiful ordinary.
"Ordinary", in the presence of God, isn't a bad word.
What if God has a plan for our lives (Jeremiah 29:11) that's as unique and wonderful as we are (Psalm 139:14), but not extraordinary? What if it's ordinary? And what if that's okay because we're ordinary girls?
I believe that the beautiful ordinary of my life — and your life — is far more nuanced and satisfying than any illusive extraordinary.
The ordinary beautiful is the crispy crust of a homemade loaf of bread. It's the fallen leaves, the colour of gold and fire, at the side of the road. It's the cosy figure and warm smile of a mother still living her very own romance while ushering her children into the wonder of the world that God has created.
The ordinary beautiful is the legacy of a godly woman who didn't have Facebook, but left a thousand memories of love, laughter and prayer with family, friends and strangers.
The ordinary beautiful is living quietly and simply, not striving to be extraordinary, but resting in being ordinary and loved (Ephesians 2:4-5, 1 John 3:16 and 4:19, Romans 8:35-39). It's living fully and loving generously. It's accepting the ordinary and embracing the beauty and celebrating the miracles.
And perhaps it's here, in the midst of the beautiful ordinary of the lives that He's planned for us, that we encounter our risen Lord most tenderly and truly.
When God the Son embraced our humanity, he didn't just become a human. He took on our broken humanity and everything it entails, even the ordinary and mundane aspects of human life. He embraced work, family life, learning, growing, and monotony. Jesus lived an ordinary life for most of his years, and in so doing affirmed its goodness. (You Need a More Ordinary Jesus)