Disclosure: This post contains affiliate links which won't change your price.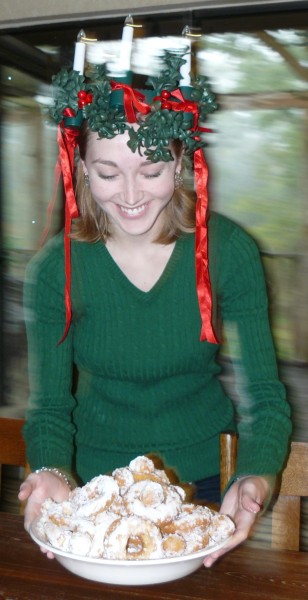 The sky was black over Stockholm when Emma Christine crept out of her bedroom behind her sisters. They tiptoed downstairs in their nightgowns, holding candles to light the way to the kitchen. Amanda took her candle and lit the wall fixtures while the other girls opened the cupboards with silent caution and pulled out canisters of sugar and flour, the jar of yeast and a worn old recipe book. With the candles flickering all around, they set to work. Finally, the sweet rolls were golden-brown and cooling on the tray. The sun leaked into the kitchen window and the sisters glanced at one another with giddy anticipation. The eldest daughter gracefully knelt down as Emma crowned her. How Emma looked forward to the day she would wear that crown of evergreen! The white candles stood tall atop her head and looked beautiful once they were lit. Emma handed her sister the tray of rolls and the careful procession began. Up the stairs, down the hall to Mr. and Mrs. Karlson's bedroom and then to the brothers until everyone had been served.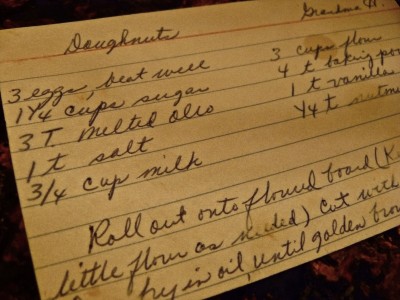 Or at least, that's the way I imagine it. Emma Christine couldn't have known at that time that she would one day take a ship to Ellis Island to meet her fiancé in New York. She couldn't have known that they would have many descendants and she couldn't have known that I would be one of them. Yet here we are, well over a hundred years later, preparing to celebrate her homeland and the traditions she brought to ours.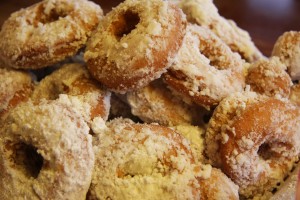 Though my family doesn't know much about Saint Lucia (and can't seem to find anyone who does!) we have our own reasons for celebrating her day. The first thing I love about Saint Lucia's Day is the tale of Lucia and the persecuted Christians. The story goes that a group of Christians had fled to the catacombs under Rome, and Lucia (who was, by the way, Italian!) would carry food to them, holding candles on her head as she made her way down. What a beautiful image of service! Lucia was martyred for her Christian faith in 304AD.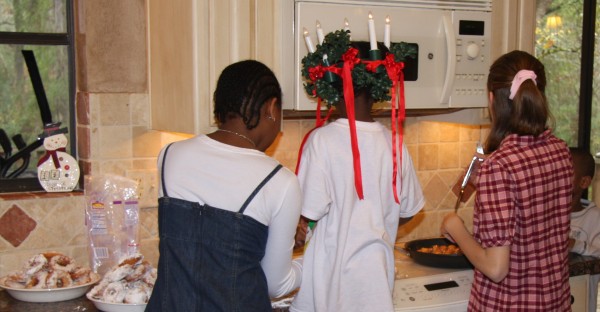 Though my family is Protestant, we love celebrating this saint's day. On December 13, we still get up and bake a Swedish recipe for powdered doughnuts that we've been using for several generations now. My eldest sister wears a crown of evergreen with a ring of glowing candles. Well, maybe they're battery-powered candles, but we imagine that they're just like the ones they wore in the days when our ancestors lived in Sweden! Sabrina serves the doughnuts to each of us, and the twelve days of Christmas officially begins! And in my family, we also exchange small gifts between the siblings on this day.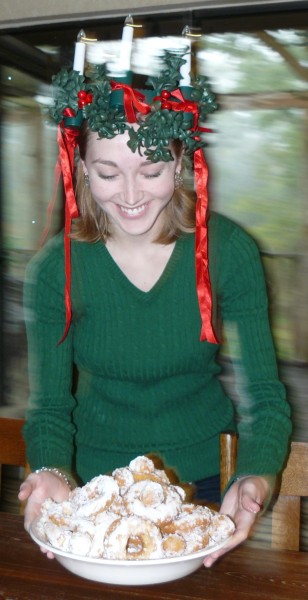 Lucia means "light." This is my favorite thing about Saint Lucia's Day. It brings our attention to the light. Not just the light bulbs on the crown, but to the Lord, our light. By His light we see light and by His grace we walk in the light of life.
Isaiah 9:2 says,"The people who walked in darkness have seen a great light; those who dwelt in a land of deep darkness, on them has light shined."
Isn't that something worth celebrating? We were once lost, walking fearfully in the catacombs of darkness. And then The Great Light came to us. And He shone on us.
So tomorrow, whether you are reading this from Stockholm (and judging my minimal knowledge on your favorite holiday) or you have only heard of Saint Lucia's Day from Kirsten's Surprise, you can enjoy the holiday where you are. Light a candle and think about the vitality of light. Think about the light we've been given through Christ.
"Arise, shine, for your light has come, and the glory of the LORD has risen upon you." (Isaiah 60:1)