"The more you know about the past, the better you are prepared for the future." (The Internet says that Theodore Roosevelt said this, but Abraham Lincoln and Napoleon Bonaparte also have been cited with similar sentiments.) The point is simple: if we're going to learn from the past to prepare for the future, not only do we need to look back, but we need to plan forward.
How many times have you been asked the question? You know the one: "What's your New Year's resolution?" TIME magazine published its "List of Commonly Broken New Year's Resolutions" a couple years ago: essentially the same list (albeit reordered) that USA.gov updated in November 2014:
Lose Weight and Get Fit
Quit Smoking
Learn Something New
Eat Healthier and Diet
Get Out of Debt and Save Money
Spend More Time with Family
Travel to New Places
Be Less Stressed
Volunteer
Drink Less
By mid-January, life has settled back into a routine of normalcy. The enthusiasm of the resolutions has worn off. The hard work of new habits has settled in. Looking forward seems overwhelming, and disheartening. Maybe you've already given up on your New Year's resolution.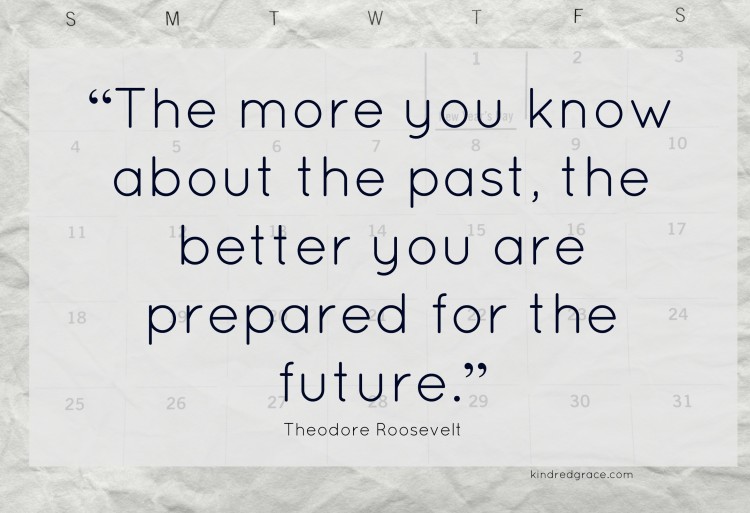 Let not steadfast love and faithfulness forsake you;
bind them around your neck;
write them on the tablet of your heart.
(Proverbs 3:3)
I love this reminder in Proverbs that we need to cling to Truth, tie God's word around our neck, write His faithfulness on our heart. God has been gracious, we can see how God has been gracious, and reveling in Him is perfect all year round — but especially as we bridge the gap between the new year and the old. It's the ideal time to remember His love and faithfulness and gracious teaching as we ponder the past and plan for the future.
Inspired by Jamie Delaine's 2014-2015 Blog Challenge (#2014blog2015), I encourage you to look back on 2014 while looking forward to 2015. Evaluate the past year through the lens of God's faithfulness while planning for victory and Truth in the coming year. Envision what you want to say about 2015 in retrospect and then do something to achieve it!
Suggested Evaluation Questions:
Look Back
What are you most proud of this year?
What was the biggest risk you took?
What did you learn this year?
What do you wish you had made more time for?
What are three highlights (business or personal) of your year?
Look Forward
What "word" do you want to define 2015?
What are three big goals (business or personal) for 2015?
What do you want to stop doing in 2015?
What things excite you about the upcoming year?
What do you want to learn in 2015?
I don't generally espouse fad New Year's resolutions: in my mind, following a trend for sake of the trend is a recipe for failure. But this idea having a vision for the year and then creating a strategy to achieve? Now that is a system I can wholeheartedly stand behind. I have answered these questions for myself on my personal blog and now it's your turn!
What has this year taught you as you prepare for the new year?