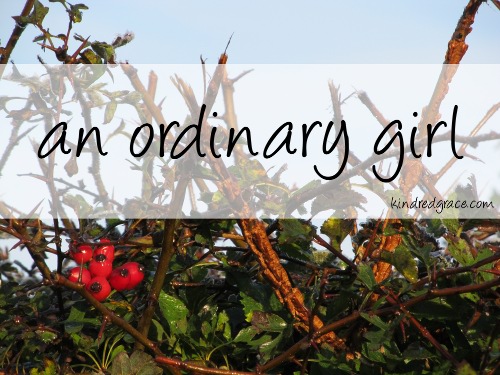 I sometimes wonder what Mary was doing the moment before the angel entered her life and said,
Greetings, favored one! The Lord is with you …
(Luke 1:28)
I wish I knew whether she was cooking or cleaning or doing something else altogether. Perhaps she was keeping an eye on her little brothers and sisters and "practising" being a mama because she was, don't forget, engaged to be married soon. Was she dreaming in her heart while she worked with her hands?
And then the angel entered her life and said that she would have a baby. The baby, this special baby, would be the long-promised, long-awaited Messiah. And Mary said,
Behold, the bondslave of the Lord; may it be done to me according to your word.
(Luke 1:38)
Mary's life changed in a moment because an extraordinary God moved into the life of an ordinary girl and she said, "Welcome!"
One of the things I love about Mary is that she was an ordinary girl. She wasn't trying to "be something" or "do something". She lived simply and straightforwardly and there's no record of her striving. She was a ponderer – a feeler and a thinker. Maybe, because she was a girl who lived in an ancient country where women often were illiterate, she wasn't a reader of the Bible. But she was a hearer and a doer and a lover of the Bible.
Mary was an ordinary girl who loved God.
And that, I think, is what made Mary His choice to mother the Lord.
I don't know where the edges blur between God choosing the day of our birth and choosing us in the midst of our generation. I like to think that He chose Mary to mother the Lord before time. And I suspect that He chose Mary knowing what sort of girl she would be and how she would mother the Lord.
She was ordinary in so many ways.
Everyday.
Humble.
Simple.
(Kind of like each one of us…although I know that I, for one, struggle with the "humble" bit.)
And yet Mary was extraordinary. Why? Because she knew and loved and welcomed God.
In the midst of our generation, striving for fulfillment and significance, we're crushingly aware of our ordinariness. We strive for extraordinariness. And all the time the secret to extraordinariness is simply to be quiet and still enough in a crazy, noisy world to know God. To love God. To welcome God.
One of God's names is Immanual.
God With Us.
We're ordinary-but-extraordinary when, everyday, we humbly and simply choose to be with Him Who is with us already.