live fully, love generously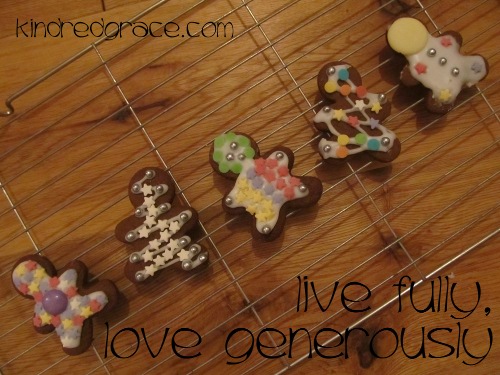 It was a bright, sunny day in spring when we gathered in the chapel for her funeral. I was raised in country chapels and this city chapel was a bit different. There were no headstones and overgrown grass in the graveyard and no rugged oaks or drooping willows — just a sheet of concrete, punctuated with a tall, thin, uncomfortable tree that was probably planted in the ruins of the blitz when the housing estate was new. From the windows of the chapel I could see the roofs and chimneys of the houses surrounding the chapel. It was here that she had lived and raised a family and prayed.
Her minister spoke. Her daughter spoke. Her nephews and nieces and grandchildren spoke. One by one they stood and spoke and they all said a variation of the same thing.
She lived fully and loved generously.
I spent a lot of time guarding my heart against love when I was younger. I'm not interested in mocking my younger self and the sincerity and sweetness with which I guarded my heart. Life was scary and uncertain. There were guys. And then there were "friends" who were careless and inconsistent. I wanted my heart to be a beautiful and perfect gift for my future husband someday.
What I didn't realise was that my heart was already marred and far from perfect because of sin. And I didn't understand that, instead of my goodness, I had Christ's righteousness. Somehow I didn't grasp the fact that I was called first and foremost to love, to give, to be generous with my heart.
I'm not suggesting that it's healthy for me to throw my heart at all the guys I know or flit from BFF to BFF. And I still guard my heart from things I believe are not of God — things like bitterness, malice and slander — and I still try to walk in purity. What I'm realising is that it's unhealthy for me to keep my heart under lock and key for fear of pain.
To live is to suffer. To love is to lose. And it's living fully and loving generously that makes our hearts beautiful and Christ's righteousness in us a living, vital thing.
I don't guard my heart against love these days. I fight fear and selfishness and an attitude of scarcity instead. I want to be known as a woman who lives fully and loves generously.
They said that her hands were always busy and full and open for others. She fed her children and her neighbours' children with food and conversation and laughter round her kitchen table. She prayed for a long succession of single women and young wives and new mothers who, over the years, made their homes in the houses that lined the streets of the housing estate. She went to a lively church and smiled at the babies and the children and the middle-aged couples who were younger than she was in years, but older in troubles. They said that when she was too old and frail to leave her home, she sat in her favourite chair all day, knitting cardigans and hats for premature babies in Africa while she prayed and prayed and prayed.
Who was she praying for while she knit one and purled one with fingers bent and twisted with age?
It wasn't for herself, but for others, including her caregivers.
She lived fully and loved generously. She didn't guard her heart from love. She gave her heart away.
To love at all is to be vulnerable. Love anything and your heart will be wrung and possibly broken. If you want to make sure of keeping it intact you must give it to no one, not even an animal. Wrap it carefully round with hobbies and little luxuries; avoid all entanglements. Lock it up safe in the casket or coffin of your selfishness. But in that casket, safe, dark, motionless, airless, it will change. It will not be broken; it will become unbreakable, impenetrable, irredeemable. To love is to be vulnerable.
(C.S. Lewis)
May God make us women with the courage to be vulnerable and give our hearts away as we live fully and love generously for Him.