You Brought Me So Much Joy, Little One (a story of miscarriage)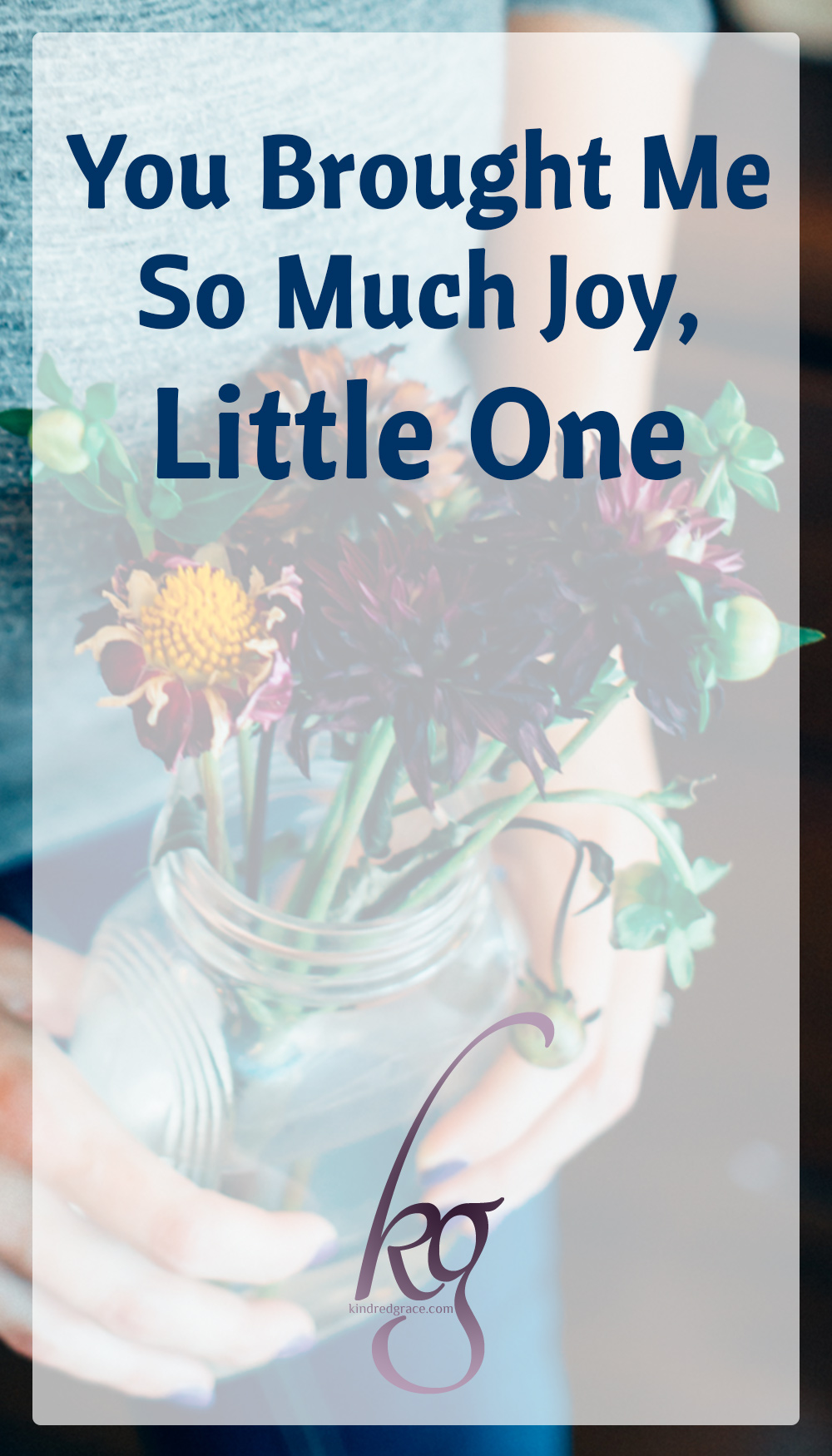 Gilia.
That's the name I chose for the little one we lost, the baby who passed from my womb before we had announced her presence.
It's Hebrew, pronounced Ghee-lee-yah, and means Eternal Joy.
She was too small to know for sure her gender, but my husband said from the moment I showed him the second line on the test, "This one is another girl." He had a perfect record on our other three, so following his lead, I decided to give her a feminine name.
We had chosen the names of our other children as prophetic blessings that we desired to speak over their lives.
In my grief, I hesitated, not knowing how to name one who would not walk out life on earth, and I hesitated, mourning the loss of daily using a name I loved—a name inspired by two great grandmothers named Gillie, mere weeks before I knew I was expecting.
It was truth from God's word that gave me confidence in my decision, and this same truth also brought a depth of comfort to my loss as I learned God's heart for my tiny baby.
"For you created my inmost being; you knit me together in my mother's womb. I praise you because I am fearfully and wonderfully made; your works are wonderful, I know that full well." (Psalm 139:13-14)
The Lord made this precious life.
As the miscarriage was becoming more and more evident, and no longer wait and see, I asked Him to let me see my baby. He was gracious to answer, and as I held her tiny perfect form, I felt such joy and sadness so delicately woven together that no one word can articulate the breadth of emotion in that moment.
"My frame was not hidden from you when I was made in the secret place, when I was woven together in the depths of the earth." (Psalm 139:14)
Others have confided that they would prefer otherwise, but for me, this was comfort. I had such awe over the Lord's workmanship seeing how he had knit her together, and while I would have much rather held her as a healthy full term baby, it felt as an honor to be let in on the mystery of the secret place.
She was perfect.
She was beautiful.
And she was purposeful.
"Your eyes saw my unformed body; all the days ordained for me were written in your book before one of them came to be." (Psalm 139:13-16)
In a world marred by sin, imperfect conditions rendered her earthly life shorter than I wanted, and I believe the Lord grieved with me as He wept for Lazarus; yet Scripture filled my heart and soul with confidence that even in her brief stay, she had a real purpose and calling to fulfill, in a plan that the Lord wrote before she was even conceived.
"Before I formed you in the womb I knew you, and before you were born I consecrated you; I appointed you a prophet to the nations." (Jeremiah 1:5)
There are many a great mysteries in these passages that I do not claim to comprehend, but each gave me a promise of hope that my precious child was, and is, loved and cherished by our creator God who made her.
And Lord, what is her purpose?
The answers could be endless, but I paused and considered all that she brought to my life, and one word came to mind: joy. Most certainly, she was purposed to bring joy!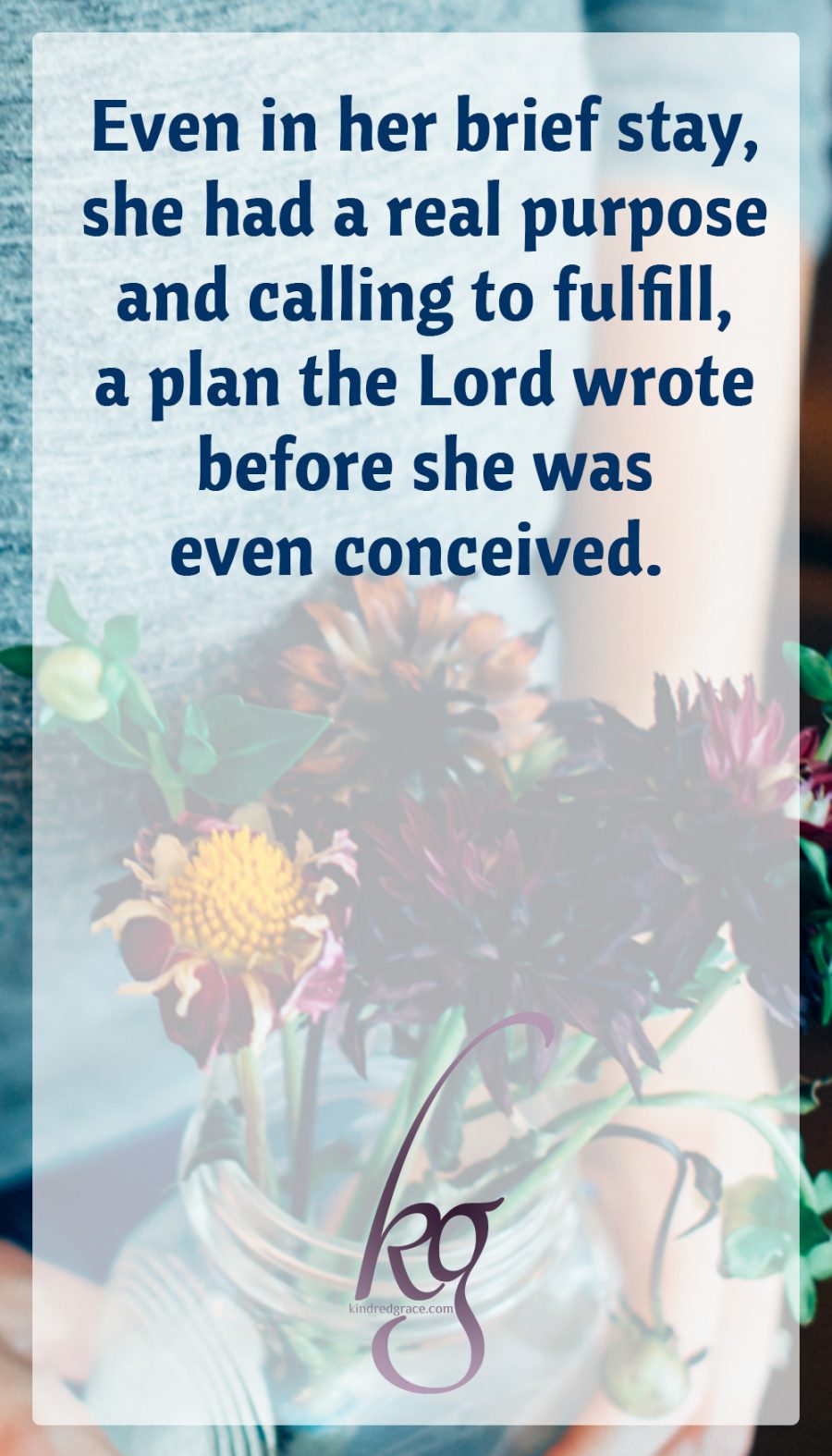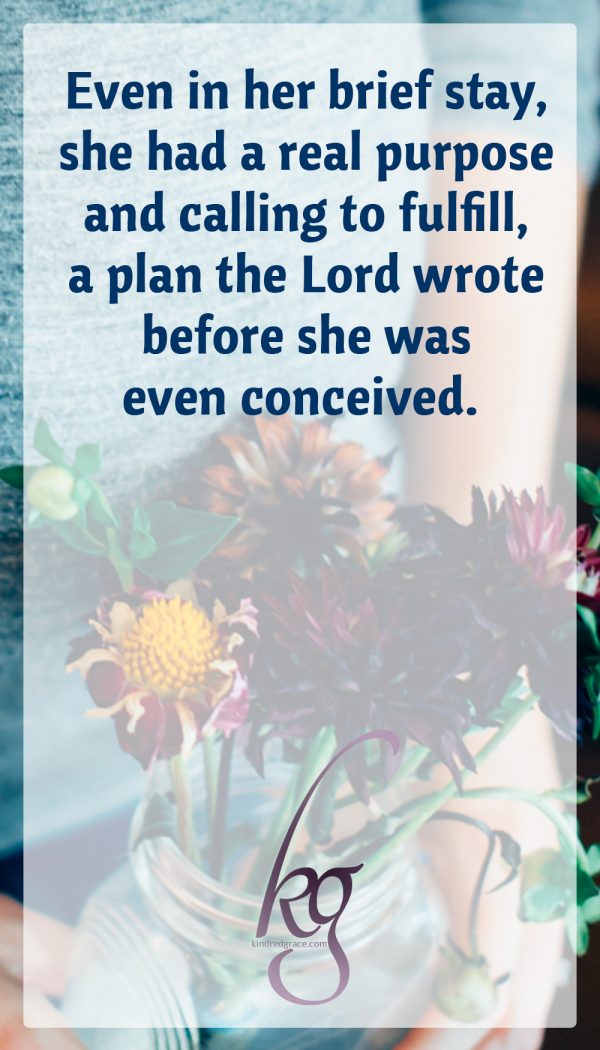 We were so thrilled by the news of the pregnancy. All of us, my husband, her siblings and me. She was a gift we received with tremendous excitement, already guessing what shade of ginger her inevitably curly hair would be! We called her Jelly Bean. We giggled, and we prayed for that little baby.
Even at her loss, a different sort of joy prevailed.
A tear washed joy at the sight of the Lord's artistry in the secret place.
A tear washed joy that comes from feeling loved and supported by friends who wrapped their arms around me, cried with me, brought us food and flowers. Friends who watched our other children while we went to the hospital, and bravely shared their own stories of loss and grief with me.
A tear washed joy. Selah.
I am so thankful that our present suffering does not compare to the future glory that will be revealed.
We will see that little one again. I was reminded just how real that meeting will be by one of my observant Jewish friends when I shared my loss with her.
"You know there's a resurrection of the dead," she said, her own eyes filled with tears.
She described a few thoughts of the wonder and mystery of the coming age and it stirred my heart.

All that she was saying aligned fully with the whole of Scripture. As Christians, we tend to think more on the spiritual side of death–that we will be in Heaven face-to-face with Jesus one day–but this more earthy reality–that our bodies will be glorified and raised from the dead–is no less true, and no less part of the story the Lord has written for each of us (see 1 Corinthians 15:20, 1 Corinthians 15:35-49).
She will walk on this earth, and I will use her name daily! For all eternity!

When that future glory is revealed, when her tiny imperishable body (and mine!) is called forth from the grave, and we walk on a restored earth together, I anticipate meeting her and saying, "Look how much you've grown." Since I knew her so tiny and small.
And even more so…
"You brought me so much joy, little one."
Because, my Gilia, she has brought me joy… and she always will.
Photography: JenniMarie Photography