Awakening: Notes from a Blue Bike
Disclosure: This post contains affiliate links which won't change your price.
It's in the winds that bring a change of the seasons. It's in the air each January. That secret expectation, that deep down longing–that things will be different, for something to change.
This year was no different, and yet, I wanted the end result to be different. I make and break the same resolutions every year. I knew I wanted more than just a traditional "resolution", I had to wholeheartedly embrace intention. I needed to make the choice to live this year on purpose, with purpose.
And then I picked up Notes from a Blue Bike by Tsh Oxenreider. It was like listening in to a big sister tell about her journey further down the road I was facing.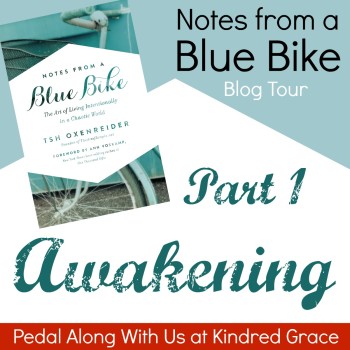 Tsh Oxenreider met her husband Kyle while living overseas. They'd both dreamed of raising a family overseas, and that they did for the first years of their marriage. But then, they had to come home. Back to the States. Back to the rat race.
Suddenly, they found that they'd exchanged one set of struggles for another. Some things were simpler in Texas than in Turkey, but others were a whole lot more complicated. And even after moving to a relatively small town in eastern Oregon, they realized:
"Living in a small town was not enough to bless us with a slower life… Living slower requires living with intention."
Notes from a Blue Bike: The Art of Living Intentionally in a Chaotic World is the tale of Kyle and Tsh Oxenreider's journey towards simple, intentional living. No longer expats soaking up life in Turkey, they longed to define the essence of what they loved about their lifestyle there and recreate it here within the busy American culture.
When they settled in to their new home in Bend, Oregon, Kyle surprised Tsh with a blue cruiser bike for her birthday. The blue bike became symbolic of their decision to slow down and savor the experience of life.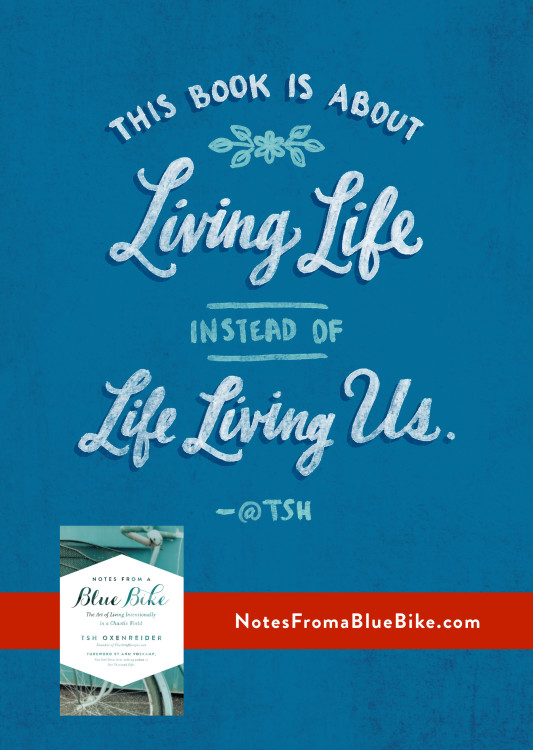 Notes from a Blue Bike reads a bit like a memoir while leaving you with the feeling that you've just heard a call to march to the beat of a different drum. Tsh's stories take you around the world and back again, from her early travels as a single to a recent trip to meet the child they sponsor through Compassion. You can hear the sounds of the open air market and smell the eggplant marinara and the strawberries she serves for dessert. Yet you're also right there with her and Kyle in the rinse and repeat life of parents of little ones. There's no doubt she's speaking from real life, yet she paints a picture so peaceful you can hardly believe it's possible–except through intentional, proactive choices to live how we were made.
"Living overseas doesn't breed this yearning: it bubbles deep down, innately in our souls. As though we were somehow made for a slower life."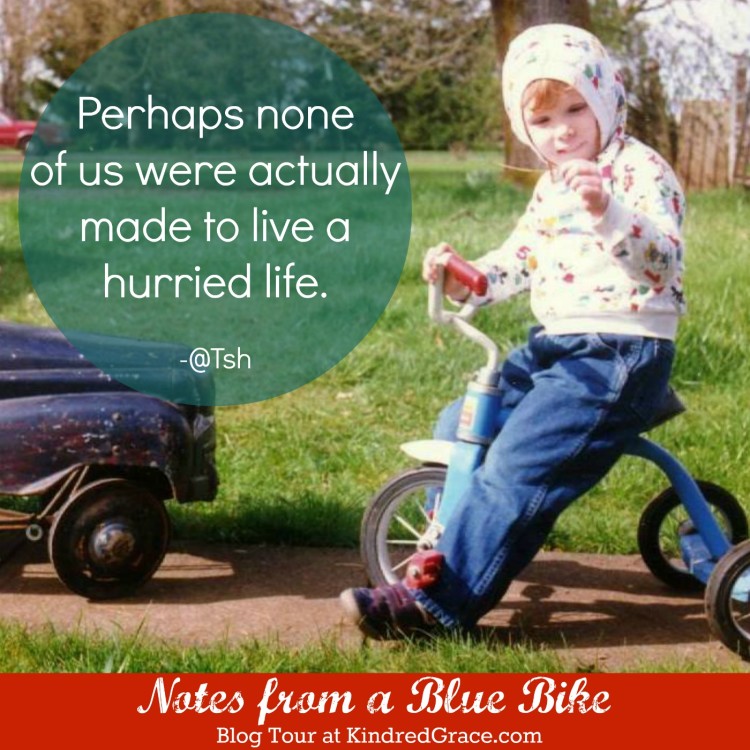 Reading Notes from a Blue Bike is like listening to the call, "Further up! Further in!" I don't think you'll be able to resist the call if you've already had the awakening.
Have you taken any steps towards living a more intentional life this year?
Blog Tour & Giveaway!
We're excited to bring you a week-long blog tour of Tsh's book here at Kindred Grace. Each day one of us will be discussing one of the seven parts of Notes from a Blue Bike. And, we get to share a copy of the book with one of you! Use the entry form for your chance to win, and then be sure to subscribe so you don't miss out on the rest of the series.
Notes from a Blue Bike

Pedal along with us…
Disclosure: Members of the Kindred Grace Team were provided with review copies of Notes from a Blue Bike in exchange for an honest review. Giveaway copy (available to winner with US mailing address only) provided by Tsh Oxenreider and Nelson Books. Links are affiliate links and your purchase of Notes from a Blue Bike through these links will help support Kindred Grace, at no cost to you!