the gift of entertainment
Disclosure: This post contains affiliate links which won't change your price.
I was raised without a TV. Perhaps that's why Tsh Oxenrider's passion for a life that isn't dominated by a television resonated. To me, it makes perfect sense, of course there's more to life and entertainment than a television.
Entertainment, in all its forms, is so easily accessible in our technology-soaked culture; we can hardly imagine a life where it's not an arm's reach away.
[email protected]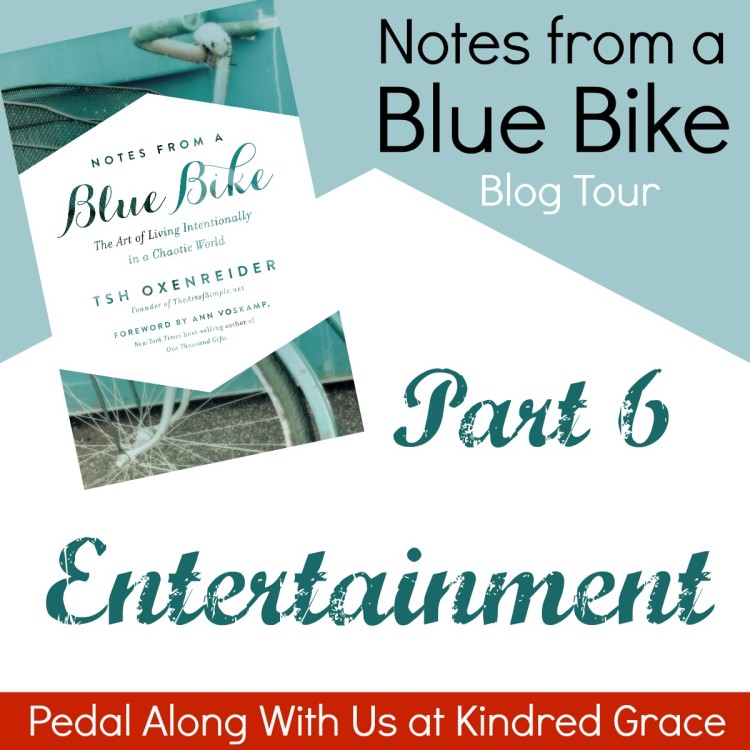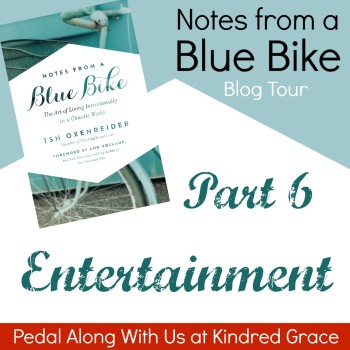 In her new book, a lyrical and amusing but convicting memoir/manifesto called Notes From A Blue Bike, Tsh Oxenreider describes her family's relationship with entertainment. I read about a lifestyle in which television programs were a treat. And then I read about an all-too-familiar lifestyle in which the television was a necessity, a right, a tool for entertainment and escapism. I still don't have a television or miss television programs, but I found myself thinking of the big screen in my life, the computer.
A healthy measure of intention (and tenacity!) is required to live a slow life in the busy, noisy, instant world of entertainment: documentaries, films, blogs, books, music, art and photography. Here are three ways in which I'm hoping to be intentional in the area of entertainment.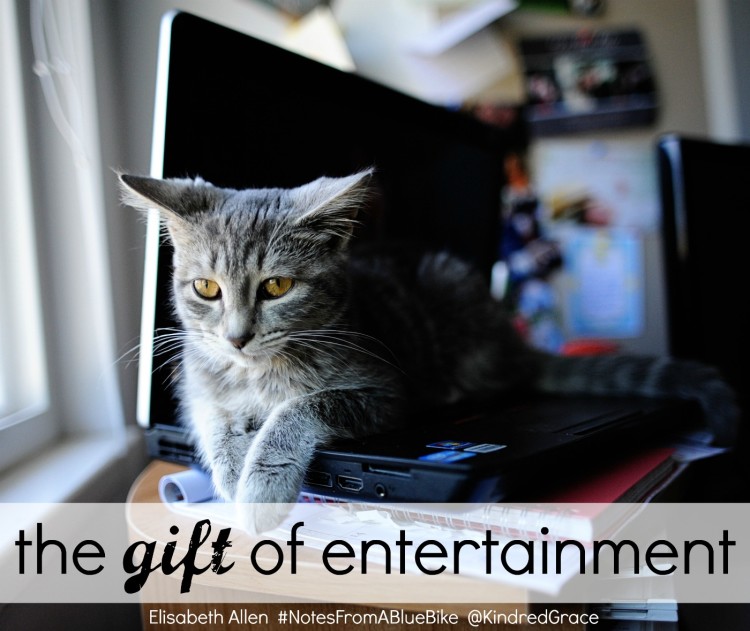 1. Receive entertainment as a gift rather than a right.
Although I don't have a television, my family and I have a DVD player and television screen, with which we watch documentaries and films. I have a computer, too, on which I read blogs. And, of course, I have an ever-growing library of books which I read. None of these things are wrong. The point is that all of them are a gift. None of them are a right. What if I receive each of them as a gift? I might receive with gratitude and savour each of them rather than rushing from film to blog to book to Amazon for more.
When we're intentional about what we watch, it's a lot more entertaining to watch it.
[email protected]
2. Find entertainment in life.
I work with children in school one day a week and I am almost constantly entertained by their funny ways of working and adorable sayings. My life is full of entertainment! Watching the birds flit in and out of the branches of the tree outside my bedroom window, hanging my wet washing on the line, making a loaf of bread or a cake for tea all count as entertainment. I adore taking photographs and that's entertainment of a deeply creative, personal nature. And although I'm usually busy rather than bored, when I'm seriously tired, I struggle with boredom. I'm susceptible to the allure of the computer and access to the internet. What if, instead, I sew or paint or play the piano even if I don't do any of those things expertly?
Life has never promised us non-stop parties and parades. But our everyday rituals can also become our entertainment, if we let them.
[email protected]

3. Refuse to allow entertainment to blind my heart to the reality of both the beauty and the brokenness of the world.
My impulse, especially when I'm overwhelmed by the brokenness of the world, is to hide between the pages of a book. What if, instead, I faced the brokenness? I might not be able to do anything big to make it better, but I might be able to do something little, which together with the efforts of others might make it a bit better. And I might see more of the beauty of the world too.
I wanted our family to recalibrate our values back to where we knew they belonged, our souls tender and open to the world and the people in it.
[email protected]
How do you dream of being intentional in the area of entertainment and what's the one thing you can change today? Leave a comment and then use the entry form below if you'd like a chance to win your very own copy of Notes from a Blue Bike to enjoy!
Pedal along with us…
Disclosure: Members of the Kindred Grace Team were provided with review copies of Notes from a Blue Bike in exchange for an honest review. Giveaway open to entrants with US mailing address only, please. Links are affiliate links and your purchase of Notes from a Blue Bike through these links will help support Kindred Grace, at no cost to you!
Photo Credit: Jenni Marie Photography