Disclosure:
This post may contain affiliate links which won't change your price but will share a commission.
Four jars sit on my windowsill — a little scoop of sand from a special place held in a timeless embrace of memory in each one. The jars have traveled with me from apartment to apartment, house to house. The clear glass on one jar in particular is a bit smudged and cloudy, wearing its age like a badge. Though the glass is murky, the memories from that particular jar are clear and bright.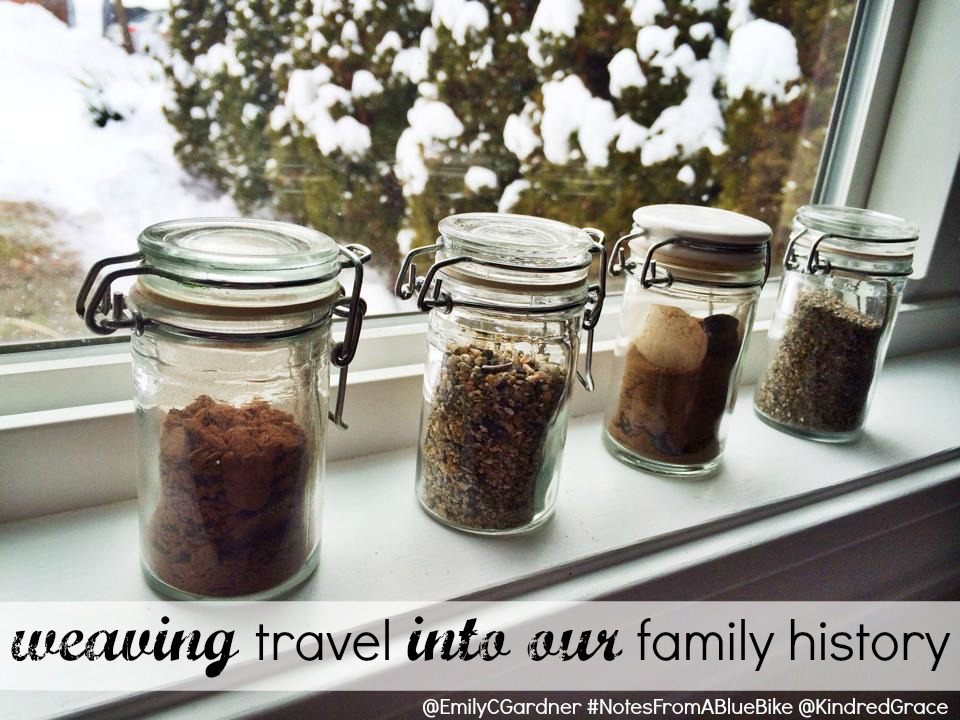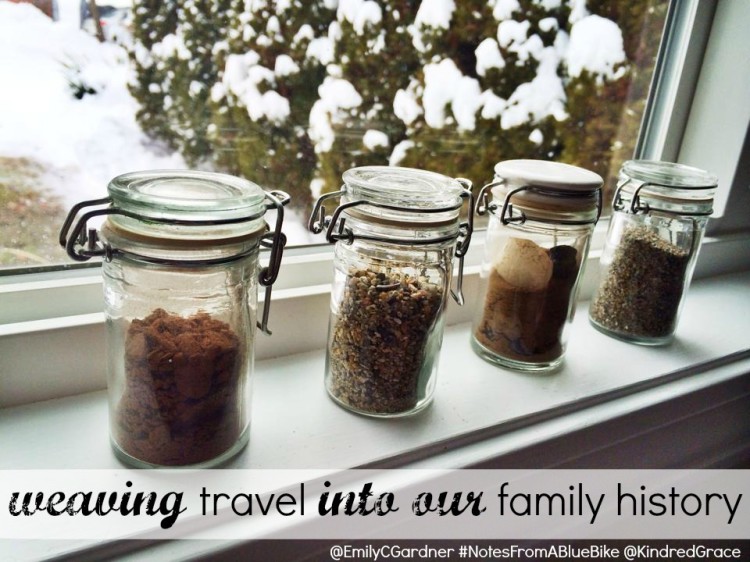 The dirt in that jar was scooped into a plastic baggie seventeen years ago along one of the famous red dirt roads on Prince Edward Island. I could just hear L.M. Montgomery's descriptions of the silver sea and waving beach grasses giving way to green hills and the spooky woods as I stood there in the midst of the beauty I had only read about.
I was on my first international trip, albeit only Canada — an elderhostel for grandmothers and granddaughters to explore PEI through the lens of Anne of Green Gables. My grandma, a world traveler herself, gave me both the gift of exploration and time on that trip. We stayed in a large house along that red dirt road from which I had collected my sample with other Anne enthusiasts. We visited lighthouses and Anne landmarks and the actual Green Gables. We made raspberry cordial and ate tea sandwiches. We toured Charlottetown and ate Cows ice cream. I got to discover a world I had only read about and spend quality time with a special family member — a treasure on both counts. That treasure is now housed in a smudged glass jar on my windowsill.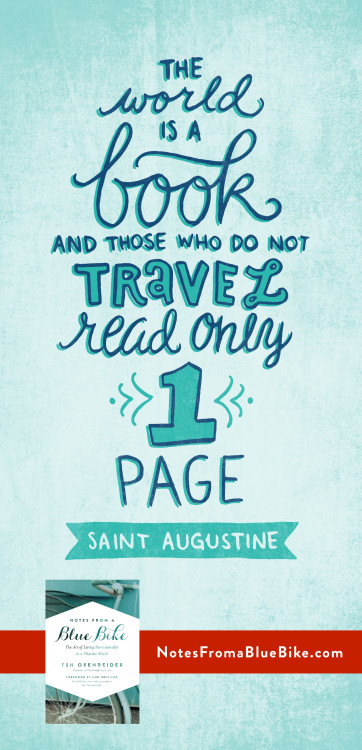 That trip was the first of many travel adventures. I started habits on that trip, like keeping a journal and collecting sand/dirt from special places, that I still do years later. That trip began to teach me the importance of stepping out of my comfort zone, even if it's just trying steamed mussels for the first time. That trip taught me to rely on my Heavenly Father, instead of myself, when I felt out of place or alone. (As a ten-year-old, I definitely had some homesick evenings.) Though I didn't have the words to describe it at the time, I started to appreciate the differences in people's stories on that trip. I began to see that not everyone has the same history and experiences and that is what makes life interesting and beautiful. On that trip, I got a glimpse of God's glorious creation and how we are utterly privileged to live and explore its vast expanses.
In her book, Notes From A Blue Bike, Tsh Oxenreider writes,
"When we travel, no matter how near or far, we share moments that shape our family culture."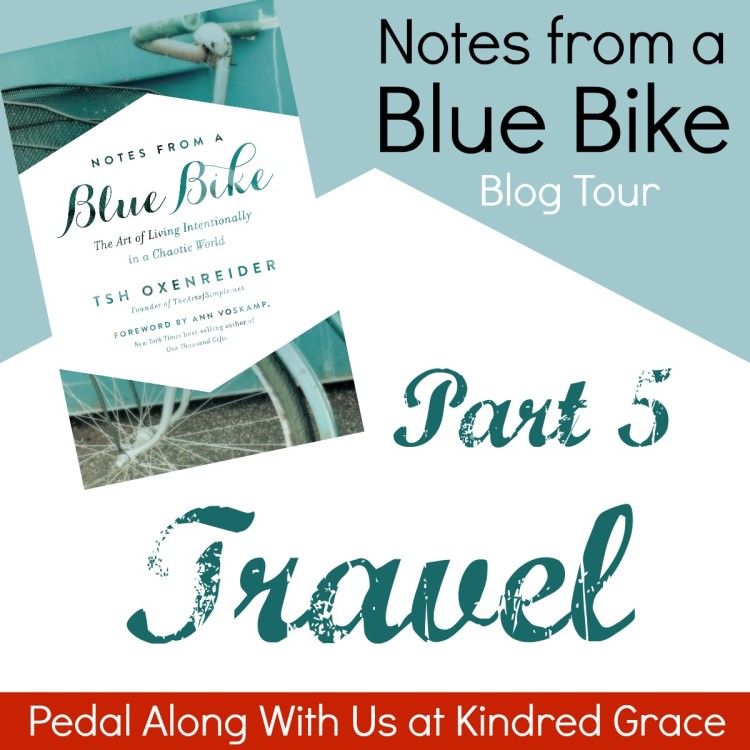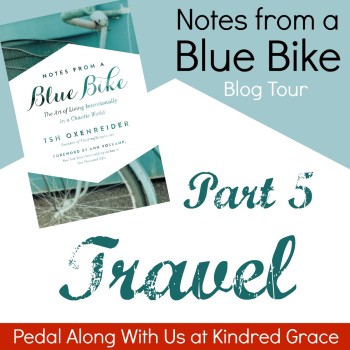 I am thankful that my travel experiences did not end with that trip to Prince Edward Island. I have studied overseas, served in different countries, and explored the majority of our fifty states. All those experiences have shaped my own belief system and worldview. I bring those experiences into my marriage and, now, into my child's life. I'm looking forward to weaving travel into our family history and adding more jars to our windowsill.
Blog Tour & Giveaway
What's a special travel memory that you have? Are there some habits you have developed through travelling–or wish you'd started on your first trip? Leave a comment and then use the entry form below for a chance to win your own copy of Notes from a Blue Bike.
Pedal along with us…
Disclosure: Members of the Kindred Grace Team were provided with review copies of Notes from a Blue Bike in exchange for an honest review. Giveaway copy (available to winner with US mailing address only) provided by Tsh Oxenreider and Nelson Books. Links are affiliate links and your purchase of Notes from a Blue Bike through these links will help support Kindred Grace, at no cost to you!