If I learned how to choose Christ while in college, I learned how to cling to Christ while studying abroad.
Ever since my brother came back from a semester studying in England, I was determined to spend time overseas during college. I had the whole thing planned out by the time I started my freshman year at William Jewell College. And, for once, things turned out exactly how I planned.
I spent a semester in Oxford studying C.S. Lewis and Jane Austen, meeting one-on-one with Oxford University tutors (professors) to discuss essays I had written, then read them aloud. For someone who doesn't like to speak in front of people, that style of education was beyond intimidating, but turned out to be exciting and stimulating.
The next semester, I studied in Tuscania, Italy. I wasn't thrilled by Jewell's established programs in Italy, so I did some research and found Lorenzo de'Medici, a fine arts program that had a location in a small village an hour northwest of Rome. I opted to live with an Italian family and learned more about the language and culture through them than in my classes.
These two programs were vastly different in almost every way — the language, the culture, the food, the schooling. With little more than a desire for adventure, I had knowingly thrust myself into two disparate situations.
And adventure I got. I traveled all over Europe, became semi-fluent in a different language, made new friends, and studied hard. But in the midst of adventure, I was hit hard with circumstances that seemed to conspire against my faith and emotions.
One of my most earnest prayers before and during each semester abroad was for spiritual support. I knew from the past two years in college that having community and accountability from other believers was a necessity for spiritual survival.
What I found in Oxford was an apathy that belied a country so steeped in religious history. For many people, tradition and liturgy overshadowed a personal relationship with the living God. I was forced to cling to the Spirit residing in me to combat complacency in my own walk and give me strength and courage to stand up for my convictions. God provided a spiritual home-away-from home at Calvary Chapel Oxford, where strangers felt like family.
In addition to the scholastic and spiritual challenges, my time in Oxford was marked by emotional distress. My gramma passed away near the end of my semester. Her death wasn't a surprise, but I wasn't prepared for the piercing grief that followed. The physical distance from my family forced me to fling myself into the waiting arms of my invisible, but very present, Abba.
Italy was no different in the flinging department. With the isolated location and language barrier, finding a church to attend was virtually impossible. I clung to God's faithfulness and provision that I experienced the previous semester, while I defended my faith and convictions on almost a daily basis in Italy.
I spent many evenings sitting around my host family's kitchen table, pocket dictionary in hand, trying to explain in broken Italian who Jesus Christ is in my life. Not only was I being held accountable for what I was saying by people who weren't even believers, I was also being forced to think through and articulate what I believe and why I even believe it.
The grounding element during my year abroad was the knowledge that God was with me wherever I went. Before I left, my mom had given me a thin Bible that would be easy to travel with. The verse she penned in the front cover became a constant reminder and source of hope while I was overseas.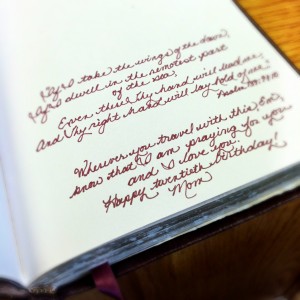 "If I rise on the wings of the dawn, if I settle on the far side of the sea, even there your hand will guide me, your right hand will hold me fast." Psalm 139: 9-10
During the two semesters I spent on the "far side of the sea," I learned first-hand the importance of clinging to the reality that God will be with me wherever I go.
Emily is a Southern California native starting a new adventure in Northern Idaho with her youth pastor husband, Tim. She is adapting to cold weather, learning to be a Godly wife, and drinking a lot of coffee. She loves partnering with Tim to serve students and is passionate about seeing young women find value in Christ.