4 Keys to Surviving the Unscheduled
Event planner, wedding coordinator, small group leader, mentor, oldest of twelve children, and chief cook and bottle washer. Planning and scheduling are not just what I do, they are who I've become. My entire life is made up of schedules and game plans – I thrive on them! I also love adventure, but only when it's properly scheduled, of course.
So what happens when an adventure occurs that is not scheduled? Like bad weather, delayed flights, or a burned dinner? Our greatest strengths can also be our greatest weaknesses, so while having everything under control made me a great event planner; it also created a need in me to always be in control. This became my greatest downfall, and frankly, sin. Add a good dose of perfectionism to the mix and you have me: a professional on the outside, a basket case on the inside.
If you plan anything in life I can guarantee you one thing – that plan will change to some extent. Whether you are a recovering control addict like me, or you just get frustrated when plans are changed, I'd like to share with you a few of the lessons the Lord is working in me that have brought me more freedom, peace and security than I have ever known.
Surrender
It doesn't matter if the interruption is a child's one hundredth question that day, an illness, a change of direction in a relationship, or rain during an outing. Big or small, recognize it for what it is — a frustration and an interruption. We can't deal with something we won't admit to ourselves or don't realize. If you are feeling worried or irritated, call it out in yourself.
One of the meanings of surrender is to relinquish. The harder we grasp for control in a situation, the more it will spin out of control. Control is simply an illusion we make for ourselves to feel better. But that's not the way to peace. Peace comes in the acknowledgement that the control belongs to the Lord; in relinquishing the lie that we have our plans under control.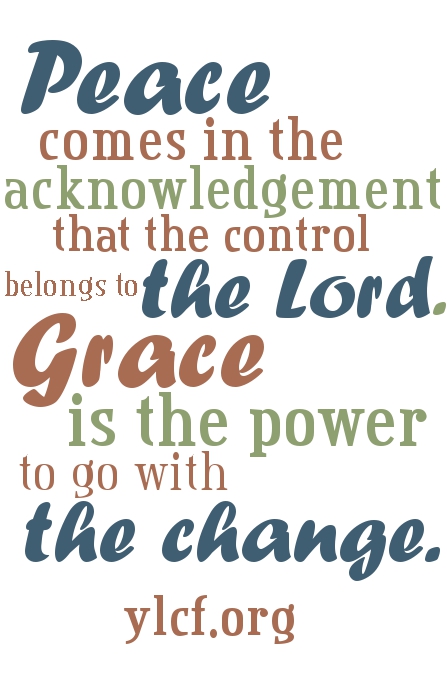 We fear giving up control because deep down we do not believe God is good. < — Tweet this! If we did, we would have no problem surrendering to Him and whatever change of plans He may have for us. Side by side with pride, control says we know best in dethroning the Lord in our lives.
Humility
Embracing humility puts the Lord back on the throne of our lives. Humility is seeing ourselves as God see us. (Do you know how much grace there is in that!?) He sees our struggles, our messes and loves us while calling us to something higher. Humility says "God, I can't do this on my own". Humility is recognizing our need for God, while control is ignoring it.
Humility is also something we choose to do (clothe, put on, cast).
Clothe yourselves, all of you, with humility toward one another, for "God opposes the proud, but gives grace to the humble." Humble yourselves, therefore, under the mighty hand of God so that at the proper time he may exalt you, casting all your anxieties on him, because he cares for you. (1 Peter 5:5-7, ESV)
There is also a beautiful promise and a warning in those verses. He opposes (or resists) the proud. Pride is the controlling attitude of "I've got this" followed by a crash of plans and freak out. Maybe He is resisting you, wanting you to turn to Him? He gives grace to the humble. The promise of humility is grace. And oh, how amazing that grace is!God doesn't ask us to relinquish control of our schedules and plans to Him because He's being a dictator. He asks us to because He knows the anxiety and stress we carry with them – He cares for us. Take Him at His word and watch what He does the next time you start stressing about changed plans.
Grace
It is the ability to abide in Christ, to respond to situations with His love and peace. But grace only comes after relinquishing our sin and embracing humility — our need for Jesus. John Piper put it best:
Grace is not simply leniency when we have sinned. Grace is the enabling gift of God not to sin. Grace is power, not just pardon.
Grace is the power to go with the change. To trust the Lord's goodness that He has our best interest in mind through our interruptions and schedule upsets. Stress, worry and fear dissipate in the presence of grace.
Freedom
Security and freedom are the byproducts of grace. When we let the Lord have our upset plans, and walk in that trust, we are like our own prisoners set free. Perfectionism and control no longer rule us. When our mind is free from stress, and anxiety over how we are going to fix the schedule, or make up time after the interruption, the Holy Spirit has clear airways to speak to us. And He's pretty good at perfect solutions!
Surrender, humility, grace and freedom are circular. In your freedom don't forget that He is the one that brought you there. Next time your plan (big or small) is upset, embrace the opportunity to try something new. If you fear giving up control or find yourself unable to, ask the Lord to reveal His goodness towards you. Surrender and put on humility by admitting you're not in control, and watch how quickly grace begins to flow! Grace can't be described – it needs to be experienced. Try it.