I love lists. For as long as I can really remember, my life has been filled with unexpected interruptions, big moves and funny little adventures. The order and rhythm of regularity has often been put on pause as a sort of unavoidable chaos takes the reins for a time. The one thing that has seemed to help keep me sane in the craziness of my life has been the faithful presence of lists in my life. In the variations of seasons, I could still maintain a semblance of order and a little grip on priorities with lists to keep me on track.
I have used lists for a lot of big things. I used lists to keep track of my goals. I used lists to form proper study habits and focus on weak areas in my high school years when I took extra-heavy credit loads for college. I used daily to-do lists to keep on track and be more productive with my spare moments when I worked long hours in a fast-paced work environment. I used lists to organize more than one giant of a move. I used endless lists to keep my sanity while planning a wedding in three months in a town I'd never been to before.
More often, though, I've used lists in the every-day kind of way. I use lists for weekly goals and to-do lists. I use lists to keep on top of homemaking responsibilities that I easily overlook otherwise. I use lists to give myself a flexible menu so that I don't have to face every single morning with the question, "What on earth am I going to cook for breakfast?" I use lists to keep my pantry stocked — and to keep us from having to make too many extra grocery shopping runs (those always result in buying extra things we didn't really have to have). I use lists to keep track of my responsibilities as a writer and to manage my ministry time so that I am more productive. I use lists to keep track of books I've read — and if I loved them or not.
I am one of those girls who would be thrilled if I could schedule the basic routine of every day and have it stay that way, but life is about learning to make the most of every day, whether it goes according to plan or not. I can't always count on a schedule actually working out, and sometimes trying to force regularity when circumstances beyond our control seem to dictate some version of apparent chaos is more distracting and discouraging than just making the best out of it. Lists help me to find the balance between the flexibility that I need and the regularity that I crave.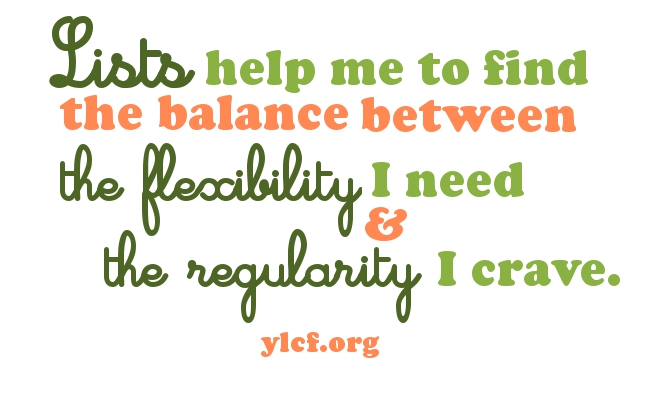 I'll probably never really have a to-do list that's completely checked off, and I likely won't ever follow a menu to the T as long as life is this exciting. That's just not the way that my life goes, and I'm learning to be okay with that. But when life throws those inevitable interruptions at me, I have something I can go back to. I have something to remind me what I was doing, what is important, and what needs to be done. I can still manage my time wisely and still take care of my home and my job effectively. Knowing this helps me to embrace the adventures and make smooth days no matter when they start or stop.
Someday, perhaps I'll have the routine that I dream of, and the ability to enjoy regularity on a daily basis, but I'll always make lists, because that's how I'll always get the most out of my every day moments.