How to Grow a Close-Knit Family
Disclosure: This post contains affiliate links which won't change your price.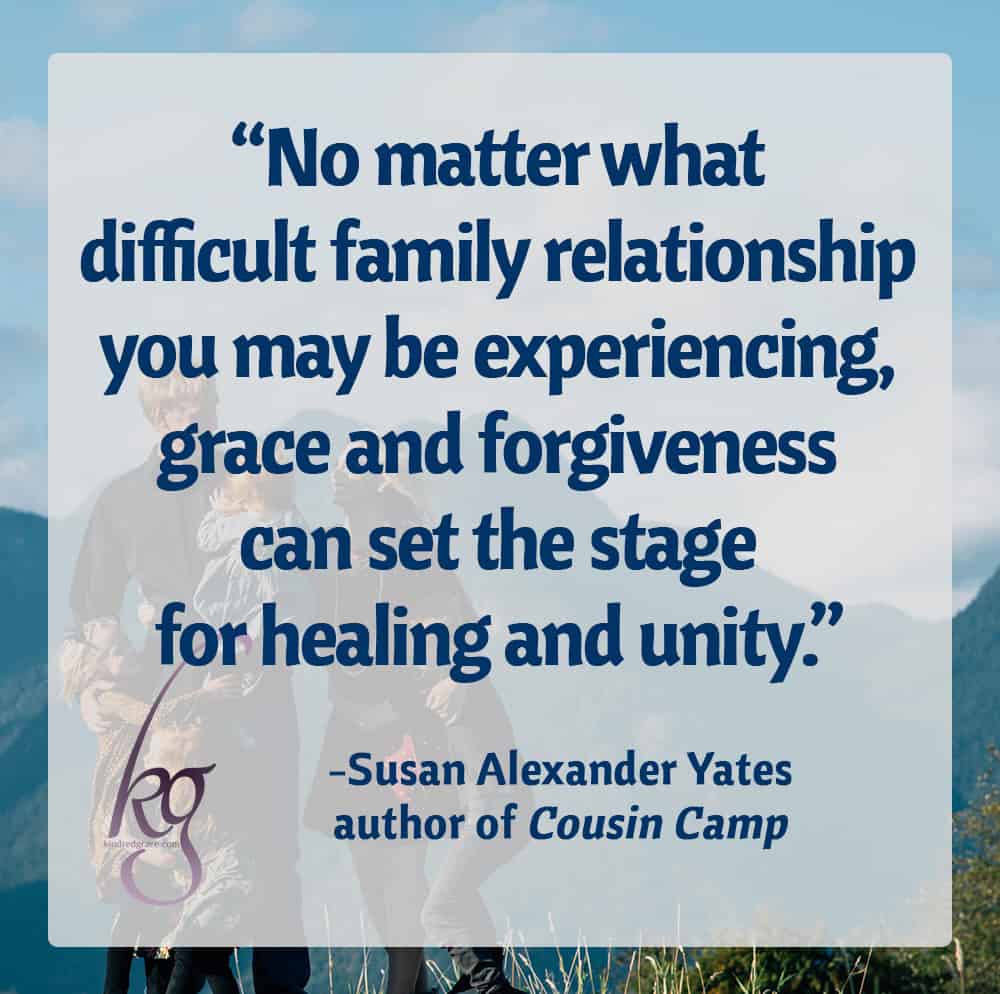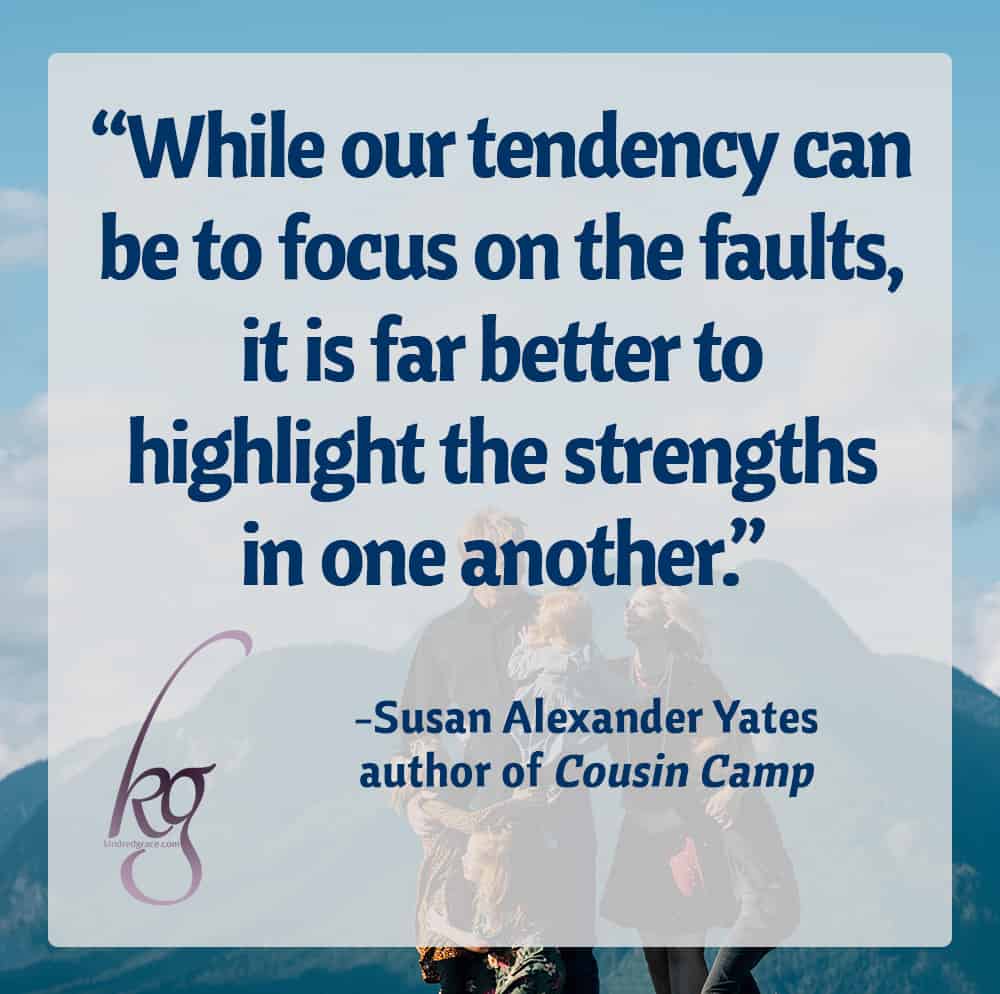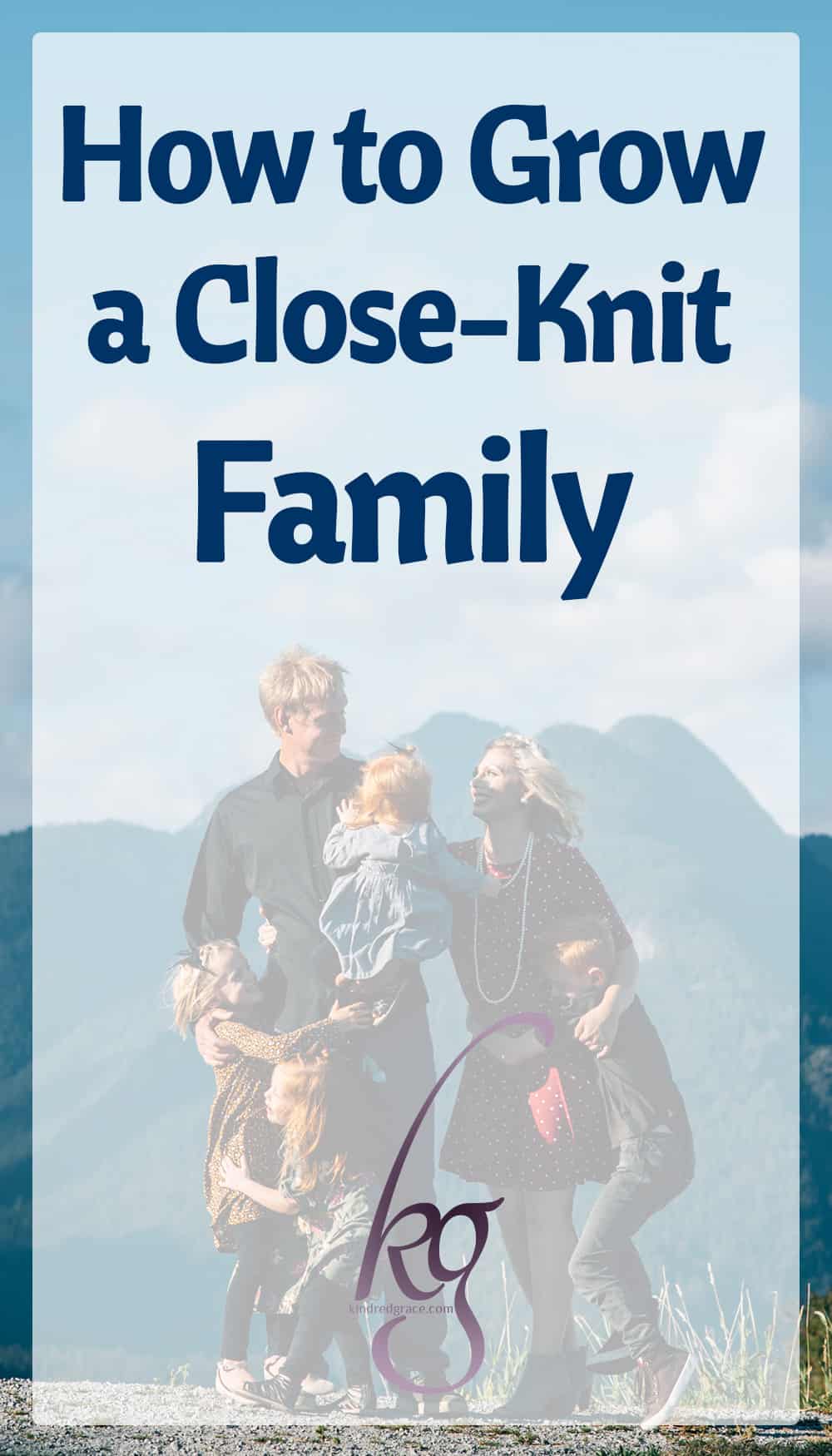 Do you want to develop a close-knit family? Do you long to have close relationships with your extended family members, improve communication between parents and grandparents, and develop friendships with those who live far away?
Most of us want these things, but often we don't know how to "get there." And too often we tell ourselves, My family is a mess. My home of origin was strange. My kids fight, my marriage is shaky, our parents don't understand or support us, and our extended family is dysfunctional.
There is no perfect family. We are all a mess to some degree. Instagram, Facebook, and Pinterest are only images. Behind every perfect photo is a self-centered person with problems, one who has used ugly words, done awful things, hurt other people, and even discovered they don't like themselves very much.
But God is not shocked by your situation, by your wounds, or by your history. He's seen it all. And there's nothing He can't forgive, nothing He can't change, and no one He can't heal. As the apostle Luke says, "For nothing will be impossible with God" (Luke 1:37).
No matter where you come from or your current marital status, you can be the first generation of a healthy, close-knit family.
How does this happen?
Here are four things that will help you develop a close-knit family:
1. Let Grace Rule
You may have a difficult relationship with your mother-in-law. You may wonder if she likes you. Or your son may be in a hard place and you feel him withdrawing from you and the family. Cousins may not have much in common or may even dislike each other.
Decide now to set aside your assumptions (which might not be entirely accurate) and choose to let grace rule.
This will involve choosing kind words. "Gracious words are a honeycomb, sweet to the soul and healing to the bones" (Proverbs 16:24). And remaining silent when offended (Proverbs 17:28). Solomon said it this way: "A person's wisdom yields patience; it is to one's glory to overlook an offense…" (Proverbs 19:11).
Learn to apologize and ask forgiveness.
I can't tell you how many times I've had to go to my husband and to my children (and friends, too) and say, "I need to ask you to forgive me for_________. Will you please forgive me?" I can't remember a single time when I felt like doing that. We go to one another to ask for forgiveness not because we feel like it, but out of obedience. God has called us to do this (James 5:16).
Hurt feelings take time to be healed and restored–often a long time. But asking for forgiveness opens the door to allow healing to take place and trust to be rebuilt.
No matter what difficult family relationship you may be experiencing, grace and forgiveness can set the stage for healing and unity.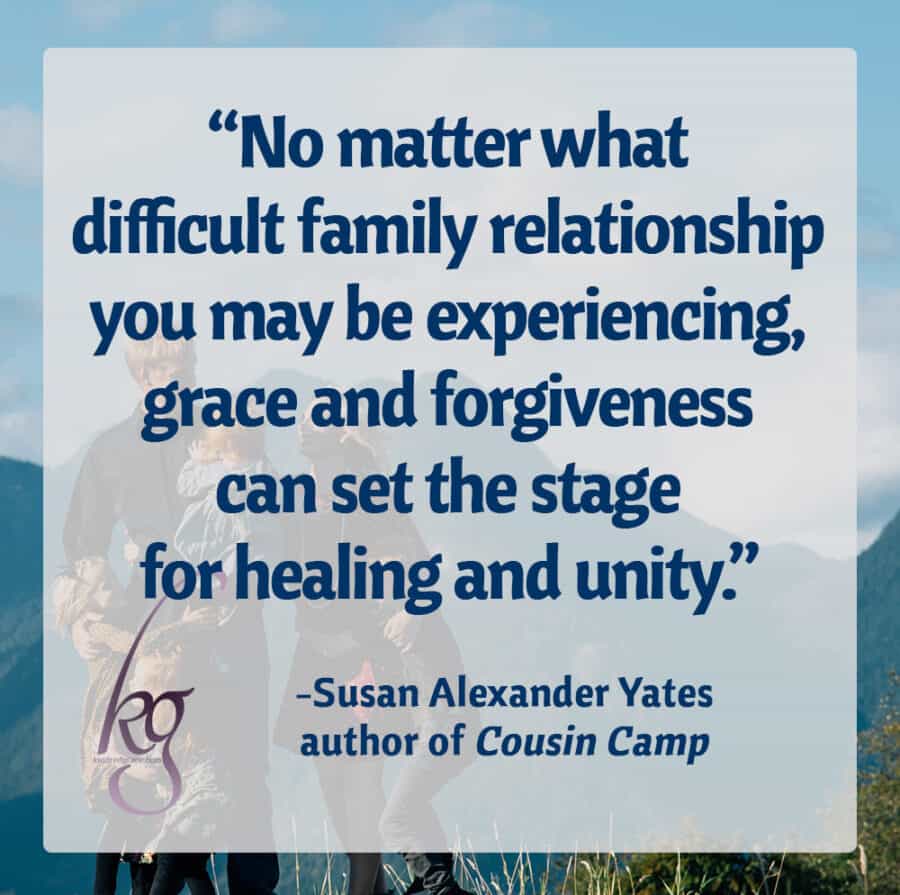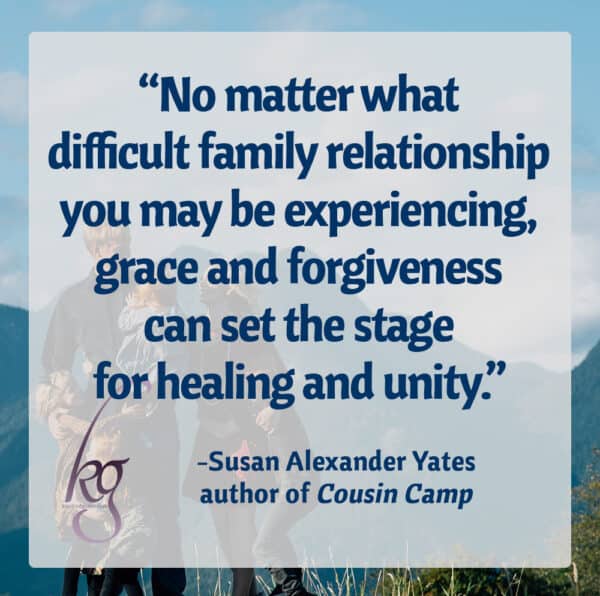 2. Cultivate a Family Vision
John and I recently celebrated 50 years of marriage. I still can't believe it. When we first got married, we didn't give much thought to our future family. We were just glad to be married! But the kids started coming–five in seven years, including twins. In that season I wasn't thinking long-term about our family. I was simply staggering through the day praying I'd make it until someone napped.
Once we began to recover from sleep deprivation, we did begin to talk about what we wanted our family to "look like." We asked, what character traits do we want to instill in our kids and how will we do this? What do we need to do to build a close-knit family? Even though we were both blessed to come from strong families, we knew there was no guarantee we could coast along and hope for the best. We had to be intentional. So over the years we've developed a family vision.
Even though today, all five of our kids are married, and we have 21 grandchildren, our family vision remains simple:
We pray that our kids and grandkids will love the Lord with all their heart and mind and soul and take care of each other forever.
To put "feet" on this vision, we have intentionally made family times a priority. It's all too easy in today's culture to let a myriad of activities pull your family apart. Parental peer pressure whispers: The mom whose child is involved in the most activities is the best mom. So we pack our kids and families' schedules until we are just ships passing in the night and not relating to one another in a deep way.
When our kids were still at home, we designated one night a week as "Family Night." We had a special meal, decorated placemats, played games and, as they grew older, had meaningful questions for table talk. Teenagers groaned, but they knew grumbling was useless. It was a sacred night.
Today we want to encourage our grandkids to know and love each other. And we want to have some input into their faith journeys. As grandparents we can get away with doing and saying things that parents often can't. We don't experience the "eye roll" as much as their parents do!
To put "feet" on our desire to cultivate a close-knit extended family, we began hosting a Cousin Camp for our grandchildren. For the past 11 summers, we've had Cousin Camp for 4 days and 3 nights. My new book Cousin Camp has all the details of how we do this as well as suggestions for all types of family reunions from large to small.
Getting together is one way to forge close family relationships. Of course, we've messed up a lot. We've had to separate quarreling cousins, thrown out a plan that wasn't working, and fallen into bed exhausted, but above all we've had a blast.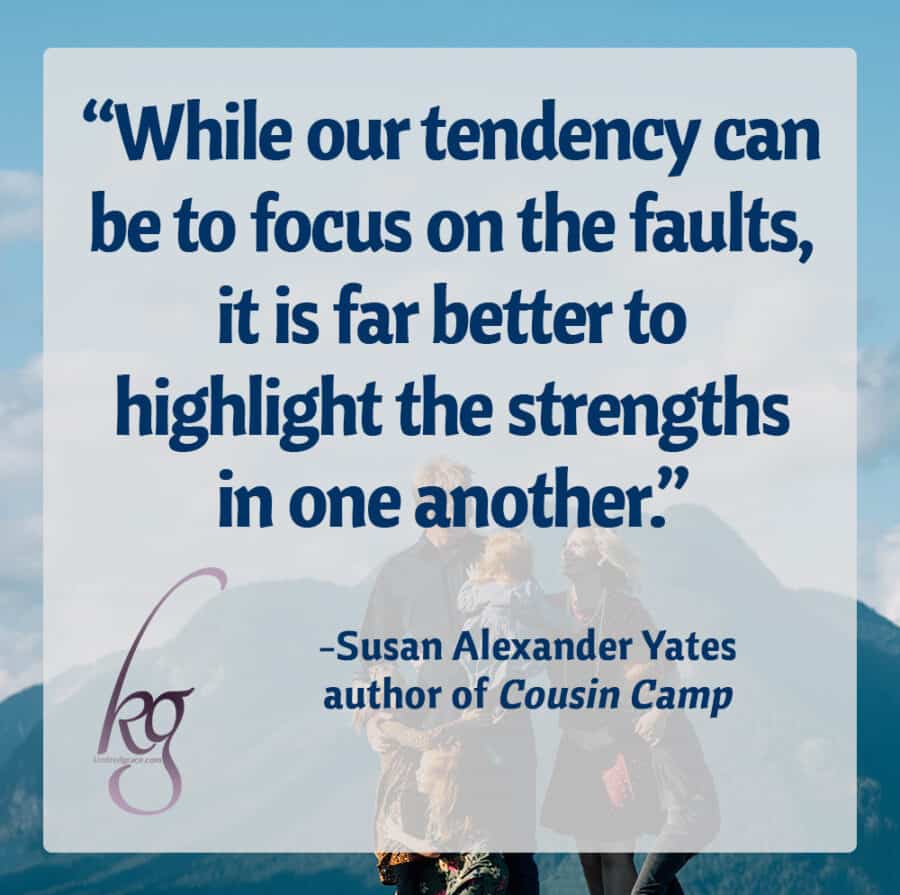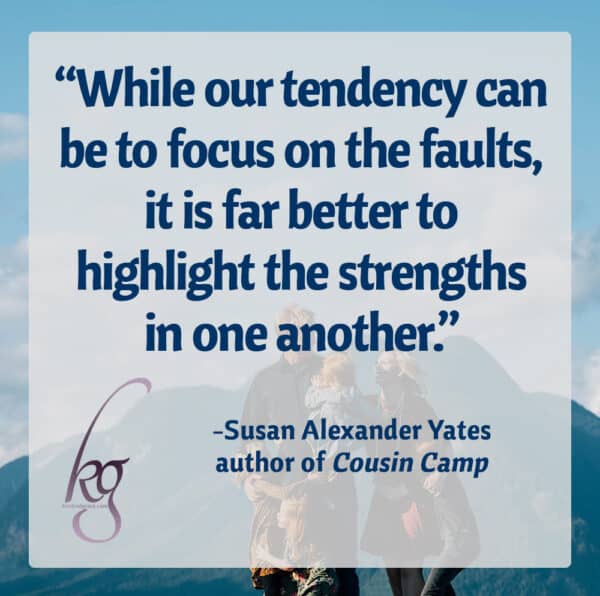 3. Be willing to initiate relationships.
Recently a friend confided, "My relationship with my in-laws is rocky and it's awkward to explain to my children. How do I show respect to my in-laws while being honest with my kids?"
What we share with our kids will be determined by their age and the circumstances. Often little kids do not need a full explanation; less can be better.
For instance, a grandfather had a drinking problem. In addition, he really did not know how to relate to his grandson. The child's mother wanted to be honest with her son yet open the door for a relationship between grandfather and grandson. She explained: "Son, your grandfather has a problem with drinking too much. We need to pray for him. But your granddaddy is very good with building and fixing things. Ask him to show you some of the things he has built."
What might be helpful here? If possible, find something that your son can do with his grandfather in a safe supervised situation. This will enable them to relate to one another in a natural way. Ask yourself: What is the person's passion? What does he do well? While our tendency can be to focus on the faults, it is far better to highlight the strengths in one another. Our kids will learn by watching us. If a situation is unhealthy, it's good to seek wise counsel from an older couple or a counselor.
Another friend shared, "I don't have a relationship with my brother. How do I even begin to have one?" We begin by initiating. Remember their birthdays, even if you haven't in years, and even if they don't acknowledge yours. Send a text simply to say, "I'm thinking about you today. Remember when…?"and share some positive story from your childhood. You may not get a response but keep doing it, over and over.
Sometimes we don't know what to say in a conversation. Make a list of good questions:
What person has had a positive impact on your life and how did that come about?
What has been a favorite book you've read? Why did you like it?
If you were a reporter and could interview anyone dead or alive who would you like to talk with?
What is your favorite place to be?
How can I pray for you?
We've made lists of questions with our children and grandchildren. And we've practiced good conversations! Look the person in the eye. Ask questions that call for more than a one-word answer. In today's culture, it is easier to relate to a screen than to a person. We have to train our kids in being good conversationalists.
4. Take the long-term view.
One of the hardest things about being parents is when we endeavor to teach our kids ways to behave and it doesn't seem to make a difference. They still don't get it. It's discouraging.
We have to keep repeating things over and over and over. God is patient, and one day we will see progress. That shy daughter who couldn't talk to an adult will surprise you by engaging in conversation with someone in her later teen years! So keep at it. Your older teenage son offers to help a neighbor with a project or call his grandparents. He has learned how to be thoughtful–a little bit anyway! My own mother used to say, "God is working while you are waiting." It's a good phrase to remember!
"Now to him who is able to do immeasurably more than all we ask or imagine, according to his power that is at work within us, to him be the glory in the church and in Christ Jesus throughout all generations."

(Ephesians 3:20-21)
Learn more about how to grow a close-knit family by reading Susan's new book Cousin Camp:
"I love having our grandchildren in our home, but sometimes it seems like we're in 'survival mode'! Cousin Camp is full of ideas for making memories and building relationships (with lots of great stories of the Yates family's experiences!).
"I was most inspired by the chapter on planning for long-term impact. Thinking through what each child needs socially, emotionally, physically, mentally, and spiritually and then setting goals for how to help them grow. I will keep Cousin Camp on hand forever for the ideas and inspiration in how to love and inspire our grandkids.
"Though the world is currently staying home during the coronavirus pandemic, it's the perfect time to read Cousin Camp and plan for the special times when the grandkids can come over again."
-Joan Thompson, Mom to 6, Oma to 2
---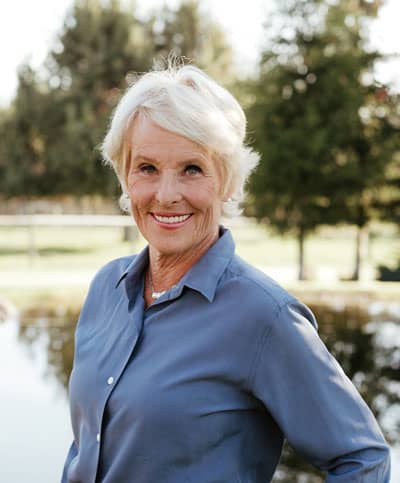 Susan Alexander Yates is a mom to five children (including a set of twins) and grandmother to 21 (including a set of quadruplets!). Susan and her husband John have been married 49 years. Susan has written 16 books and speaks on the subjects of marriage, parenting, faith, and women's issues. Susan's favorite time of the year is June when all her kids and grandkids are together for a week of "cousins and family camp" in the foothills of the Shenandoah Mountains of Virginia. Follow Susan on Instagram, find her on Facebook, or watch her latest YouTube videos.
---
More helpful resources:
Raising Good Conversationalists
Raising "Other-Centered" Kids in a "Self-Centered" World
The One Thing Your Child Needs Most
Building a Home Your Kids Want to Come Home To

---
Photography: JenniMarie Photography