Disclosure: This post contains affiliate links which won't change your price.
Life is never exactly fair. Somewhere along the way, we all get hurt. Someone betrays us. Someone does us wrong. We become the innocent victims of unspeakable abuse. The aftermath is devastating and difficult. And no one expects wounds to heal overnight. No one expects abuse to be brushed under the rug. Forgive and forget? It's much more complicated than that.
I picked up Choosing Forgiveness by Nancy Leigh DeMoss just days ago. Last year, I reviewed her book Choosing Gratitude. It solidified and encouraged my heart that gratitude will change your life if you let it. It did mine. I expected no less encouragement in Choosing Forgiveness. I was not disappointed.
But Choosing Forgiveness is intense.
The ugly truth is that fragments of bitterness can sweep into corners of the heart and resurface when you think that you've seen the last of them. I've tried to forgive. I've faced some ugly monsters of unforgiveness in my heart and chosen to realize that in and of myself I'm powerless to do anything about it. I've chosen many times to let God give my heart the ability to forgive those who have hurt me.
But do I sometimes justify hanging on to a little bit of bitterness towards some of the people who have wounded me so deeply that I live daily with the scars to remind me? Or, perhaps sometimes do I think it's okay not to forgive myself for past choices I've made that affect me now?
Nancy brings validation to the fact that those of us who have been wronged (that's all of us, really) have pain that is very real. It's not just your imagination. It's not just me making a big deal out of nothing. It's real, raw, and it hurts.
She doesn't excuse the people who hurt us. They did wrong. But she doesn't excuse away our need to deal with the bitterness either. Instead, she points the way to true freedom — through forgiveness. We can't undo the hurt that's been caused us. We can't undo the wrongs that we've endured. But through God's grace, we can forgive even our greatest offenders. Our wounds don't have to define us.
"Do these wounds — past or present — have to define who you are, where you are headed, and how you get there?"
Truth: They don't have to.
The pain we've had in our lives doesn't have to define how we live the rest of our lives. We aren't destined to a life spent wallowing, struggling with bitter thoughts. We have a choice. Thank God for this.
Instead of letting our hurt eat away at us, and taint every part of our lives — even the good parts — we can choose to let our brokenness be redeemed by choosing to forgive. To not let bitterness be the winner again by destroying the rest of our life. Because when it comes to refusing to forgive, we are the ones that lose the most.
But here's the hard part. There is no three-step process to forgiveness. It's not "do X, Y & Z and now you are free". Forgiveness, much like love, is something we live, not a method we follow.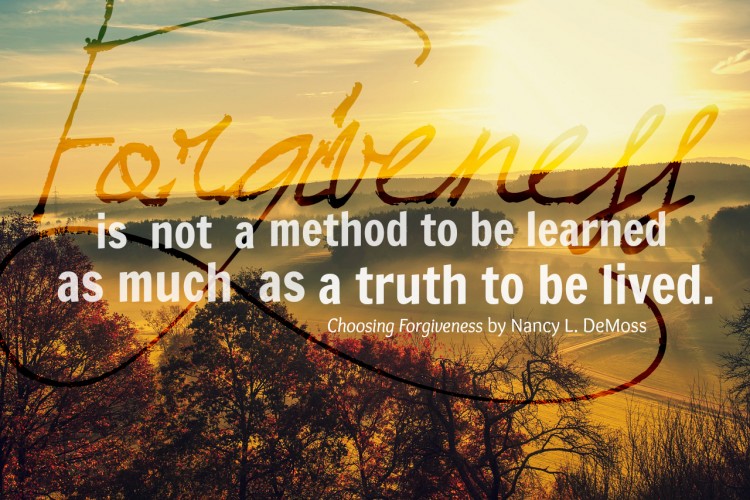 In Choosing Forgiveness, Nancy gently, but bravely takes us in deep to carefully look at our wounds and potential roots of bitterness hiding out in the corners. Each chapter ends with questions to help us take this message personally. There's even a small group discussion guide at the back if you want to work through the book in a group setting.
And chapter by chapter, it takes you on a journey. First to recognize where you have not forgiven. And then how to come to the place of forgiveness and freedom in Jesus. Forgiveness: it is a choice. We make it, God enables it. For the big things, like betrayal and abuse. And for the little things, like when a friend hurts our feelings.
This book may be painful, but it is beautifully powerful. No matter what kind of pain we have in the past, God knows. He hasn't left us alone. And He has more than enough strength on reserve for us to face and forgive — both others and ourselves.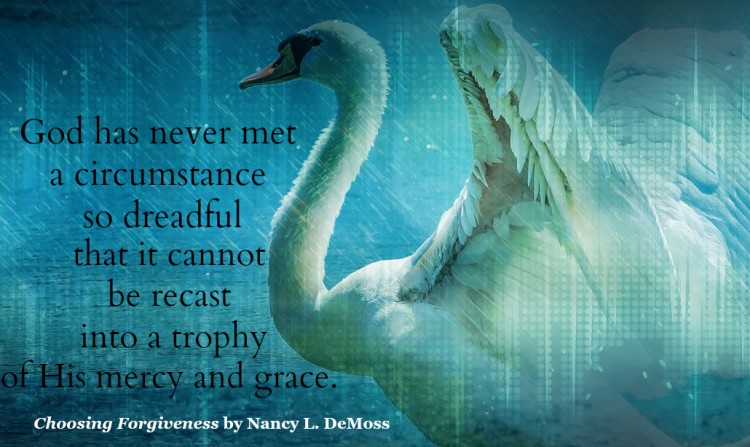 Giveaway
Kindred Grace is giving away a copy of Nancy's book, Choosing Forgiveness. Enter below for a chance to win a copy!