Disclosure:
This post may contain affiliate links which won't change your price but will share a commission.
Rarely have I been so excited about one of our author interviews! Today I am pleased to introduce you to an authoress who hails from Sussex, England. At one time a Methodist minister who worked in many congregations as well as hospice and school chaplaincy, she now devotes herself to full-time writing. Penelope is the creative mind behind The Hawk and the Dove series and many other books, as well as the blog, Kindred of the Quiet Way. Her purpose in writing is to make to gospel of Jesus known and understood, and to make goodness attractive – to fill the imagination of her readers with kindness, and encourage their feet in the way of peace. She was gracious enough to answer our bookish questions and bestow a bit of her wisdom along the way. Please give a warm welcome to Ms. Penelope Wilcock!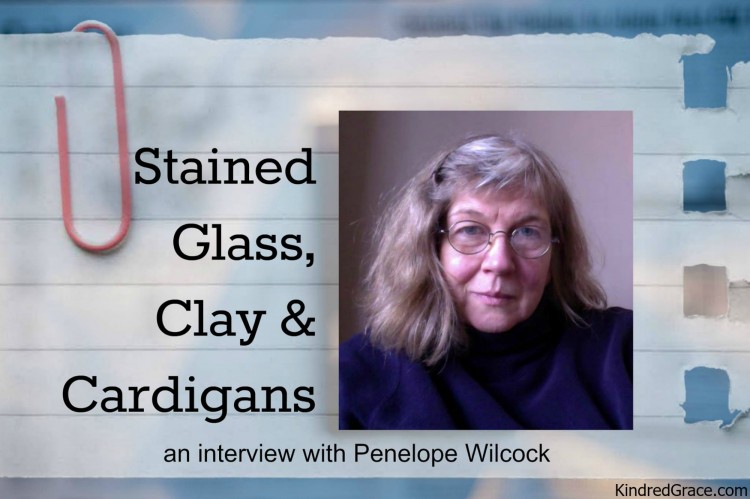 Everly: Hi Penelope! Thanks for joining us. The best question to start off with is probably one that goes back to the beginning. How did you start writing in the first place?
Pen: Like most writers, I've been writing all my life. Recently, a bundle of papers came into my hands, from my deceased father's effects, including a story I wrote at age seven. I read it, laughed, and put it out for recycling. I remember thinking it was magnificent at the time I wrote it.
But, for publication? I have five children all born within six years. Their father was a musician, out all hours. I was often at home without adult company. Sometimes I felt lonely. I remembered how in childhood I'd improved life by the invention of imaginary friends, my daily companions. So I invented a community. Then it dawned on me I could write about the interactions of my new friends, because if they made my heart happy they might do the same for other people. Thus my first published book came into being, a novel, The Hawk and the Dove.
What books inspire you?
In reading, I look for truth – for a grasp of the spiritual principles underpinning the cosmos. Compassion is important to me. And maybe this seems obvious, but the ability to write well. Ursula le Guin's Wizard of Earthsea series remains an enduring favourite; I marvel at the quality of her writing and depth of insight. David Whiteland's Book of Pages makes the cut to the small shelf of books I never give away. Though I am a slow reader, recently I set aside two weeks to plough through Hilary Mantel's Wolf Hall and Bring Up The Bodies. An astonishing literary achievement (though the language may offend some readers here).
How would you feel if someone wanted to make one of your books into a movie?
I hope one day my Hawk and Dove series will be made into a movie. I think that medium would suit it well, and it would help the cause of filling the human imagination with goodness and the worthwhile endeavor of loving kindness.
How do you combat writer's block, or do you not believe in such a thing?
I write both fiction and non-fiction. The two require different approaches. For non-fiction, the key factor is discipline. My friend Margery, a stained glass artist, used to set aside every Wednesday for art. On that day she would receive no visitors, answer no phone calls, and follow no other pursuit. On days she felt uninspired, she'd grind pigments for icons she made, stretch lead, cut glass; when her imagination took wing, she'd design.
The subconscious mind, from which the power and color of good work emerges, is triggered to deliver the glories of its store by routine. Therefore writer's block is best overcome by discipline and routine. Waiting for the muse to strike before you start is the wrong way round.
Fiction is somewhat different, because it requires complete immersion into an imaginary world, that takes over the entire consciousness. High diving board, deep pool. I take several months to align my being with the world it's going to enter, then once I take the plunge I will not come out for anyone or anything until the work is well begun, ideally until it's completed.
Writer's block is real – it's a barrier – but if writing is how you earn your living, the only thing to do is push on through. It'll clear. Otherwise you'd be hungry, wouldn't you?
What hours do you keep?
I had some wise advice from a beloved friend, Father Tom, a Benedictine monk. He said, 'It's a good thing to want what no one else wants.'
As a young student at York some decades ago, I noticed the university had a rhythm of life – people stayed up late and got up late. I realized if I went to bed early and got up early, I'd have several hours of the profoundest peace and quiet in which to work.
My entire working life has been planned around my family and undertaken in the context of a family home – both as a writer and the years I was a Methodist minister. My family is precious to me, and I prioritize giving them my attention. How to get any work done, then? How to write novels, craft funerals, create sermons?
I put together what Father Tom said with my student ruse, and started a habit of getting up very, very early. Sometimes combined with working on through the night. Writing in the margins, as one might say.
What has your journey to publication been like?
I value humility, and am embarrassed that now I'm going to blow my own trumpet, just because I'm very proud of this – so please forgive me. My first book was sent in as an unsolicited manuscript. I had no agent in those days. Every single book I have offered for publication (I've written about fifteen) has been accepted. I have no rejection slips. I do have an agent nowadays, but I ask very little of him. So you might say my journey to publication has been easy. Or that the hard work happened before the manuscripts went in. I have a reputation for supplying what one editor of a book of short pieces described as 'oven-ready' text.
What do you think is the relationship between Christ-followers and art today? Is it important for Christians to create?
I once heard the Methodist preacher and writer Colin Morris say that religion is vested in our imagination. This doesn't mean God is made up rather than real, but that transformation and inspiration involve exercise of the imagination.
The youngest child, the simplest mind, can grasp the most sophisticated theological and philosophical concepts if they are presented not as intellectual propositions – not as apologetics – but as stories. It's like a zipped file that you pass through the doorway of the soul to be unpacked in the interior.
Unless Christians do continue to create great art – image, story – the torch of the Gospel will grow dim in human society.
Your books have a lot of historical context. Have you always been interested in history?
History. It depends what you mean by 'history'. I remember my History lessons at school. At the front of the classroom, attached to the wall, was an enormous blackboard designed like a broad vertical conveyor belt held in a wooden frame. The belt, divided by aluminum strips into three sections, was the writing surface. This allowed work to be saved by the teacher – she could write (in chalk) on a blank part, pushing up the blackboard/belt so that the written on part rolled round to the back. Sorry, this is complicated – are you with me? She'd write PLEASE LEAVE ON by sections of writing to be saved, rubbing out redundant script with a soft blackboard eraser.
My History lessons involved Miss Powell in her soft caramel-colored cashmere cardigan and grey wool pencil skirt, writing at furious speed on the blackboard while we pupils copied down what she'd written into our exercise books as quick as we could. As she reached the bottom of the exposed part of the board, she'd push it up, so part of her script would roll round the back. As it came up at the bottom again (as the board rolled round) she'd rub it off. So if you couldn't keep up with her writing speed, you lost chunks of what she'd written. For homework, the task was to learn by heart whatever you'd managed to copy. After several of these lessons there'd be a test to see what the pupils had retained. This is how I was taught history. I cannot recommend the method.
As a result, I have never been interested in history. Put off it, more like. But I am very interested in reality – the part of history we personally meet.
As a young woman, I read the educational philosophy of Rudolf Steiner, who proposed the communication of ideas in stories beginning 'Long ago and far away'. Thus, he said, do we dissolve our readers'/hearers' resistance to what we have to tell them about the here and now. If we say it's all about long ago and far away we lower their defenses, and they will listen to us. This is the power of historical novels; they allow the writer to address the more delicate issues of present reality without antagonizing people.
Do you base your characters on people you know?
Yes and no. I draw upon life. I watch and listen, I squirrel away in my memory interactions, responses, conversations, attitudes, the expression on people's faces, how they treat each other, emotions they betray, posture, arguments, embraces. I write from truth, from reality.
I learned a terrible lesson from a favorite childhood story involving a little girl from town making an extended visit to her rural relatives. They kept goats and breakfast included goat milk. She'd never had it before. The story spoke of her resistance to the experience of downing a bowl of 'rich, yellow goat milk'. As an adult I purchased a copy of the book for my own children, remembering how I had enjoyed it. I read it again. But in the intervening years I'd kept goats. When I came to the part about the breakfast and the milk, the spell was broken. If you have kept goats too, you will know why. Goat milk is always snow white. Never yellow. I stopped reading right there. I no longer believed in the story. I threw the book away.
This taught me always to write from life, from personal experience and observation. But none of my characters correlates to any individual I have ever known.
Do you use an outline or keep the plot in your mind as you go?
My friend Margery, the stained glass artist, once remarked to me that writers are either sculptors or modelers. Sculptors start out with a huge block of stuff that they have to chip away until the finished work emerges. Modelers add more clay as they go, building up from a small beginning until the finished work emerges.
I am definitely a modeler. Private, reclusive, withdrawn, it is with difficulty I bring my inner world into the light of day. It is easy for me to write a sonnet, but hard for me to write a 65,000-word novel. I find it daunting. It's hard to keep the thread, difficult to keep the quality even.
Planning overcomes this. I devise the story and divide it into chapters. Each chapter is allocated one or two events advancing the plot, with central important scenes of power and depth. I write these. Then I add in the less consequential sections allowing for the passing of time, background development, flashes of humour. I stitch them carefully together. I suppose it's similar to making a cardigan – knitting the parts, sewing them up, adding the buttons (forewords, footnotes, dedications, glossaries, appendices).
Streams of consciousness, rambling accounts – 'and then, and then, and then . . .' – tend to read like exactly that. It's always wise to plan.
Penelope and her publisher have been kind enough to provide us with three copies of The Hawk and the Dove to give away to you lovelies! Be sure to enter below. Open to U.S. residents only.