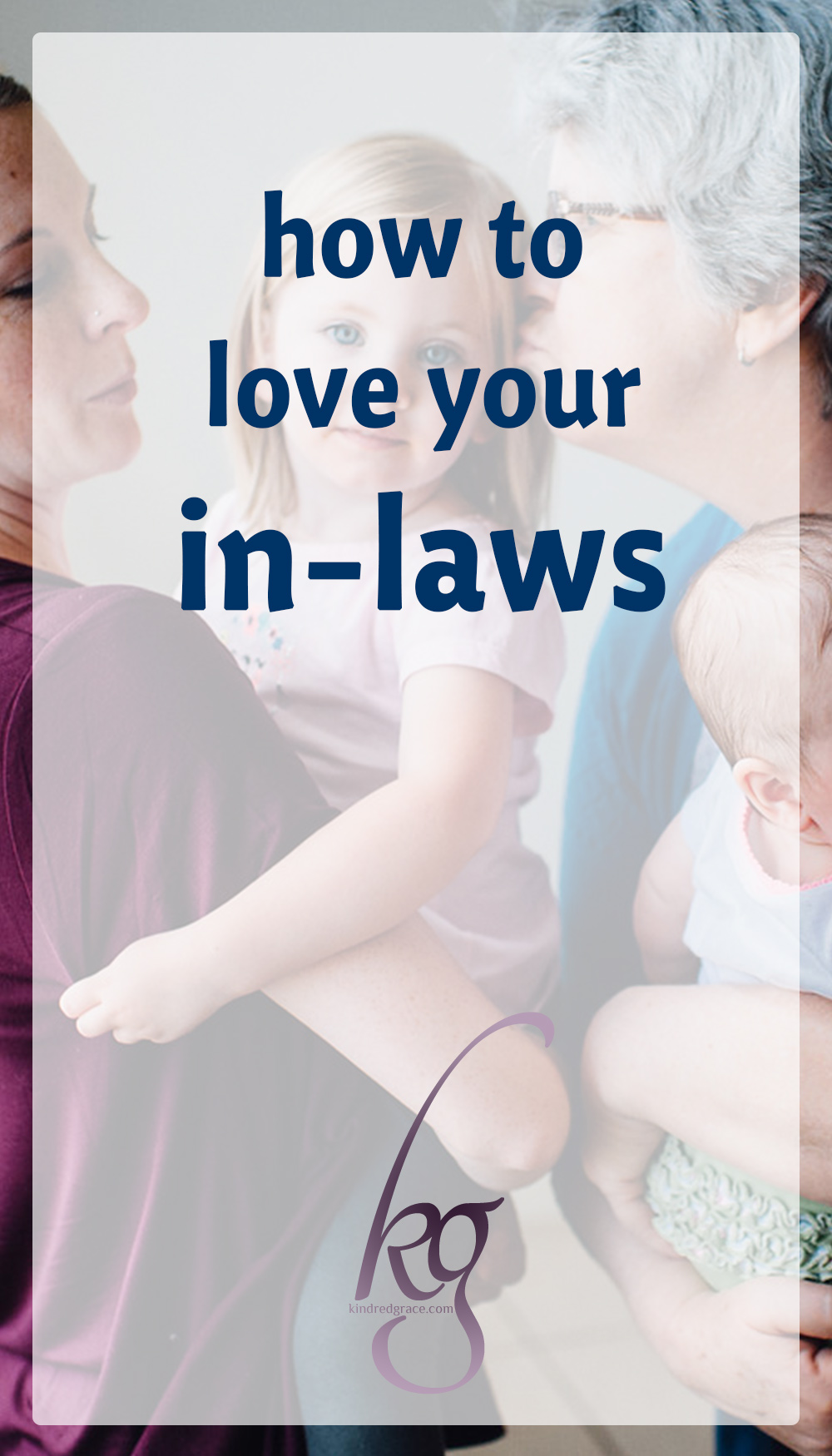 One friend only ever refers to her husband's mother as her mother-in-love. Another says her mother-in-law was the mother she never had. But another describes her relationship with her mother-in-law as the single most heartbreaking relationship of her life.
How can you nurture a friendship with your mother-in-law? How do you deal with conflict and misunderstandings with your husband's family? How can you infuse more grace into your relationship with your mother-in-law or your daughter-in-law? The resources below are designed to encourage you as you seek the grace to enrich the relationships in your family.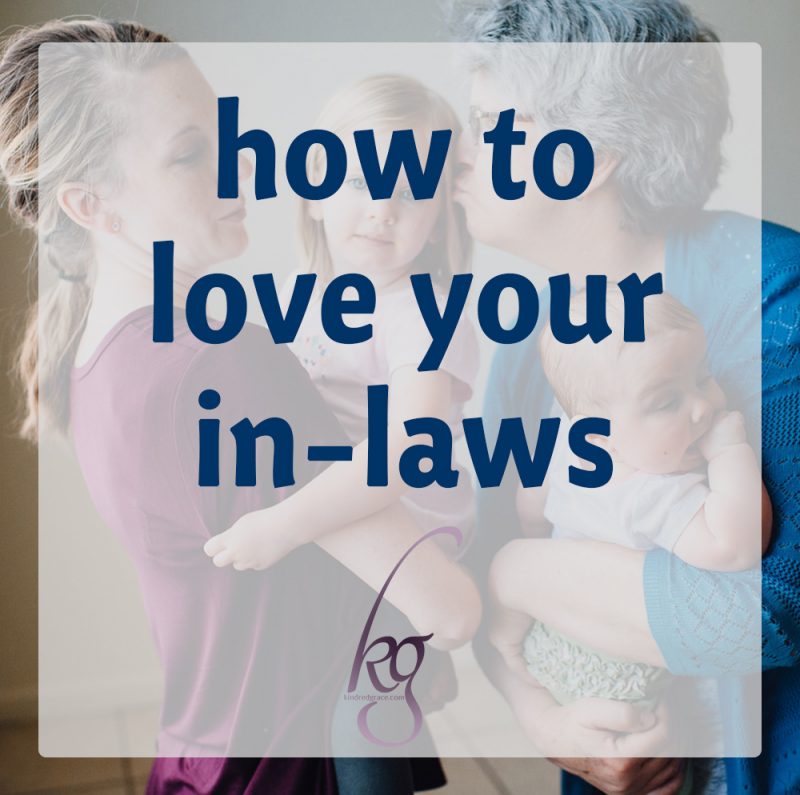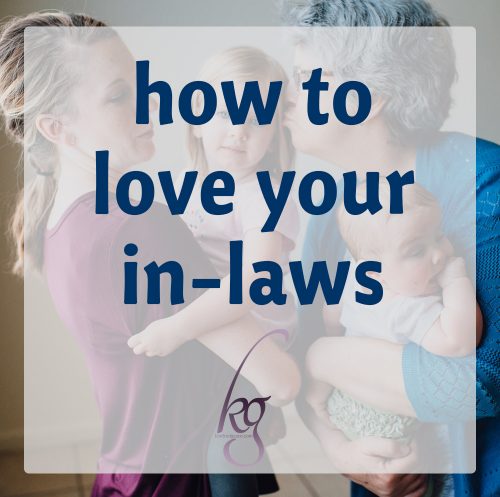 for daughters-in-law
Our series begins with an introduction to a family devoid of in-laws. You may be surprised at the perspective this post gives you!
Susan Alexander Yates shares insight from a mother-in-law's perspective. Don't miss this glimpse into her heart! (Here's the companion piece, for mothers-in-law.)
Durenda Wilson shares six scriptural principles that will challenge every daughter-in-law.
What is the secret to loving your mother-in-law? Is it how she treats you or does it have more to do with your thoughts toward her? Tracy Hoth shares some insight with us.
An anonymous author shares the lessons she's learned from 27 years of a tumultuous relationship with her mother-in-law.
Nel Stephenson was afraid she'd ruined her life when the situation with her mother-in-law became the most painful trial she'd ever faced. But she found hope. And so can you.
Lisa Jacobson shares a powerful story of two strong women living in the same house–challenges, tears, and finally, forgiveness and redemption.
Lisa Jacobson visits The Better Mom to share the lessons she learned from over 17 years of living in the same house as her mother-in-law.
Stacy Reaoch shares five reasons to lean in and love the one God hand-picked to be your mother-in-law.
Stacy Reaoch talks about how she battled insecurity and shares four steps toward a fruitful relationship with your mother-in-law.
Barbara Rainey offers a reader some tried and true wisdom for turning the quantity time of the holidays into quality time.
Matt Jacobson offers solid advice for establishing boundaries and navigating the holiday season with extended family.
Christy Fitzwater shares the poignant story of what she learned by watching her sister-in-law care for Christy's own mother.
Do you find your in-laws a challenge? Here are 7 keys to get along with and grow in your relationship with your in-laws, even when it's tough.
for mothers-in-law
Susan Alexander Yates offers years of wisdom and experience in this post.
Shannon Coe looks at the story of Ruth and Naomi from the perspective of a mother-in-law, realizing that love looks different for different women.
As the mother of four boys, Shannon Coe knew she needed a plan. In this post, she shares her own strategies to change her heart, her mind, and her reactions as she embraced her new role of mother-in-law.
Chautona Havig takes a hard look at Naomi's supposed bitterness, sharing five lessons she's learned from Naomi and her own mother and mother-in-law.
Michele Morin shares four important guidelines she's learned as her four sons begin to marry.
Phylicia Masonheimer never wanted a joke-book relationship with her mother-in-law–and neither does any other daughter-in-law. Proper communication and perspective will go a long way toward preventing that! (Here's the companion post, for daughters-in-law.)
Susan Alexander Yates gives a touching tribute to her sons' wives, providing perspective for every mother-in-law as she counts her own blessings.
Amy Williams shares a sweet tribute to her mother-in-law.
Being a gracious mother-in-law starts long before the day your son stands waiting at the end of the aisle for his bride. Here are some helpful ideas for how to pray for your future daughters-in-law.
How to Be a Good Mother-in-Law
from the September 2000 issue of The Elisabeth Elliot Newsletter
1. Thank God for this acquired son or daughter.
2. Treat this man and woman as adults with adult responsibility.
3. Remember your daughter or son now belongs to her/his spouse.
4. Allow them to form a new family—it's theirs, not yours now!
5. Expect this new entity to be different from you and your family.
6. Let the newly formed family do things its own way.
7. Do not dish out gratuitous advice (which is what I'm doing now!)
8. Pray for them daily.
9. Never criticize the "in-law" to his/her spouse.
10. Encourage them in every way you can think of.
for families
The Happy Wives Club compiled over 500 tips on in-law relationships into these 25 must-reads.
An anonymous author on Today's Christian Woman shares her story of learning to love the other woman in her life.
Susan Alexander Yates and Andrea Guitierrez provide newlyweds some insight into celebrating the holidays with the families they married into.
Susan Alexander Yates reveals a fact that may surprise you about what both mothers-in-law and daughters-in-law long for. She addresses false expectations and suggests positive strategies.
Susan Alexander Yates offers advice on expectations and appreciation during all the family togetherness of the holidays.
Jessiqua's advice is pertinent for all relationships, but can be especially pertinent for difficult in-law situations.
Jeannie's reflections apply to more than just your relationship with your biological parents. In-laws need grace, too.
books
In this post, the Kindred Grace team provides mini reviews of the books that have aided their relationships with their in-laws.
Help and encouragement for every age and stage of the mother-in-law/daughter-in-law relationship!
Beautiful in language and in heart, this book embraces the Titus 2 spirit while exploring the unique dynamic of the mother-in-law/daughter-in-law relationship.
Practical advice and biblical wisdom. The chapter about setting expectations during engagement would have been helpful to read before I ever got married!
Biblical insight to the challenging struggle this relationship faces.
A guide that is applicable to the daughter-in-law, the mother-in-law, and the sister-in-law without judgment but full of wisdom.
This fictional journal provides a more eternal perspective on relationships and unforgettably illustrates how very different perceptions and opinions may be due to personality and circumstance.
Practical and creative inspiration for any mother-in-law seeking to love and support her daughter-in-law, an opportunity that begins long before your son meets his bride-to-be!
Includes tips on building a positive relationship with your "new son" or "new daughter" as well as specific ways to nurture the relationships with their parents.
It doesn't matter how old your kids are; you never stop being a parent. Let's do our best parenting through prayer.
Photography: JenniMarie Photography