4 Surprising Relationship Lessons from the Story of Ruth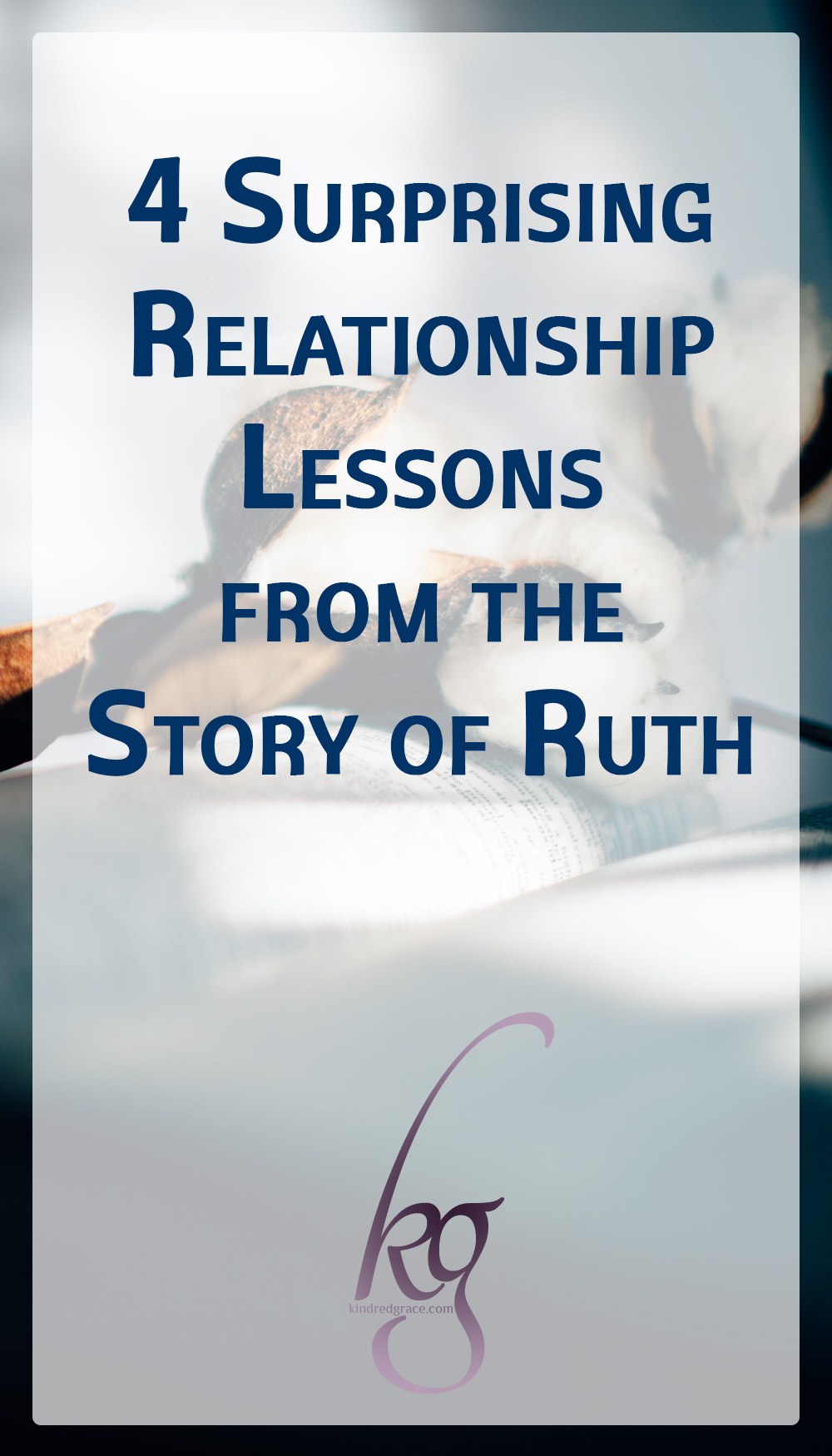 Nestled in between dramatic and suspenseful stories of the mighty judges of God and the kings of Israel, is the most popular mother-in-law/daughter-in-law story ever told. Don't doubt the placement. It is as purposeful as it is fascinating.
There's a peculiar thing we do when we become so familiar with Bible stories: we stop re-reading and digging into them for new perspectives. But when we come back to a story at different times in our life, we can learn new things. The story of Ruth has been one such Bible story for me.
For many years, I read this story from the viewpoint of a daughter-in-law, but now I can read it as a mother-in-law of eight years, with brides for two of my sons and a fiancé for another.
Here are four relationship lessons I gleaned from my most recent re-reading of the book of Ruth.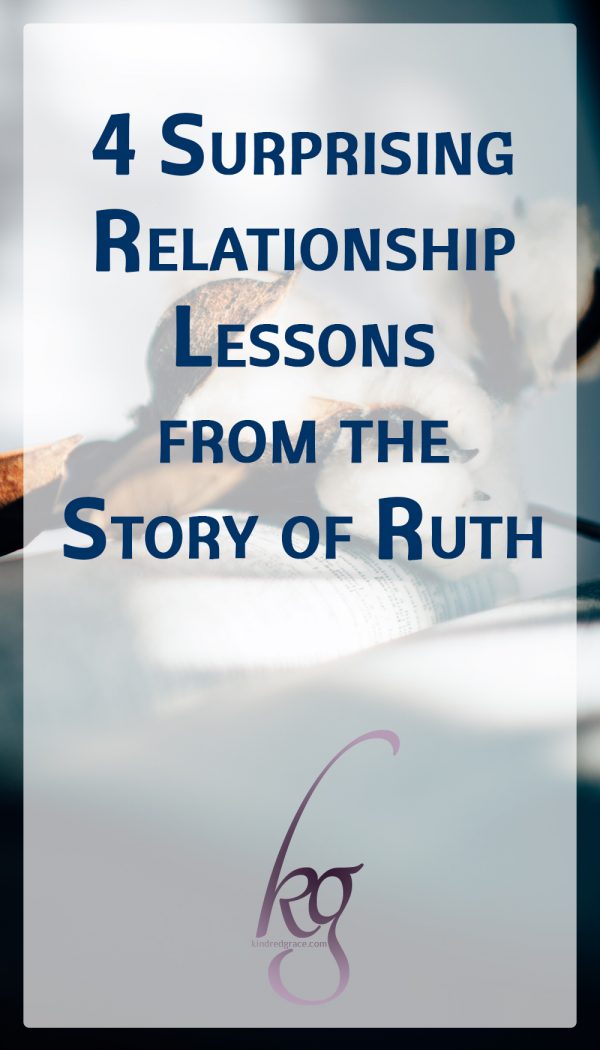 1. Grief and sorrow do not trump love.
Naomi's grief was very real. She could have qualified for Post Traumatic Stress Disorder. She lost her husband and her two sons. Her culture leaves her as a beggar in a foreign country. Whatever she felt, she had every right to feel it. And yet, her pain pushes no one away. It actually draws people in. Two young women, freed from the bond, choose to stay in this relationship longer than they have to. This is some kind of grieving: it's dealing with tremendous loss but without bitterness and without barbs. It's pulling in and not pushing away.
Everyone will someday know grief. Every mother-in-law will experience pain. When we look closer at the story we realize that when Naomi suffered loss, when she was in pain, young women who were not obligated came closer. That's some kind of awesome right there.
Christ teaches us that nothing, absolutely nothing, trumps love. Ruth shows us how that teaching looks in the real, hard parts of life.
2. Set the tone of thankfulness.
In their first public disagreement, Naomi is the one who sets the tone for her relationship with her daughters-in-law. She knows what she wants (although what she wanted was not what God intended) and she expresses it through filtered words of thanks and recognition for what these young women have done. Naomi asks the Lord to bless these girls for the kindness they have shown both to herself and to her men.
Both mother-in-laws and daughter-in-laws would melt if they were thanked and recognized for what they did right rather than being told what they did wrong. Yet in the example of this story, the mother-in-law thanks her daughters-in-law for what they have done, gave a beautiful blessing, and they all cried together.
Have you ever noticed that kindness, thankfulness and blessings are the words that come before Ruth's famous vow of love and affection?
Ruth was not moved to such poetic words out of guilt or obligation. Could it be she was inspired by the affection and the blessings given to her by her mother-in-law?
3. Age does not outrank the needs of youth.
It is easy to play the age card when we want to. I am willing to confess my temptation to use this aging process to my advantage, because the joy in aging comes from the perks. It can get us out of work, get us home to bed early, give us coffee for free, and best of all, give us grandbabies.
But what aging can't do, if we stay true to the God-breathed story, is to take a mother-in-law's needs and use them to outrank the young women in our family. Based on my experience with an all-male household for so many years, I know Naomi must have loved having the girls around. And yet she wasn't going to let her potential loneliness be more important than the needs of Ruth and Orpah. Naomi argues that separating is for the girl's best, not as a way to be free of them. She knows her limits. She knows how weary her womb is. Time is not on her side. She is as practical as she is selfless.
She knows that her need is not the greatest simply because she is the oldest.
4. Love looks different with different women.
Orpah's leaving with Ruth's blessing was no less loving than Ruth's continuing the journey. The one who left was the one who honored Naomi's word. Naomi told the girls:
Go back home. Go get married. Go have babies. Be blessed. God be thanked for your love to me.
And one did. Naomi told the girls what she wanted, the girls choose different paths and there was no condemnation for either. As a matter of fact, Naomi sees God's providential hand in it all. It may not be until a barley harvest has ended that the full measure of God's hand is apparent, but Naomi steps onto that road to go back to Bethlehem, not alone, but not free either.
Now she has a new burden and while there is love there, I can't help but feel a little for Naomi who might have thought it easier to walk alone. But this broken little momma lets her daughters-in-law do what they need to do. And the blessings stand. The love given endures. The kindness continues.
Because that's how God writes a story. Not with condemnation, but with a family–even though diversified by faith and country–hinged and hanging on love.
No matter how much I think I know a Bible story, I can always go back and learn more as I read it from a different place in life. When I was young, all I could see was Ruth's perspective. Now, years later and my sons fully grown, I am learning a lot from this woman called Naomi who lost much and whom God chose to bless the rest of her days through the love of a daughter in law.
What lessons has the book of Ruth taught you through the years?
---
Featured Post at Club31Women:
7 Beautiful Ways to a Better Relationship with Your Mother-in-Law
#howtoloveyourinlaws
Photography: JenniMarie Photography