hope for your marriage when you have a difficult mother-in-law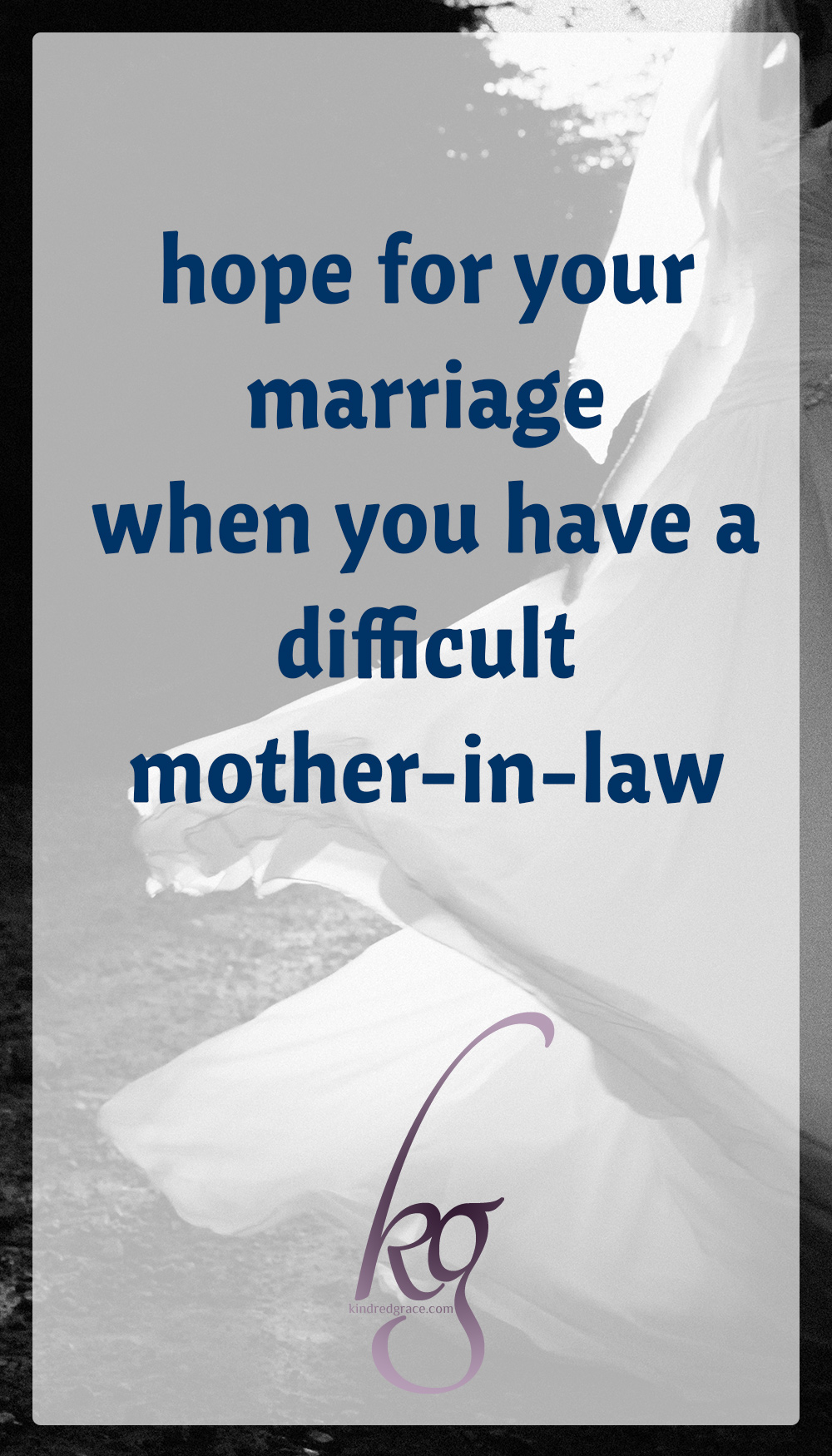 by Nel Stephenson
Did I ruin my life?
It's a demonic thought, really, but one that gripped my mind in the first few years of my marriage.
I had a thorn in my flesh—a problem of portions larger and greater than I could have imagined. I had a mother-in-law conflict.
The situation I walked through is the most painful trial I have ever faced. The self blame I felt was due to seeing the red flags of pending conflict while my husband and I were engaged, and not taking them more seriously. I assumed she would grow in security to release us. I assumed my husband would be clearer about boundaries.
I could have never known that things would have spiraled down as deep and as dark as they did. I felt that I had made an unhealthy choice and locked myself in to unending pain through my marriage.
The stories I shared with counselors left them breathless. A medical doctor even looked at me in shock and said, "That's Voodoo!" I have nailed those stories on the cross, so don't expect them here. They are too horrific to utter.
What I do hope you find here is just that…hope.
Hope, but not necessarily for your relationship with your mother-in-law. I'm far from a friendship with mine, thus I'm unable to encourage you with a beautiful reconciliation story of one of life's most challenging relationship dynamics. The hope my testimony offers, I hope, is that your marriage can be strong, and a place of joy, love, and intimacy amidst a conflict that can totally overwhelm a couple.
(This page contains affiliate links. Your clicks and purchases help support Kindred Grace at no extra charge to you.)
Who's to Blame?
It's not a gospel-centered question to ask who's at fault here, but when in-law conflict arises, I do think it helps to understand God's plan for the home.
Marriage is a sacred covenant, according to God's Word.
A man should leave his father and mother, says Genesis 2: 24, and cleave—be joined—to his wife, and they shall be one flesh.
And lest it seems that this leaving and cleaving is uniquely stated for the husband alone, the daughter in Psalm 45 is given similar admonishment:
"Forget your people and your father's house; Then the King will desire your beauty." (Psalm 45:10-11)
Both husband and wife are called to forsake all others and work at this beautiful act of oneness, an oneness that falls under the authority of the Lord.
"Christ is the head of every man, and the man is the head of a woman, and God is the head of Christ." (1 Corinthians 11:3)
Exegesis on headship and submission aside, the three persons found in this verse are husband, wife, and the Lord. Parents and in-laws of adult children are not part of this threefold cord (nor are they in Ephesians 5 which presents a similar model).
Ideally, parents of the married couple can and should be a great source of support and love, but the Bible does not grant them any intermediary position between a married couple and the Lord.
Honor, yes, but obey? No longer.
When either spouse submits to his or her parents after marriage, order for the home is disrupted.
Wise in-laws will recognize that their adult children are acting in obedience to God's word when cleaving to one another, and release them to do so. Annie Chapman explains it like this:
"In the mother-in-law/daughter-in-law dance, the leader is not the one who takes over and directs the action. Instead, the leader in this fragile shuffle steps back and gets out of the way. Without question, the leader in this waltz should be the mother-in-law. She is the one who lets go and lovingly releases her son and his wife to establish their own lives and routine.

(Annie Chapman in The Mother-in-Law Dance)
However, we can't control the attitudes and actions of other people. I could not make my mother-in-law honor scripture and freely extend healthy boundaries to our home.
Likewise, I could not make my husband set boundaries that signified his leaving.
And if this doesn't happen?
It leaves the other spouse feeling quite vulnerable.
At least, that's how I felt: the scapegoat for everyone else involved. As if I was the one who was responsible for the problems. In reality, I was totally dependent on either my mother-in-law to back off, or my husband to step up, none of which I had any power to control.
Even in this position, I still had choices, and I had God's Word, reminding me that I was more than a conqueror!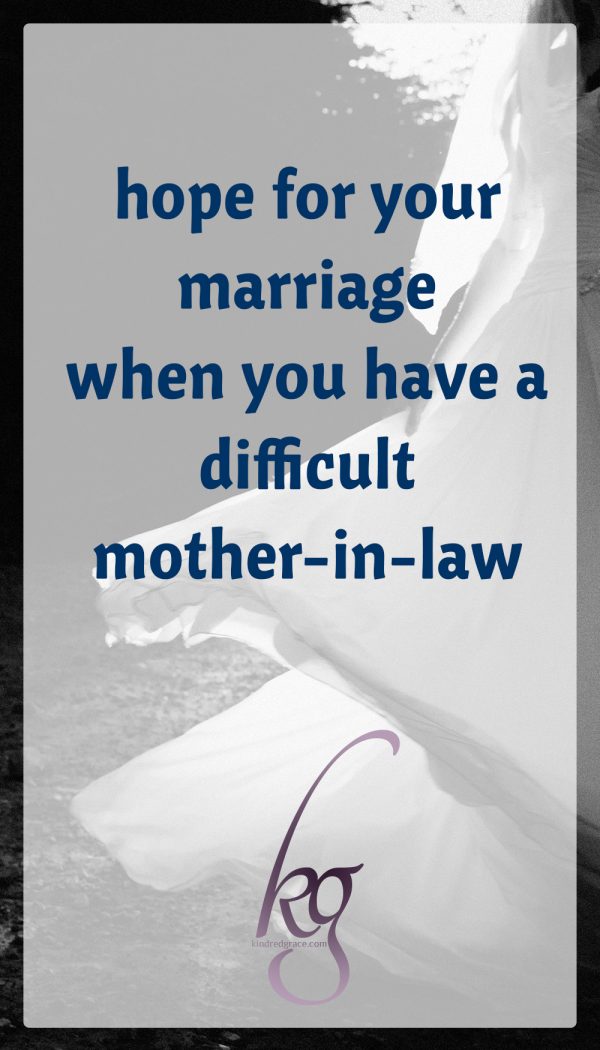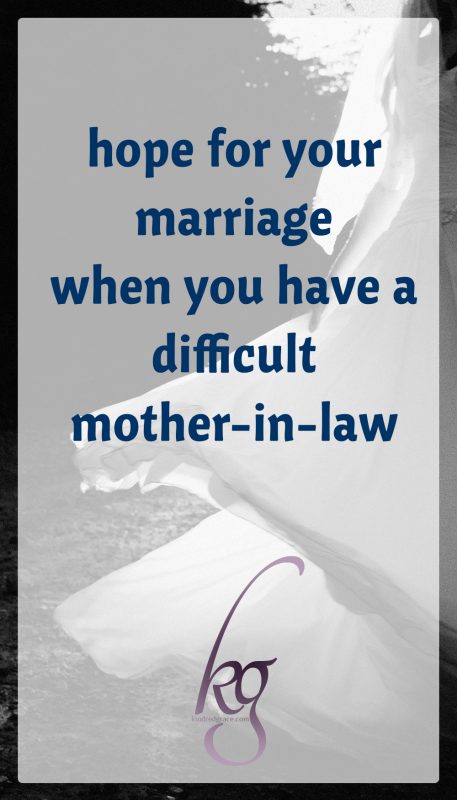 Here are a few steps I (and we) took to improve what seemed to be an impossible situation.
1. I realized a mother-in-law conflict is really a marriage problem.
This shift in understanding was foundational for any and all forward movement that helped to improve our circumstances.
The hurtful ways that my mother-in-law chose to relate to me were the single greatest source of conflict in our marriage. I shuddered at the thought of a visit with her, not only because I anticipated a great deal of manipulation, but because of the subsequent arguments that would ensue with my husband regarding boundaries and how to relate with his mother. Panic would come over my body, sometimes when trying to help him to understand what was going on and why I needed his support. Even so, I thought that the solution would come if my relationship with her improved. After a series of events that initially left my head spinning, it dawned on me that not only was I under attack, but primarily, the enemy was after our home.
My focus needed to shift from learning to relate to my mother-in-law to strengthening my marriage, and from that point on, even with some hurdles, we've found victory.
2. I (and we) got help, a lot of help.
Dealing with in-law conflict within your marriage is not something a couple can do alone. The insight of an objective third party can be extremely fruitful in helping the situation move forward. We had an entire team of counselors that we invited to speak into our marriage. Sometimes we met with them individually and sometimes together. We met for pastoral counseling, we met with a mentor couple trained in inner healing, and we met with a licensed family counselor.
We chose a team committed to God's Word, all of whom wanted to see our marriage thrive and believed we could make it through this challenge.
It was through these counseling sessions that I was given a vocabulary for what I experienced as actual abuse and not merely conflict. My husband was challenged as our pastor said, "There's wrong and there's really wrong. What's happening to your wife is really wrong." We both needed these outside voices to bring clarity to all that was taking place.
3. I worked at better communication with my husband.
If you've ever had an argument over in-laws, you understand why this is important.
I felt my husband wasn't hearing me and was only defending his mother. He felt I was hyper critical since he was having a hard time accepting that she had an abusive tendency.
At a certain point, the conversation would erupt into a full blown out of control argument. This could not go on!
I read How to Have That Difficult Conversation by Dr. Henry Cloud and Dr. John Townsend and learned a number of skills that helped clear up our communication, in particular, using the model: "When you/she ____, I feel ____." The advice offered in the book gave me both the courage to have hard conversations when necessary and the know-how to discuss this issue in a productive way.
4. I set personal boundaries.
While in-law relationships run most smoothly if the adult child will set boundaries with his or her own parents, there are times when it simply needs to happen from someone, period. Our team of counselors was very clear that I was being verbally and spiritually abused by my mother-in-law, and it was certainly appropriate for me to make choices about what my boundaries were with her, and with my husband as it related to her. And using techniques from the Townsend and Cloud, I learned to communicate those clearly.
A few examples: I decided to not be alone with her because that's when I was mostly likely to be harmed, and then my husband had two different stories to process. I explained to him that would no longer absorb verbal abuse from her just because it kept the peace for everyone else, and how I planned to respond in the future (gathering the children and leaving the environment). I identified for him a few phrases that he used when we were talking about his mom that were extremely hurtful to me and essentially shut down the conversation for me, and asked for a commitment from him that he wouldn't say them anymore.
Likewise, I shared with my husband that if we decided on something together, my expectation was that our decision would stand, even if it was displeasing to any of our parents, and I would hold him to that. Wanting to honor God's Word, I had wrestled with what appropriate biblical submission looked like here. Gaining understanding on God's plan for the home emboldened me to hold a line on this issue, and to do so as an ezer kenegdo, as Eve was charged, a strong help.
Again, learning appropriate communication was helpful in talking through this in such a way that he understood I was fully committed to him, that I did trust his leadership, but that I was hurting and needing more from him.
5. I prayed patiently.
In one of my private counseling sessions, I was encouraged to trust the process the Lord would take my husband through to understand how severe the problem was. Even though I was desperate for him to "get it" about his mother's behavior, she suggested that his coming out of denial slowly would be a blessing for our home, whereas sudden wake up might bring him into a personal crisis.
I prayed and asked the Lord to speak truth to his heart in such a way that he'd never question whether or not I convinced him to view her in a particular light. And hear my heart: I have never wanted him to think badly or negatively of his mother—just honestly.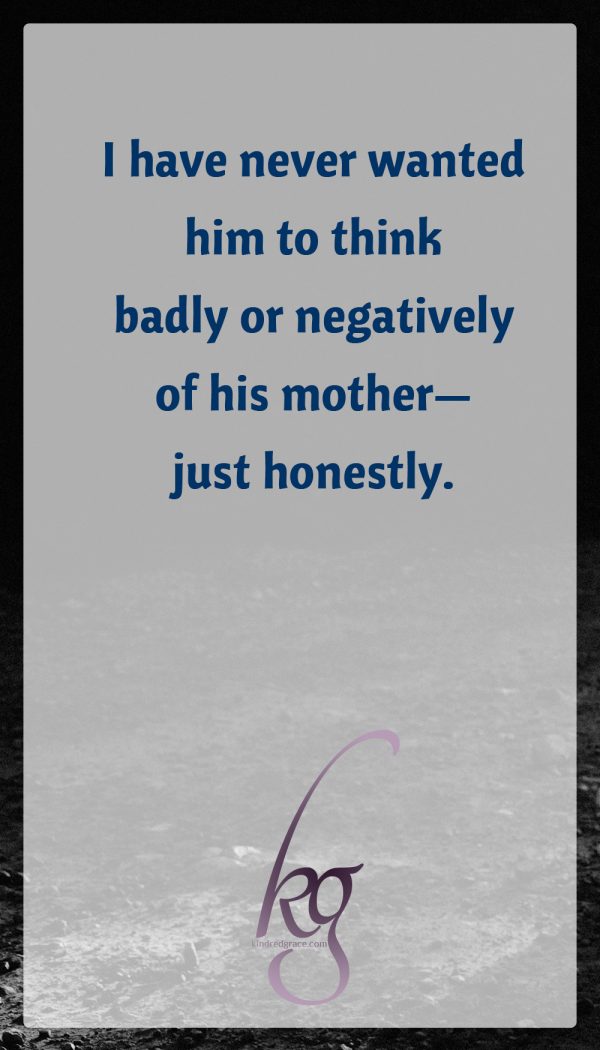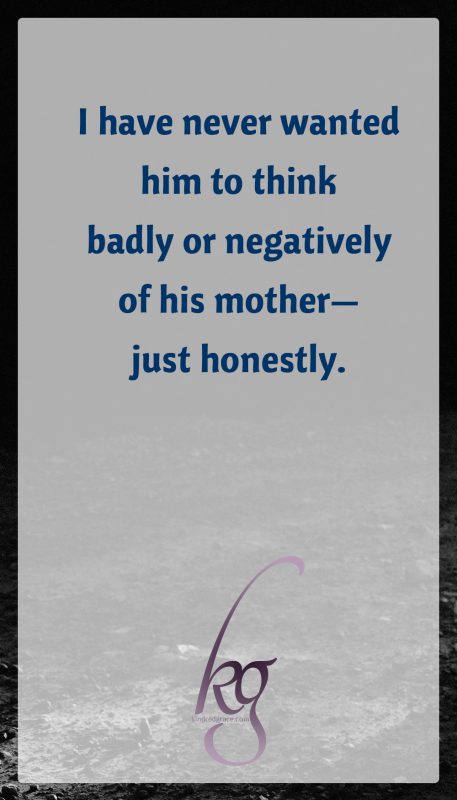 I have been amazed to see this process unfold over the space of several years. It often happened through his dealings with other people, perhaps at work or a ministry event, who demonstrated those same character traits. In a different context, he could see the devastation clearly. Eventually, he was able to evaluate his personal interactions with her more objectively, which I greatly attribute to committed prayer.
The honesty that I had been asking for has come gently and quietly. It has come without dishonoring her, while increasing his ability to protect our home. There is power in prayer.
6. We got some distance.
As my husband began to see things for himself, it has taken a burden off of me. At this point, you'll notice the list switches to we statements!
One of our counselors felt that the relationship with my mother-in-law was so hurtful to our home that we really needed a full twelve months without visits.
Living a plane flight away, this was actually nearly impossible on our own accord since she visited our city regularly for work. We could not control her coming and going, and to not visit when she was in our city would be very unnatural, something we felt would stir up unnecessary controversy. Again, we prayed boldly along with our team, and her job suddenly took her to a different city! It was nearly twelve months without a visit, as recommended, but by the Lord's doing!
That time frame honestly did give us the space we needed to reconnect and repair places in our marriage that had been worn down. It was incredibly, beyond words, healing.
As much as it is within your control, create that space to breathe life into your marriage. If it's not within your control, ask the Lord to move mountains. He wants your marriage to be blessed and He can make a way.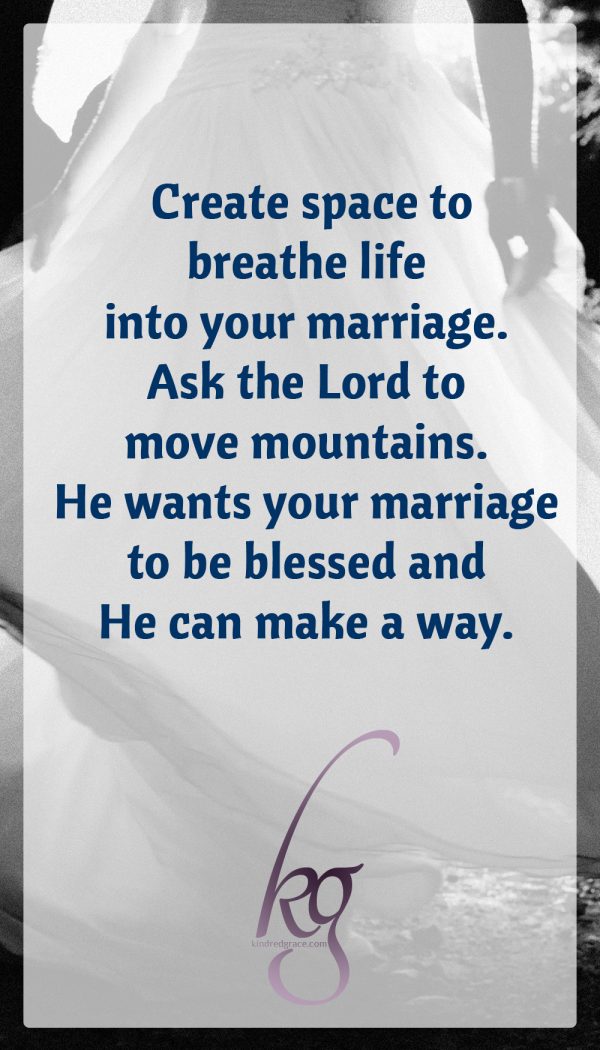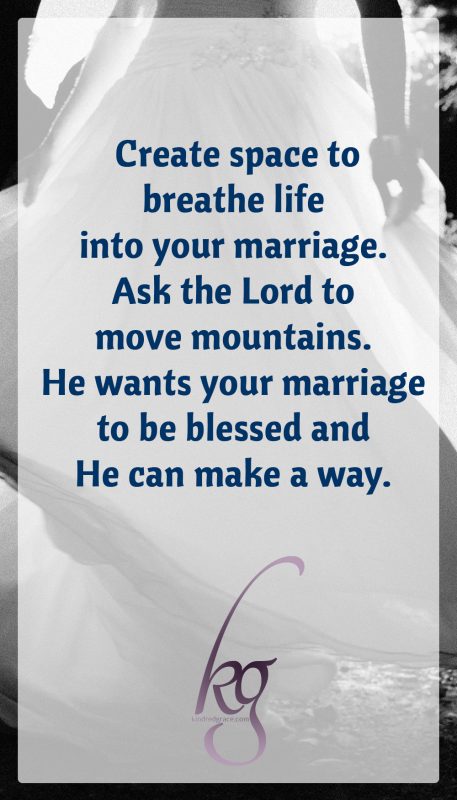 7. We moved and removed the familiar.
Interestingly, during that twelve-month time frame, we changed homes before we saw her again. Even though we were in the same city, the move was a fresh start for our marriage, and on her first visit, she seemed quite aware of that fact. I didn't fully grasp why until reading Mothers-in-Law vs. Daughters-in-Law: Let There Be Peace by Elisabeth Graham, in which she explains:
"In my house, Bill was more my husband–something Esther didn't have a part in–more than he was her son… she was guest in another woman's home. When we came to her house though, Bill was more son than husband… Here on familiar territory to both of them, they responded to each other in ways reminiscent of when she was still the primary woman in his life."
My husband lived in our first home for several years before we were married, during which time his mother would host her own friends on her work trips, even storing her own items there between visits. She had a familiarity with our space that preceded our marriage. When I moved into our first home, my presence and change in furniture did little to remove her familiarity, but our move together did so in a way that was visible to both my husband and me.
Even with the pain she caused, I always want my home to feel hospitable to my mother-in-law, but I do want her to recognize a change of spiritual authority in our space and allow us to have our own home.
The move seemed to communicate that more clearly than words. Similarly, extended family vacations on neutral ground–splitting the cost of a beach house or camping, rather than visits in their home, for example–help us to maintain healthy boundaries and relational positions as well. While gatherings on neutral ground are now our preference, if a home stay is best for everyone's schedule, we do better to keep it short!
8. We celebrate our home.
Rather than spending energy talking about our past or present conflicts, we've shifted focus and are putting our energy and resources into our marriage and children. We date, hold hands, take family vacations (just us, without grandparents). We create our own family traditions around holidays, fill our walls with joyful photos; we make memories and memory books. We serve in our community and go after our dreams.
We are living our life and enjoying each other. And since an in-law problem is really a marriage problem, this has been vital!
Being intentional about shifting our focus to our own home and marriage took her controlling tactics out of our home even when she wasn't there. Rejoicing in our own accomplishments greatly helped heal wounded places. It was that twelve-month pause in visits that helped get this process rolling, and the move to a new space that gave us added motivation to celebrate memories as we were styling our walls!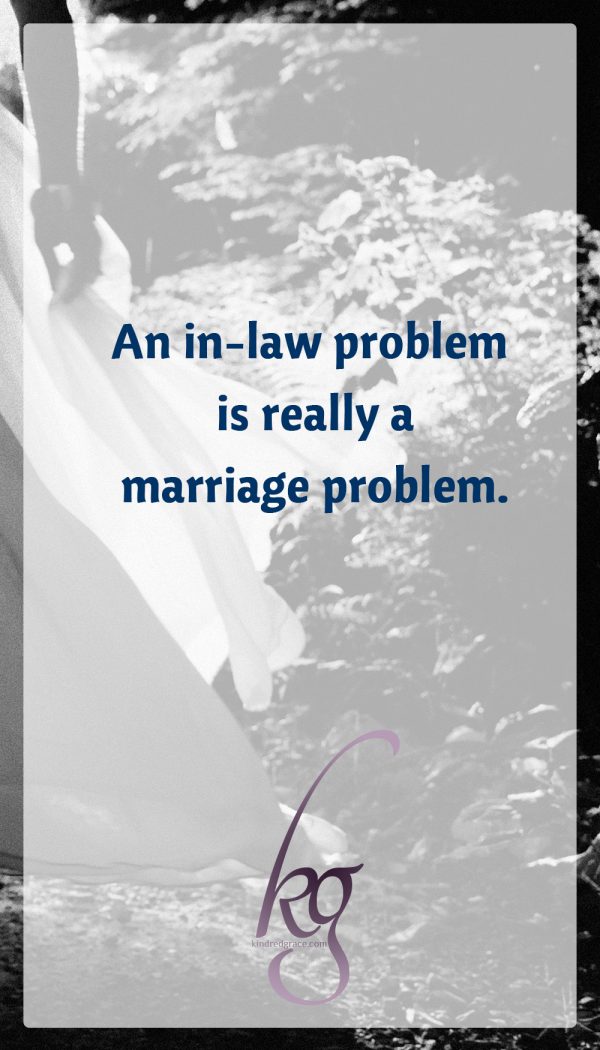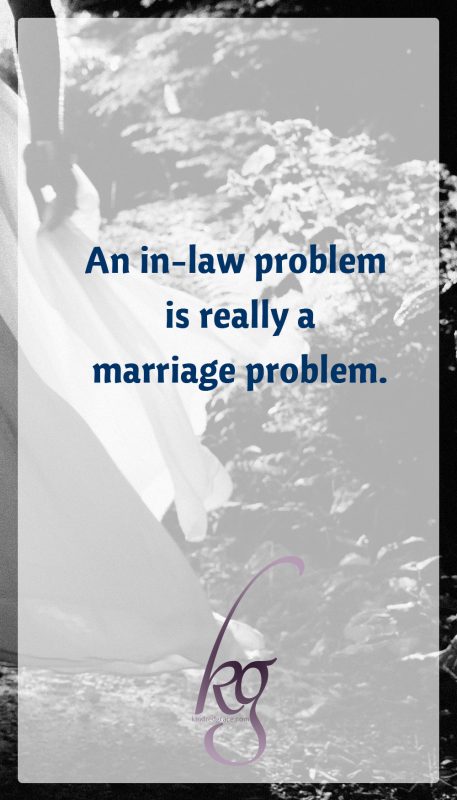 9. We have changed and continue to grow.
Ten years down the road, are things perfect now? No…life is certainly better, but not perfect! We take a few steps back on occasion. I still struggle with anxiety-plagued dreams preceding a visit, and have to remember that my husband has matured into the protective role I desired early on. Even so, sometimes a scenario will arise that we hadn't considered or prepared for, and we'll feel the tension.
We are still dealing with a family member who has yet to change. The difference is that we've changed! We now have the tools to work through it, and we've grown in how we trust each other when it comes to this issue.
Even with matters outside of our control, our marriage has not only improved, but has been blessed. I have come out of the depression and never once question whether or not I ruined my life. I know that's not truth.
We passed through a fire together and we are stronger for it—refined gold. That's what marriage is about: committing for the long haul, for better or worse. Having victory over this area is something that we feel appropriately proud of and it has solidified us more as a team, as one flesh.
If you relate to my story, please know that I am praying for you as you read this. Trust the Lord. He is so for your marriage and He will give you everything you need to walk this out. Fight for your home and do not give up!
---
Featured Post at Club31Women:
7 Beautiful Ways to a Better Relationship with Your Mother-in-Law
#howtoloveyourinlaws
Photography: JenniMarie Photography