There's something about quiet that inspires me. The lack of noise opens my ears to the sounds I usually miss while resting me for the next onslaught of noisy activity. The calming of the world around me allows my mind to dwell on deeper things and the words to well up inside me.
This is one of the reasons we hit the "pause" button on Kindred Grace each August. It's not just because our writers need a much-deserved vacation. But we want to deliberately quiet our blog and our hearts as we pray and plan for the upcoming year at Kindred Grace.
It's a humbling task to manage a community blog. I learn so much from this amazing team of writers. Each post edifies and encourages me even as I edit it and ready it for publishing. Each perspective allows me to see yet another facet of the way we're created with unique lives and different callings.
But sometimes, we need quiet and retrospection just as much or more than we need one more post or yet another perspective. That's why we've deliberately slowed down our publishing schedule here at Kindred Grace. And why each August, we delve back into the archives and dig out the gems that are already here on Kindred Grace.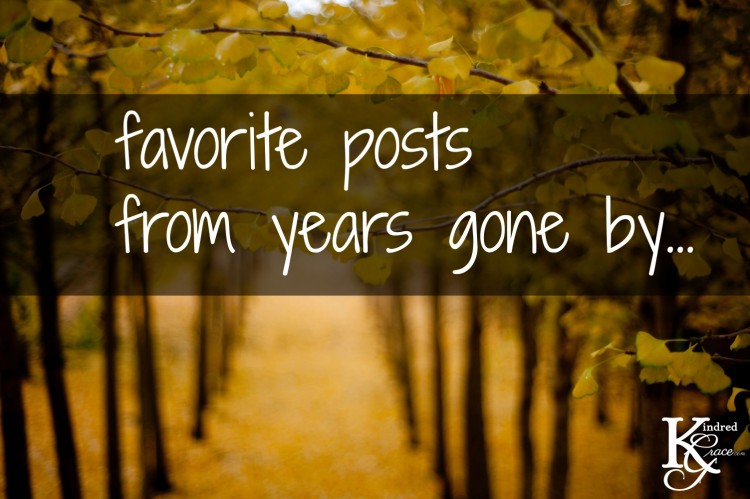 This year we're highlighting some of our favorite posts (and yours!) in a series of videos:
favorite posts mentioned in part 1:
favorite posts mentioned in part 2:
P.S. I usually save upcoming topic announcements for our newsletter (are you subscribed?) but I am so excited about the themes of the next few months that I had to tell you. In September we'll be talking about private worship: devotions, Bible study, etc. And October's annual theme centers around public worship: "A Peek Into the Family of God". We're looking for some extra guest post submissions for these special topics, so if you know of a writer you'd love to hear from on these subjects, would you share this post with them? If you're that writer, email [email protected] or watch for more theme details in this month's newsletter! (For more information on writing for Kindred Grace, visit our guest post guidelines.)
P.P.S. If you haven't visited KindredGrace.com lately, you might want to drop on by and click refresh on your browser. We're working on a new look!
Photo Credit: JenniMarie Photography