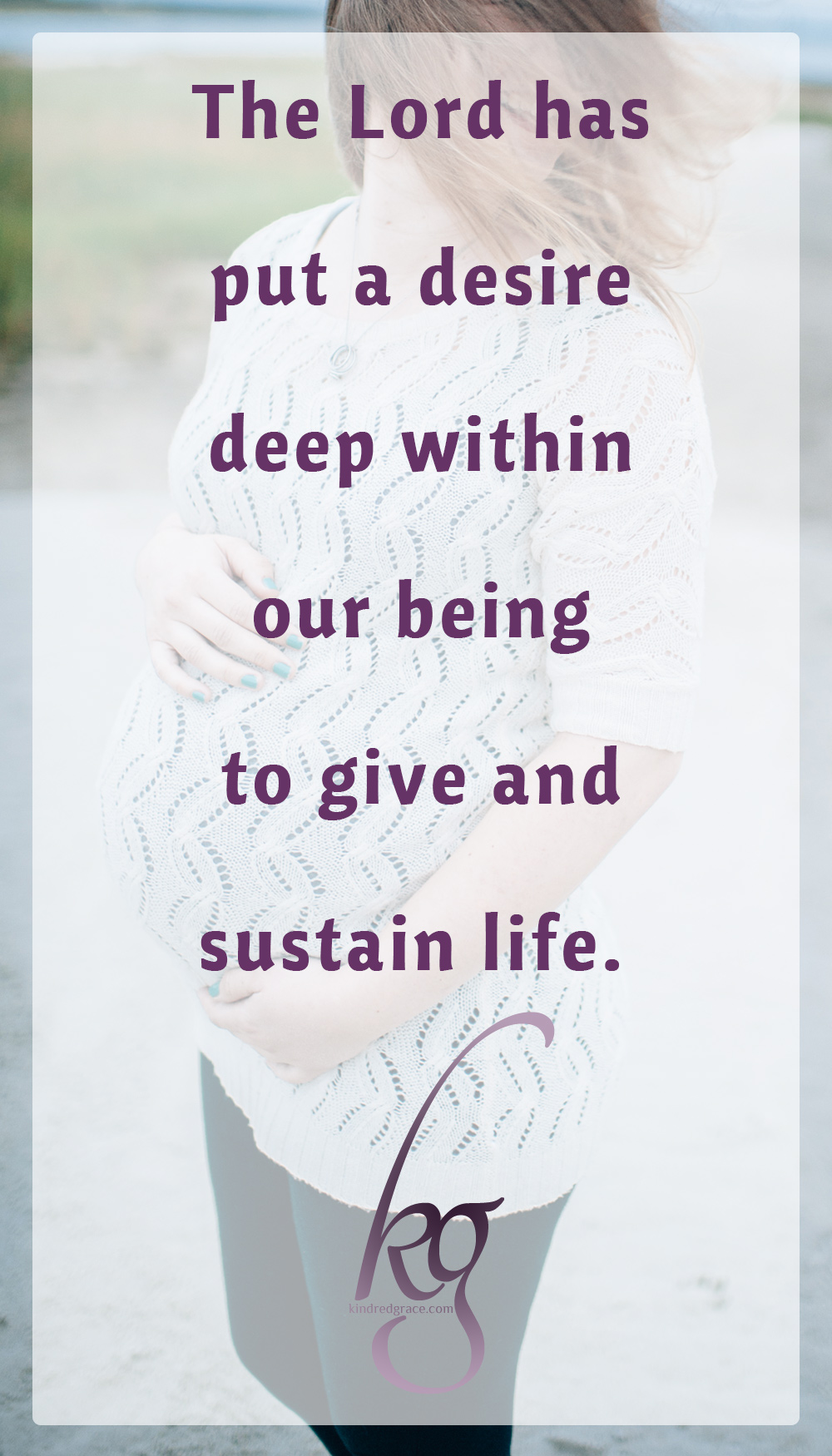 "And her offspring will crush the head of the serpent…" (Genesis 3:15)
The opening three chapters of Genesis are known to most of us for their purpose in describing the origin of life, and establishing the character of God as creator. The depth of these few chapters; however, is as unending as God is eternal. Though a passage of prose, the poetic quality of the Hebrew reading of the Bereshit (beginning) is much more beautiful than we gather from the English language, full of parallelisms and nuanced grammatical detailing that leaves the reader with both clear truths, and a bit of wonder as creation unfolds. Powerfully, this passage is as eschatological as it is original, revealing a God who wrote the end from even before the very beginning.
And in the ending, we see the great gift of mercy.
Even though this word, mercy, does not appear in the creation story, it is found in the bible in the Hebrew form as rachamim (more accurately mercies). Sometimes translated as compassion, rachamim is greater than the emotion of empathy.
It is a jealous love that drives the Lord to move; to act on behalf of all creation.
Not all uses of the word mercy in the bible are from rachamim, however. Mercy will also be translated from the Hebrew chessed, which means lovingkindess, or chen, meaning grace. These are all well worth studying in their own right, but it is the great mystery of this word rachamim that I find powerful in my life as a woman; wife and mother. For while He could have shown anger at the disobedience of creation, instead, he revealed a plan to make this wrong right, and this plan involved the womb of a woman.
From the first Messianic prophecy in the Bible, found in Genesis 3:15, we learn that her offspring will be a savior who will utterly destroy sin and the prince of this world, restoring all that was lost to its intended form. The serpent may strike His heal at the cross, but He has the final say.
That this mercy comes through woman's offspring matters because this word rachamim, shares the same root as the Hebrew word for womb, rechem.
"God created man in His own image, in the image of God He created him; male and female He created them." (Genesis 1:27)
In His wisdom the Lord has chosen to identify in the masculine sense as a father, who sent His son in the flesh of a Jewish man, to be King of Kings, something I neither contest nor find offensive. Even in his masculine nature, the heart, soul, and body of a woman reflects the glory of God no less than that of a man, when surrendered to His purposes for our lives to be life givers and sustainers; whether literally as mothers, or in the worldview that we uphold as we live out our personal callings. We likewise, were created in His image and give fuller testimony as to His heart and character when complimenting, rather than competing with, our male counterpart.
Adam upheld this complimentary role of his bride naming her Chava, Eve, which literally means life, in honor of the great calling the Lord had placed upon her. This life giving nature is the essence of the heart of a woman, a driving purpose behind the design the Lord granted in our being. While it might be obvious that the secret place of the womb reveals great mysteries of His character as creator, understanding that rechem and rachamim are of the same root, we can see the great potential for the Lord's heart of mercy to be displayed through the story He has written in the lives of each woman He created.
(This page contains affiliate links. Your clicks and purchases help support Kindred Grace at no extra charge to you.)
Learn more about the Hebrew words in Homecoming: Our Return to Biblical Roots by Chuck and Karen Cohen.
Attacks on the womb point to a merciful God.
Perhaps it is for this reason, telling His story of mercy, that the attacks on the womb are so severe, as our feminine being carries an ability to point a lost world to a compassionate God.
Such attacks, whether closing the womb through illness, worldly ideologies, or even unexpected prolonged singleness, can serve in God's purpose for revealing His mercies, depending on how we choose to respond.
I think of the woman who had the issue of blood (Luke 8:43-48).
This was a malfunction of her womb. For twelve years she felt the agony of a menstrual cycle. It was not only the physical strains that plagued her, but also the ritual uncleanness of her state that separated her from Jewish society.
The Bible leaves much of this story unknown, but in the midst of her despair, somehow she heard news of the one, Yeshua, Jesus, who could heal her body. This surely granted her hope as she took a great risk in touching the corner of His prayer shawl. If His reputation proved accurate, she would be healed and set free. If He was not the great healer, then according to Torah, her act of touching Him had rendered Him unclean.
(Unbeknownst to her at the time, it was because He was willing to become unclean, taking on her sin, that that she would find ultimate healing.)
His power left Him, and she was healed. Startled by His surprise at the event, she humbled herself before Him and stated her case. His loving response:
"Daughter, your faith has made you well; go in peace." (Luke 8:48)
Her closed womb compelled her to seek the God of her fathers.
Her desire for healing emboldened her faith. It was the pain of her womb that brought forth the mercy of her Messiah.
My own testimony is not that far from the women with the issue of the blood, though perhaps in reverse.
My heart ached for another baby, yet my womb remained closed long after my first child was born. Secondary infertility was a road I had not expected. It was months and months without menstruation before I accepted the reality of my condition, and the intense desire to carry more children motivated investigation of the subtle but unusual symptoms in my body.
I often wonder how long the tumor might have been hidden and allowed to grow if I had not wanted another child. Motivated by this God-created passion for more children, I found physical healing from a rare condition, as we discovered the intruder on my pituitary gland.
Yes, a brain tumor had closed my womb, but simultaneously, it opened my heart. I cried out to God for healing, which He granted in my body but also my soul, as I drew near to Him.
Like the woman with the issue of blood, an attack on my womb brought me into my Messiah's merciful healing of my body and my heart.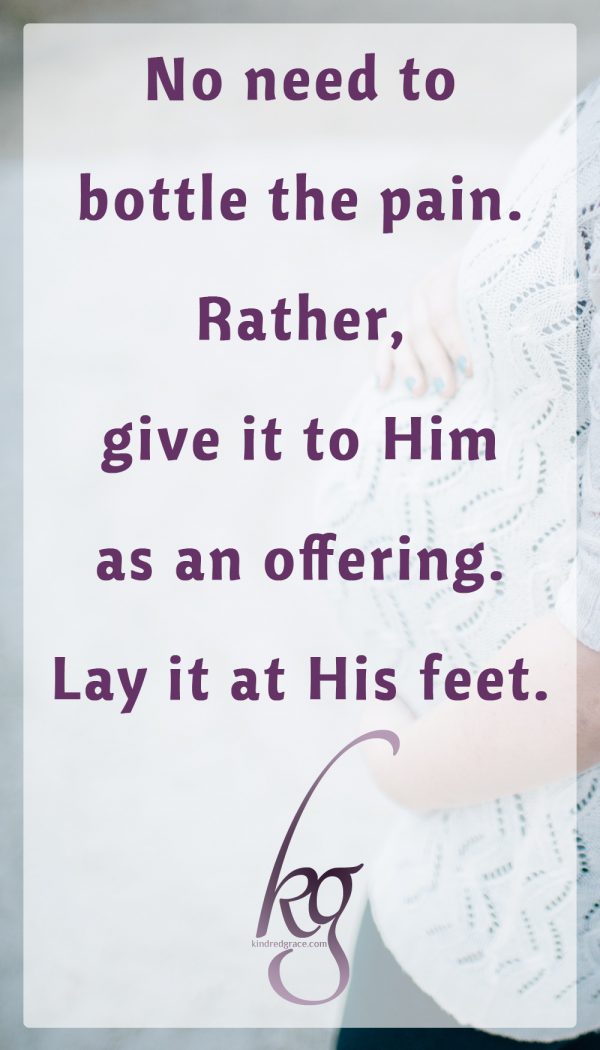 Mercy Through Infertility
I have been blessed to be filled with life twice now after having a surgery to remove the tumor! Although, the anguish of that season is likely something I will carry with me for all of my days.
The Bible is honest about the pain of infertility.
The Lord had closed Hannah's womb, rechem, in the Hebrew (1 Samuel 1). Her pain was real as she suffered from bitterness of soul. Unable even to eat, she was afflicted, though her state might be better understood today as depression. In her crushed spirit, however, she didn't give up. Instead, she pressed in, weeping bitterly at the tabernacle in Shiloh, in a posture so raw before the Lord that she was accused of drunkenness.
Her vulnerability before the Lord is an example, even today, that we can approach Him with our hearts desires, in full emotion. No need to bottle the pain. Rather, give it to Him as an offering. Lay it at His feet.
Hannah pleaded with the Lord to give her a son, whom she promised in return to give over to Kingdom service, and He answered her. He gave her mercy, and opened her womb.
Had it not been for the way her anguish led her to the Father, Samuel may not have lived with such a great anointing. Hannah humbled herself through her closed womb, and in doing so, the Lord blessed the nations through her family line.
Not all who struggle with infertility will share in Hannah's testimony, though seeds sown in humility, prayer, and a soft heart before the Lord, will always reap an eternal harvest. Through Hannah's testimony, I often wonder what fruit the prayers of my infertile season will bear in the years to come.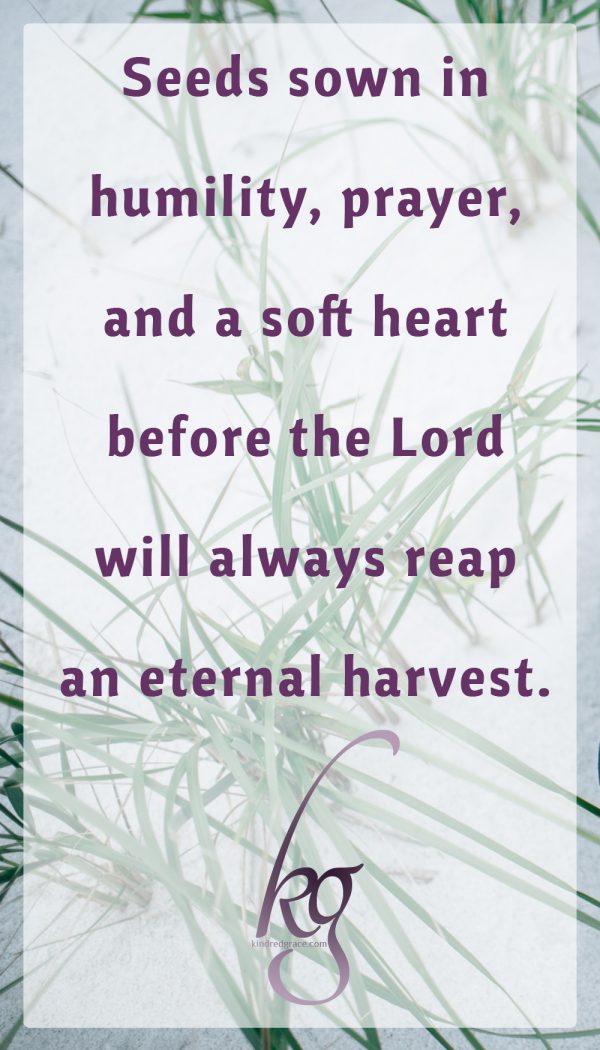 Mercy Protects with a Jealous Love
While suffering certainly has a way of revealing the Lord's rachamim in our lives, it is not only the pains of the secret place that point to God, but also the power of love that flows from a mother's heart.
"Can a woman forget her nursing child, that she should have no compassion on the son of her womb? Even these may forget, yet I will not forget you." (Isaiah 49:15)
Here it is the compassionate heart of a mother, racham, the Hebrew singular form, that the Lord uses to indicate the strength of His love for the nation Israel.
A mother myself, I read this understanding the intensity of the love for a nursing baby that will compel a mother to move on her little one's behalf. It was intended by the Holy Spirit that a mother's heart was used in this analogy rather than that of a father.
A new mother cannot ignore her crying baby. Even if she so desired, her body would likely respond with lactation, leaving her unable to forget her child.
The protective heart of an early postpartum mother will make her quite fierce in her need to care for her baby. I remember being shocked by the strength of my protective nature when my first child was born. I struggled, wondering if I was wrestling with a control spirit, but with a little research I learned that my responses were a natural and normal part of postpartum recovery, as a rush of hormones takes place particularly in the first hour, but also in the coming days and weeks following birth.
This instinctual jealous love, both protective and nurturing, is built into a new mother's being for the sake of establishing a good start for mother and baby, for bonding and for aiding in a successful breast-feeding relationship. The God designed hormonal rush, and her new loving emotions will not let her stay still, and merely pity her crying child. She must take action–move–to bring comfort, and she is not settled until she is the one doing so, even if others are quite capable. This is not an excuse to be rude to visitors, but the maternal strength of this time is perhaps why the nursing mother is used as an example as how passionately the Lord's heart beats for His children. He has a mercy that moves Him to action on our behalf.
Mercy Fuels the Courage to Move
A similar maternal strength can be found in Sarah's great love for Isaac.
Upheld in God's word as a model of submission, noted as obeying her husband Abraham, and calling Him Lord (1 Peter 3:5-6), it might be a great surprise to consider the hard word she gave her husband in regards to their son.
At Isaac's weaning party (Genesis 21:8-21), Sarah noticed young Ishmael mocking her small child. She approached her husband and suggested to him to "cast out" Ishmael and his mother Hagar. By doing so, she established a firm boundary to protect her son and his inheritance.
Abraham was distressed for he loved his son, Ishmael. His response, however, indicates a great deal about his relationship with Sarah, and his role of leadership in their home. He neither passively submitted to her request or ignored her wisdom, rather he took the issue to the Lord in prayer, and the Father instructed:
"…Whatever Sarah says to you, do as she tells you, for through Isaac shall your offspring be named…." (Genesis 21:12)
Sarah was not out of order in her home to speak up, neither manipulating nor nagging. She could simply see something that her husband was missing, and she had the Lord's heart on the matter, affirmed by His very word. She spoke such hard truth out of her maternal rachamim, mercy and compassion on her son. She could foresee a problem, one that we see played out even today as the two nations born from Abraham continue to fight over an inheritance rightfully promised to Isaac. Her compassion toward her son caused her to move boldly on his behalf. In doing so, she encouraged her husband to uphold the covenant the Lord had established with him for His namesake.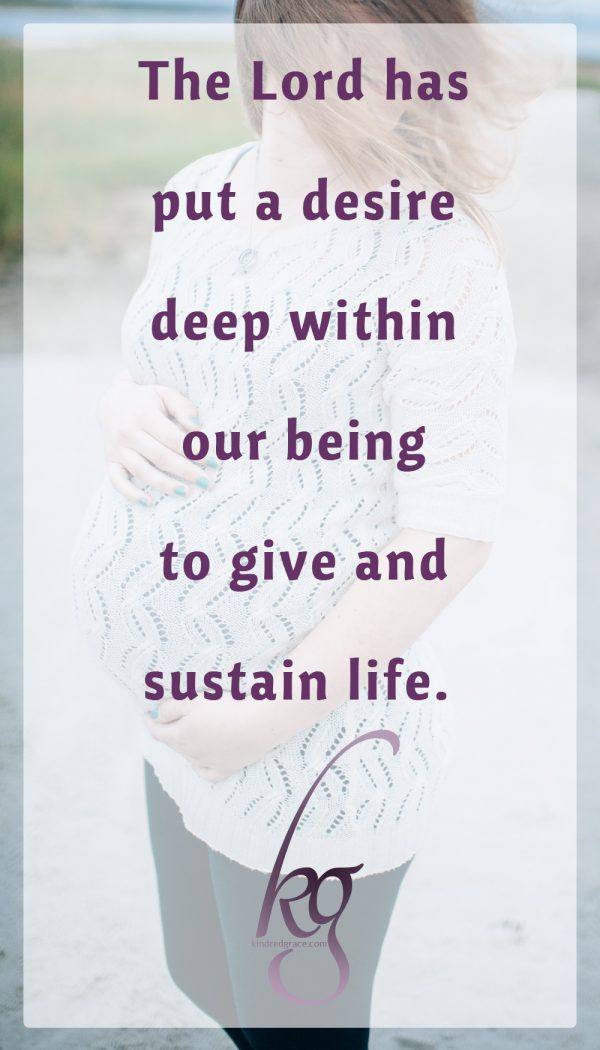 Mercy in Our Blessed Design
As women, the Lord has blessed us in our design.
He has put a desire deep within our being to give and sustain life. That desire and physical reality displays His heart of mercy; one that encompasses a beautiful balance of loving care and a fierce bravery. We can experience and testify to His mercy through the pains and joys of the womb. Likewise our nature as life-givers provides the unique opportunity to display God's mercy to a lost world. Mercy gives us courage to move when we might otherwise be passive, to speak when we might otherwise be silent, and even to humble ourselves and seek Him where we might otherwise be hopeless; all of which prompt us to draw more closely to the Lord.
This mercy is a glimpse of the Lord's very own jealous love, which ultimately culminates at the cross, where God Himself came down in the flesh of a Jewish man and died on behalf of a creation that sinned against Him, a creation that He loved. He was moved to action on our behalf, not because we deserved it, but because of love. And the story is still unfolding. We will one day see His rachamim in full glory as He shows mercy on those who are saved by the blood of the Lamb, and justice on those who have sin against him.
"And her offspring will crush the head of the serpent…"
What a blessing to be a woman, uniquely gifted to testify to His infinite mercy in our bodies, hearts, and souls.
Photography: JenniMarie Photography