of Cranberry Fluff and changing traditions
There must be a mystery ingredient in the Cranberry Fluff that causes large amounts of it to disappear while it's in the refrigerator overnight. It's a phenomenon that has manifested itself more and more each year of late. And it's especially apparent when my 15-year-old brother Caleb is in the house.
Cranberry Fluff has become such a part of my family's traditional holiday menu that we probably eat it more at my parents' house than at my in-law's house. But we first got the recipe from my mother-in-law long before she was my mother-in-law. It was November 1997. Before my brother Caleb was even born. And we were visiting this family we'd met in Yellowstone…
I'd never had anything quite like the salad that combined the sweet of marshmallows and sugar with the tart of cranberries and green apple. I remember eating it to be polite, then wanting another bite to explore the unique taste some more. My mom remembers that Merritt's mom put the chopped walnuts on the side since she knew my dad didn't like nuts. I remember the really cute boy with the brown eyes. Watching "Anne of Green Gables" with his sisters. Composing and performing really silly songs about all the family members. The beauty of the snow and the even deeper beauty of fellowship.
This last Thanksgiving found us at my parents' eating Cranberry Fluff again. With chopped walnuts on the side, forgotten until halfway through the meal. Mom had to make multiple batches because there were never as many leftovers as we thought there were for the next meal. In fact, Mom reigned queen of the kitchen for Thanksgiving week. Not just because I was fighting a cold bug. But because my 18-year-old sister Jessica, who usually claims dominion in all things domestic these days, was across the country at college. It was our first holiday there without her. Usually the only thing Jessica lets mom do in the kitchen is make the Cranberry Fluff. This year, we missed her Cornbread Dressing with Sausage and Apples. And her generally cheery presence. It's amazing how one's baby sister can grow up into a woman overnight.
Of course, we celebrated Thanksgiving the day before, because Daddy had to work on Thanksgiving Day. With all the food preparation taking place earlier in the week, it made for a quiet Thursday of tea and leftovers and naps. It was a nice change. The day doesn't really matter, we decided. Being with family is the important thing. (And Cranberry Fluff, my brother would add. This Cranberry Fluff recipe from Taste of Home is almost identical to the one we use–it calls for just one more cup of marshmallows and cranberries than we use.)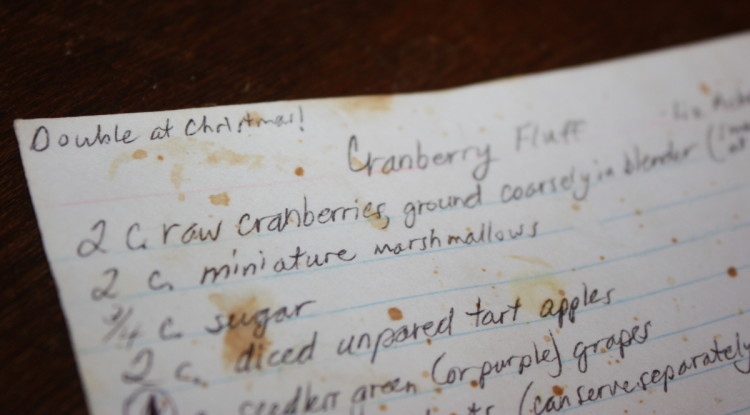 Christmas will be no different. My husband's family celebrates on Christmas Eve. So rather than caroling, one gift to open (always pajamas from Grandma) and the Christmas Eve Chili that I grew up eating at Aunt Terri's each year, it will be the full Christmas meal, presents and all on Christmas Eve. Our visits to see my family this time of year are always timed and controlled by the weather forecast and the condition of the roads. (Summer and winter, farmers are always dependent on the weather, it seems.) And each year we trade off which holiday we spend where.
There's never a dull moment with all the family around. A "silent night" is rare. But amidst all the noise and the gladness, I want to, like Mary, treasure every second in my heart. Like when my little boy wraps his arms tight around me and will not let go no matter what I tell him is next on my list. Like when my daughters look up at me and tell me I'm beautiful. Like when the children are asleep and my husband and I can sit together and talk. Like when we wake up to snow and everyone races to the window to look outside at the sight that's always a miracle.
Merry Christmas, friends. Wishing you and yours a beautiful day, no matter where time and tradition may find you…