When Christmas break rolls around, I rejoice because not only did I survive a semester (and final exams!), but I have a whole month to go before classes begin again. However, I realize I only have a month before classes begin again! Which means I want to buy next semester's textbooks early, and make sure my pencil supply is in good shape…
It is so easy to get caught up in the prepping, though, that I lose sight of the wonderful opportunity this month off really is.
I want to use my break wisely so that I'll be ready to step confidently onto campus come the first day of classes, refreshed and ready. Perhaps you don't have a whole month; you may have only a weekend or an afternoon on your hands. Whatever your time-frame, I'd like to share some simple, not-too-time-consuming ways to refresh with whatever amount of time you have.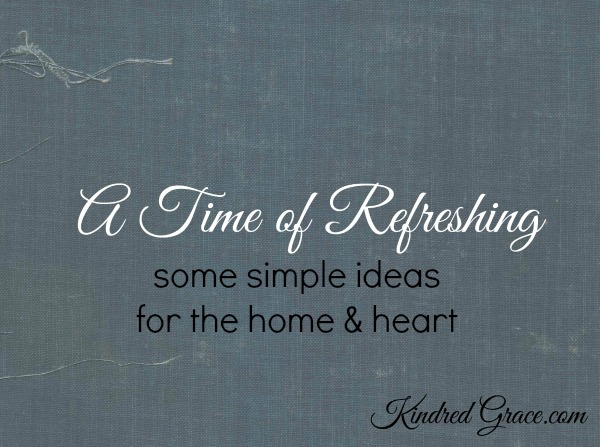 Clean Out the Closet
Time Commitment: app. 1 hour
I throw open the folding doors (it is a great dream of mine to one day have a walk-in closet; alas, that day has not yet come) and stare at the rainbow that greets me. Then I take a deep breath and dive in. Whatever I haven't worn in a year meets my bedspread with great aplomb. Whatever I don't think I'll wear in another year soon joins the mound. A few pieces that don't fit or flatter anymore go into the pile, which will then be bagged up and donated to a woman's shelter.
Throughout Christmas break, I also kept my eye out for the back-to-school basics I talked about on Adornabelle. A few scarves and pieces now brighten up my refreshed wardrobe. Not only have I gotten rid of the eyerolls I used to give those blouses and jackets I knew I was not using, but I've given to someone who perhaps needed that precise blouse for a job interview.
Organize the Desk
Time Commitment: app. 30 minutes
I've always considered myself a fan of organization, a girl who's got it all together, someone who knows where everything goes and keeps it there. But somehow during semesters (especially at midterms and finals, it seems), I let things slide. So I take inventory of my desk and its environs. I unearth receipts from where they shouldn't have fallen, and I file them. I ditch the mound of post-it notes I'll never use in favor of keeping the bright-colored ones I know I will. I pull out that stack of short stories I wrote during the homeschool years…and slide them right back into place for safe keeping. Some things never change!
The week before Christmas, when the store was playing cheery holiday music, I splurged at an office supply shop on a new binder and dividers which will help me keep class notes organized this semester. It's peach and fits perfectly in my refreshed desk. Amazing how a simple accessory like this both thrills this writer's heart and promises continued organization in the future.
Renew the Heart
Time Commitment: varies
The hardest thing I did this Christmas break was take inventory of intangible things, like emotions and dreams and plans. This senior girl is over-the-moon thrilled about walking across a stage in May. That degree is something I've worked hard for, and I look forward to finally holding it in my hands. After that (and even now), my life is in the Lord's hands.
My life is, yes. But is my heart? To check, I spend precious time studying God's Word. I journal. I kneel at my bed and stare out my window, through which the sun shines through. I keep this song on repeat. I rest.
Are my heart, my plans, my dreams as pure as I'd like them to be? Of course not. And, in truth, no time of refreshing can store up in me enough strength to pursue Christ devotedly for a sixteen-week study session if I don't continue to pursue Him anew every day of all those weeks. So I renew my commitment to take a Sabbath my last semester, and I use this precious time when schoolwork doesn't tug at me to search my heart and get to know His a little better.
Because in the end I don't want this time to be all about refreshing for the sake of refreshing. I want it to be about Him. Just as I want this next semester to be about Him. And that is why I am thankful for this time of refreshing.