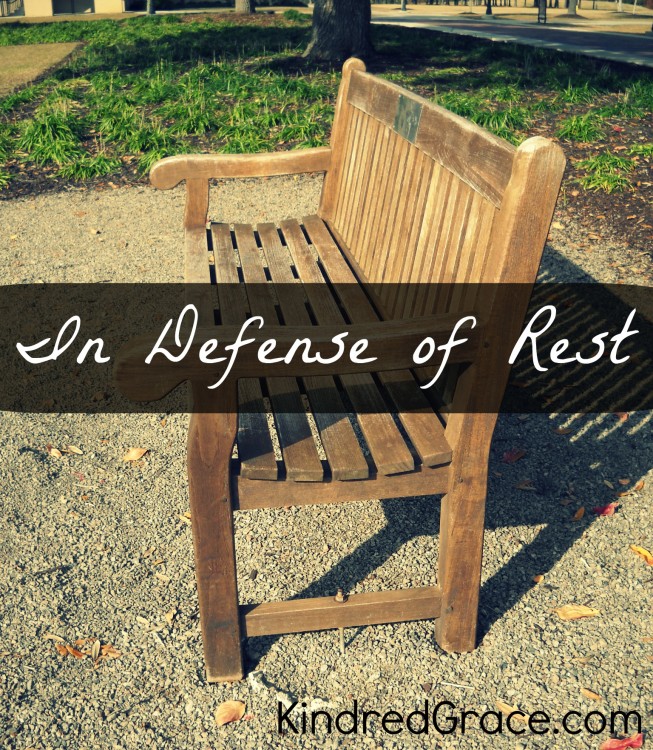 This summer I felt the Lord leading me to do something I've never done before. Translation: He challenged, and I balked. Story of my life. The task? Something simple, something Scriptural, something like…setting apart a Sabbath. It was summertime, but every time I thought of the upcoming semester, I heard that challenge repeated to take a day, once a week, just to rest from school.
My immediate reaction was raised eyebrows. I rationalized for far too long with far too complicated excuses:
Excuse #1: I'm busy.
I'm a college girl. God couldn't possibly be asking me to give Him a whole day every seven. That's crazy for a college student like me to even think about–a whole day when I lay aside notes, binders, index cards, and forget about essays and exams? Yet He was, and that's when I came up with the even-more-complicated second excuse…
Excuse #2: I'm extra busy.
When God kept pressing on my heart (ignoring excuse #1) that I was to have a rest day this school year, I pushed back with the fact that this is my senior year. My last year of higher education–yippee! Which means a schedule more insane than ever–groan! God couldn't possibly be asking me to give Him a whole day every week during this, the busiest nine months of my collegiate career. Yet He was, and that's when I pulled out the most complicated excuse of all…
Excuse #3: I'm super busy.
July was winding down, August was right around the corner, and I knew Jesus was asking me to set aside a Sabbath for Him. Every week. During what was shaping up to be the busiest two semesters of my uni-girl life. So I rattled on about how not only was this my senior year of college He was asking me to walk away from for 24 hours, but did He also realize I was nervous about these classes, intimidated by these professors, and a wee bit swamped by the thickness of the syllabi?

So that's when He whipped out the question that never fails to cause me to screech to a stop.
Do you trust Me?
Well. That brought memories rushing back. Like the moment of my senior year of homeschool high school, when a back injury cut me off mid-year and college was the least of my concerns…and He held me. Like the moment toward the end of my two years of community college when the acceptance letter came in from the university I'd always dreamed of…and I cried thankful tears.
So I said yes to a Sabbath. One day a week when I'd trust the One who'd gotten me this far and hadn't failed me yet.
Exodus 16:23, "He said to them, "This is what the Lord has commanded: 'Tomorrow is a day of solemn rest, a holy Sabbath to the Lord…'" (ESV)
It's been almost a whole semester now and I can look back on this as one of the best decisions I've ever made. I only regret I didn't stumble on implementing the Sabbath sooner.
Defense #1: I'm more efficient.
I used to think I was a list person. Ha! I became even more of a planner than ever when I had six days to do schoolwork with instead of seven. I told myself I could save blogging and chores for Sunday if need be, but I would not do schoolwork on my Sabbath. And so I did. Not one Sunday this semester have I had to break out the binder. When I made it through midterms, I knew it was a miracle.
Defense #2: I'm more rested.
I used to think I was a relaxed person. I was wrong. Managing stress has never been so easy since I decided to set apart a day to worship, pray, journal, read the Word, browse the web, answer e-letters, write pages and pages, blog, reorganize my bookshelf, or just dust and sing. It is sweet to look forward to the one day a week when I can rest.
Although there have been times when I've let the stress of tasks unrelated to school pile up waiting for Sunday, there have also been times when I finished my homework for the weekend on Friday, and I had two Sabbath days, Saturday and Sunday.
After midterms, I took my truck across a state line when a heart-sister got married–and for four days I did a grand total of half an hour of schoolwork. Then over Thanksgiving weekend, I went with my family across four state lines, with nary a stitch of schoolwork with me. And I survived.
Defense #3: I'm more me.
It sounds cliche, but I've realized this semester that the label college girl doesn't define me. I let it for a while, but it itched and chafed and never quite fit. This Semester of the Sabbath, Jesus has taught me that I need only one identity: His. And it is only really when I make room for rest that I remember that. So I'll keep keeping my Sabbath. Join me?
How can you make time for rest in this (extra) (super) busy holiday season?