A Time to Wait
Dear girls,
Lately I've been thinking about those of you who aren't married, or engaged, or courting, or even "just friends." I stayed up 'til past midnight the other night, scribbling down ideas for you.I had plenty of time yesterday (while I was removing wallpaper from our bathroom walls) to think and pray about what I might say to you. But as inspired as I felt then, I'm not so sure when I pull out my laptop and stare at the screen that I have anything important to share.
But I'm going to go on the assumption that you are like me. I'd love to have an older sister: close enough to remember how hard my season of life is, but experienced enough to give me a little advice on what comes next. The writers here have been like that for us, haven't they? I love talking with older women: it makes me feel that if they have made it thus far, perhaps I can too! For many of us, mothers and grandmothers fill that role. But I still need to talk with those who are in my season of life.
It's called waiting.
As a teenager, I had every expectation of following in my mother's footsteps: she was married at nearly 22, and went on to have eight children. If you had told me at 19 that I was about to experience 10 years of singleness, words could not have expressed my misery. Now here I am: 29, longing more than ever for husband and children of my own… and one of the happiest people I know. Such are the surprises of life with Jesus: it is more painful and more joyful then your imagination can ever predict. It's hardly worth the time, then, to break your heart over an imagined future (good or bad) because it won't be that way.
Some of you are asking, "What do I do while I wait?" In the years between 13 and (almost) 30, I have found some things that work, and some things that don't.
What doesn't work
Only seeking God if He'll talk to me about my love life.
Being stoic and pretending I'm fine when I'm not.
Using scorn (against myself or the guy) to dampen my emotions.
Stealing attention from a guy.
Growing my ego at another's expense.
Indulging my imagination in order to satisfy my self.
Defining myself primarily as a single.
Clinging to my choice for my life.
Focusing on the fact that I can see no prospective husband on the horizon.
Allowing disappointment to grow into bitterness.
What does work
Seeking to know God as my best friend, no matter what my life looks like.
Recognizing emotion as having an effect on my life and discussing it frankly with God.
Growing to know and love another child of God as he truly is.
Unselfishly praying for a guy… who may never know you are doing it. (At least not before heaven).
Recognizing that I may not be the best for this guy, and quietly waiting for God to show me.
Habitually countering my imagination with the truth: to Whom this guy really belongs, what our true relationship is – today – and what true love will do for him as a result.
Defining primarily myself as God's child, with all the blessings and responsibilities that entails.
Continuing to toss the ball back into God's court, every time my desires come to mind.
Recognizing the fact that I am in miracle territory – with the Expert in miracles on my side, and folks like Isaac and Rebekah, Ruth and Boaz, or even Abraham and Sarah for company.
Becoming expert at seeing what God has already given me (and keeps giving me daily) and thanking Him for it, while asking with childlike faith for today's grace…and tomorrow's dream come true.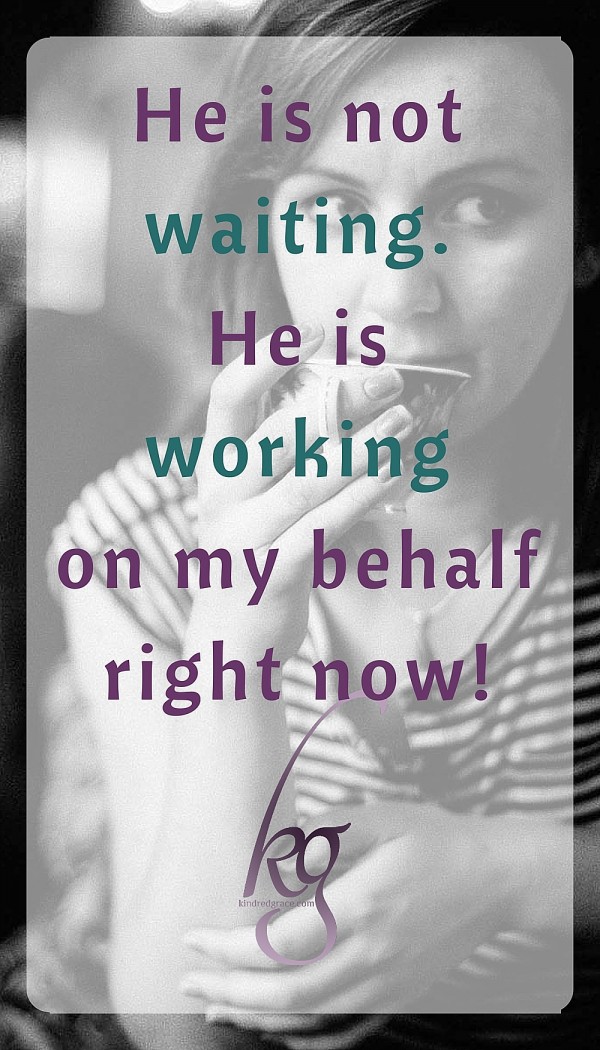 Why Waiting?
From our perspective, some waiting is purposeful, and some waiting is purposeless. Waiting at 13 isn't easy, but at least it's the way it's supposed to be. Frankly, we feel that a family-hearted woman who is still not married at 30 is not the way it's supposed to be. The fact that my 33-year-old friend has been married for 6 years without children is not the way it's supposed to be. The fact that (barring a miracle) Joni Eareckson Tada will spend the rest of her life in a wheelchair is not the way it's supposed to be.
Elisabeth Elliot defines suffering as "Having something you don't want, or wanting something you don't have." Everybody has suffering. Even courting, engaged, and married women. Suffering is not the way it's supposed to be, but it's part of living in a fallen world. It doesn't make sense, but God doesn't try to make it make sense to us. To the oxymoron of a boil-covered, bereaved righteous man in the book of Job, the only answer He gave was Himself.
If it's hard to see God, try watching for Him in the lives of His suffering children. See the beauty? See the platform for His glory? Are you picking up that incredible fragrance that starts you thinking about heaven? That's not the answer to suffering: God is. But at least it reminds you of Him. And He is always the way He is supposed to be.
It's easy to feel a twinge of pain when you encounter the happiness of courting and married friends. Perhaps you want to turn to cynicism: oh, it isn't as good as it looks. Perhaps you just want to check out of their lives. Or perhaps you may see a picture of God's heart: this is what He wants to do for all His children. This is what He wants to do for you.
I love the powerful imagery of Psalm 78, where notable among the afflictions of God's people was the fact that "their virgins had no marriage-song." What did God care? Well, "then the Lord awoke as one out of sleep, like a mighty man that shouts… and he smote his adversaries backward." He cared, all right.
I love the powerful wording of the book of Ruth. She appeals to Boaz for help, and he immediately strides off to the city to take up her cause. No wonder Naomi says to Ruth, "Sit still my daughter, for the man will not rest until he has completed the thing today." That's God's heart for you.
This is the secret that has revolutionized my waiting: He is not waiting. He is working on my behalf right now! Why am I still waiting? Because His plan is deeper, broader and more powerful than this one aspect and this one life, and He won't stop until all things are the way they're supposed to be. Even if that means I need to wait.
Reality Check
I went to visit a good friend the other night: she's my age… and has five adorable children. She is everything I should be most jealous of, but it isn't just jealousy that Mary provokes me to. Of course, bumping against her life (They wake up six times a night??!) reminds me of all that is good about mine, and that provokes me to thankfulness. Bumping against her life matures and re-stokes my childhood vision for motherhood: it's costly and it's precious in God's sight. Remember how the Bible tells us to "provoke one another to love and good works"? Well, Mary provokes me to serious preparation for the answer to my prayers!
Photography: JenniMarie Photography