how to catch your breath when you can't stop running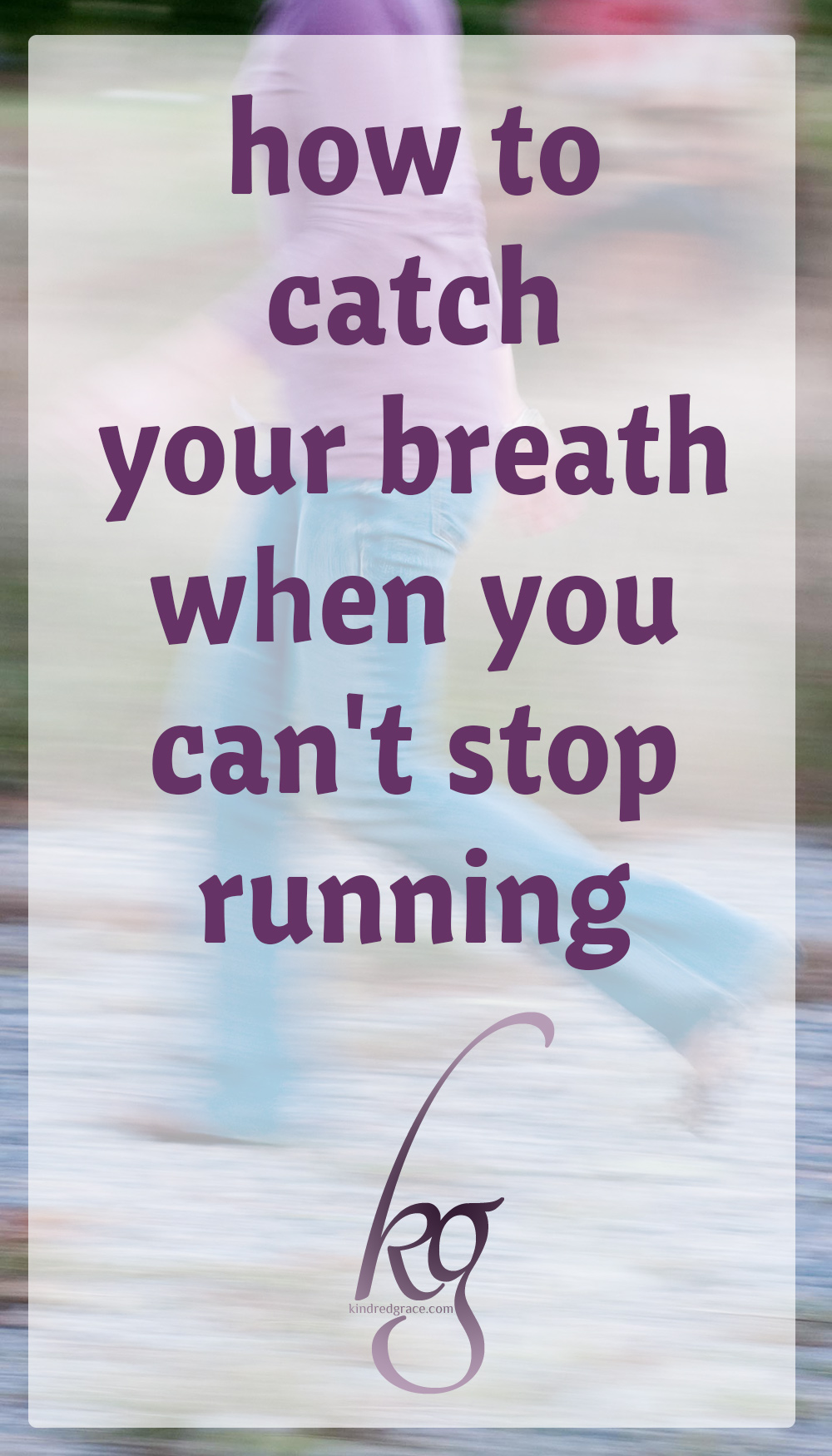 "Do you not know that in a race all the runners run, but only one receives the prize? So run that you may obtain it." (1 Corinthians 9:24)
I'm no stranger to hard work. As the oldest, Type-A child growing up on a farm with seven siblings, I learned early that self-discipline and diligence are fundamental to accomplishing goals. I know projects don't accomplish themselves. I'm a self-starter who enjoys checking things off a list and I don't mind making significant sacrifices to reach goals.
Thus I honestly wasn't expecting the amount of frustration, fatigue, and burnout I've experienced as an adult. And while I'm not anywhere close to having a perfect solution, I'm beginning to understand part of the problem.
Sometimes we exhaust ourselves because we are attempting to sprint through something that is actually a marathon.
A sprint, while hard, is quickly over, rather like short seasons of hardship where you burn the candle at both ends. Perhaps it's caring for children with the stomach flu, cramming for exams, or harvest season on a farm. But you can't keep doing that indefinitely without consequences. For many areas of life, you have to develop a long-term mindset. It may be getting a degree, raising children, or maintaining a healthy marriage; identify the marathon for what it is and determine that you are in it for the long-haul.
I have struggled with attempting to sprint my marathons and I ended up exhausted, burned out, and bitter.
I know I'm not alone in this; I see many of my peers doing the same thing.
How can we better manage our marathons?

Prepare
If you know you are entering a marathon season, get ready for it just as you would for a real race.
Sometimes there are physical, practical, or logistical things we can do to make things easier and increase our endurance. For instance, prepping freezer meals before a new baby arrives or scheduling an early bedtime on nights before an early class are both practical and logistical steps you can take. Some marathons may require obtaining the right equipment. Whether it's decent cookware for raising a family or quality luggage for a traveling career, make the investment. If you're going to run 26.2 miles, you're not going to do it in bedroom slippers and sweatpants.
Mental preparation is also important. Marathon runners are advised to look at the course (or a map) beforehand to know what hurdles to expect. In life, one of the best ways to prepare for an upcoming season is to talk to people who have already been through it and pay attention to potential trouble spots they mention. (Getting married? Talk to the couple who's been married 50 years.)
Here's a secret, though: if you listen closely to their stories, you'll hear about easier stretches to look forward to, as well. The sweet spots they tell you of will give you incentive to keep going when you want to give up.
Pace
To successfully run a marathon, you have to not only find a rhythm but determine a system of refreshment over the long haul.
No one needs to stop and eat during a 100-yard dash, but trying to run a marathon without regular water breaks would be foolish, if not impossible. Most runners "carb load" before a race and that's a great life strategy: fill your heart and mind with truth before challenging seasons. I'm so grateful for the hours I spent journaling with my Bible and gel pens before I had little ones. The Scripture I memorized as a teen and young adult has come to mind over and over when I've needed to pull from my "reserves." That alone is not sufficient, however. Just like I wouldn't attempt to eat a plate of spaghetti on the race course, my "fuel" often takes other forms in these busy years with young children: podcasts, short devotionals, and recorded sermons are so helpful!
Realize that it will get hard. I think we often feel if we do everything "right", it won't be hard. If I was just more organized, life with littles wouldn't be a struggle. If I had the right curriculum, homeschooling would be easy. If I had a different major or a different husband or went to a different church, I wouldn't have problems.
But here's the truth: life is hard. Marathons are long and grueling. Everyone gets tired; it's okay. Exhaustion doesn't mean you're doing anything wrong. You just can't see the finish line yet.
It takes humility to realize you're in more than a short sprint of a season. It takes courage to admit that what you're struggling with is a marathon. We love to think we can power through everything, but we can't.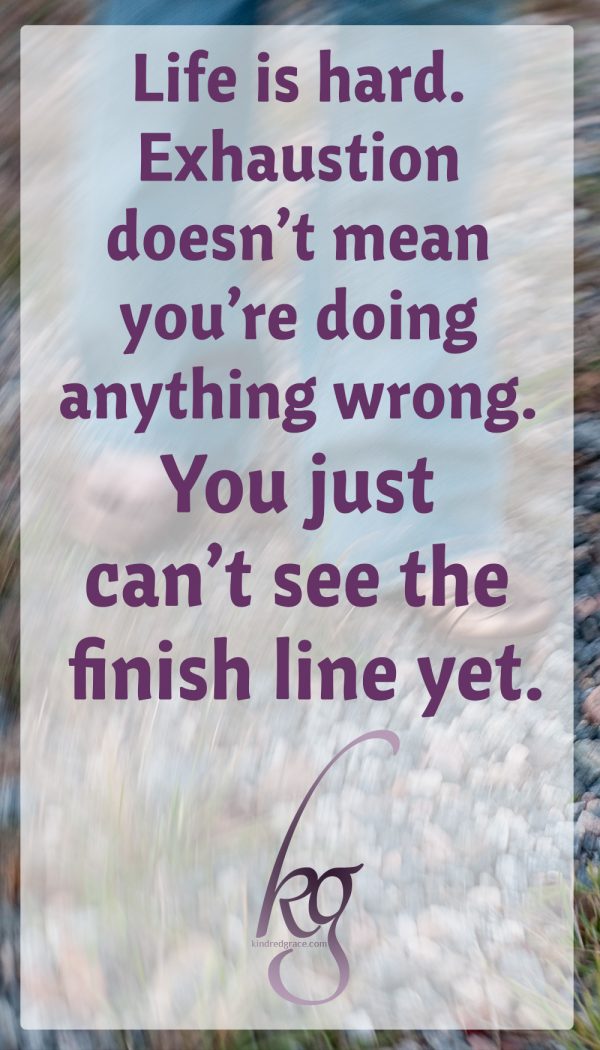 Hope
So where is the hope in all this? It's in the One Who ran His race perfectly.
"Therefore, since we are surrounded by so great a cloud of witnesses, let us also lay aside every weight, and sin which clings so closely, and let us run with endurance the race that is set before us, looking to Jesus, the founder and perfecter of our faith, who for the joy that was set before him endured the cross, despising the shame, and is seated at the right hand of the throne of God." (Hebrews 12:1-2)
That's the secret, friends. It's fixing our eyes on Jesus and the prize that is yet to come, knowing that saints who have gone before (as well as ones here on earth) are witnesses that it can be done.
Focus on the joy set before you, and run with endurance!
"And I am sure of this, that he who began a good work in you will bring it to completion at the day of Jesus Christ." (Philippians 1:6)
What encouragement have you found in a marathon you're currently running?
Photography: JenniMarie Photography