Long Days of Small Things: Motherhood as a Spiritual Discipline
Disclosure: This post contains affiliate links which won't change your price.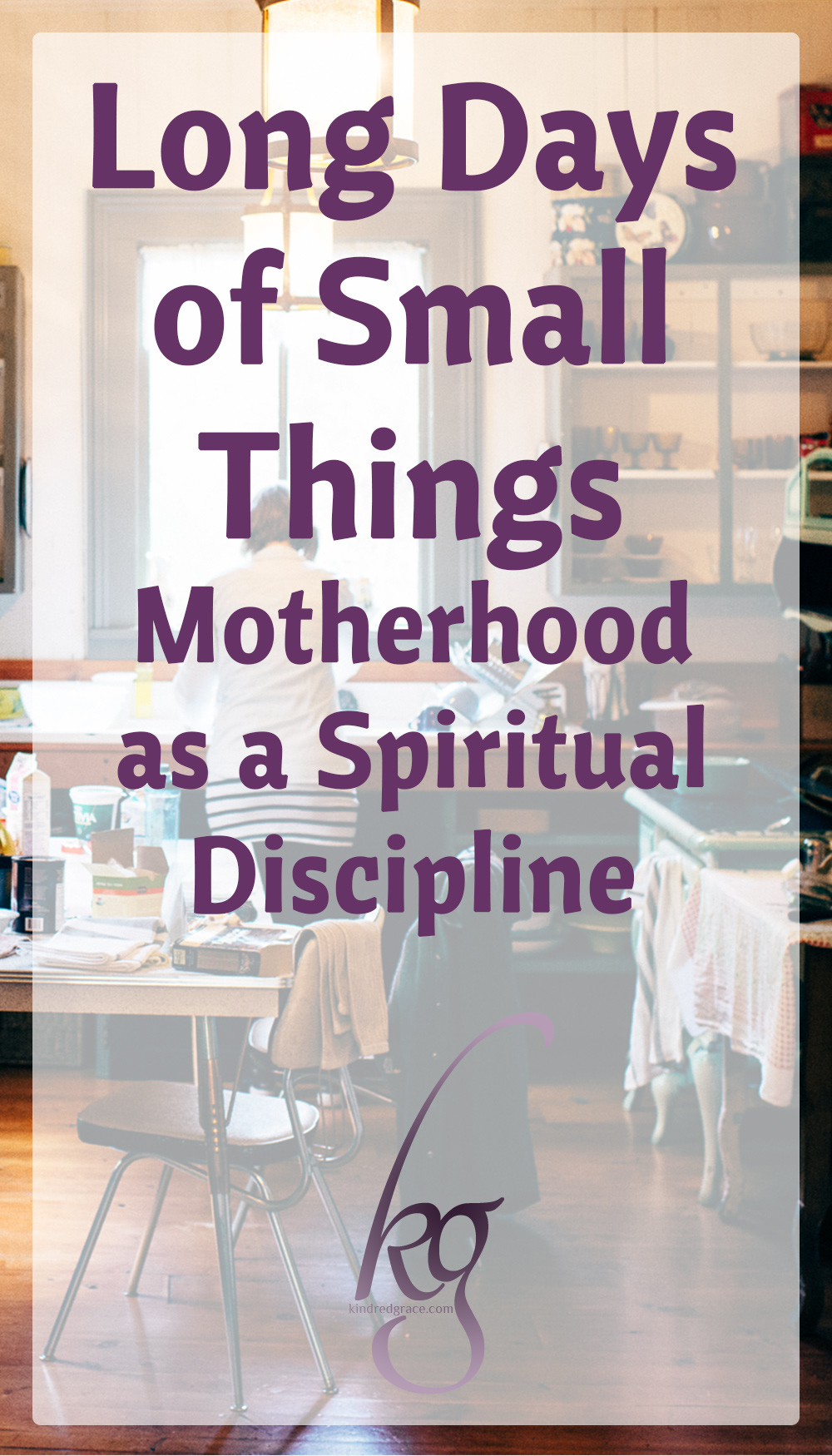 Forget meditating (I can't remember what I'm looking for in the fridge, much less what I read three days ago), fasting (I've been pregnant or nursing or both for the past six years), or silence (does that even exist anymore? I've forgotten). As much as I miss spiritual disciplines, I just . . . can't. Not right now. I'm trying to survive. I have three children ages five and under, and life is a bit of a blur.
Spiritual disciplines as the mother of young children often look less than impressive, at least for me. My most heartfelt prayers are often, "Please, Lord, please please PLEASE let the baby stay asleep," or "Lord, please help me find the toddler's other shoe before we completely miss church." Bible study is generally interrupted by, "She took my toy," or "Mommy, come wipe me!"
But somewhere, in the depths of my soul, I want those things.
I want to be connected to God in every way, not just grabbing at bits and pieces as I rush to the next urgent task.
My heart longs for the ancient paths, the sacred practices of generations of saints. I believe there is no line between the sacred and the mundane, between real life and religious experience. Long Days of Small Things fleshed out what that looks like in the everyday life of a mom.
With the subtitle "Motherhood As A Spiritual Discipline," I half-expected to feel the familiar guilt of not doing enough, of needing to try harder, or even the inevitable thought, "That will be nice when the children are older." Instead, I was given scores of practical ideas to implement as soon as the next task called me from the book. Some are as simple as breathing — no waiting there!
One of the foundational truths presented is the need to be present in the moment where God has placed you. Don't wait for a better time. The reaping begins as mindfulness, choosing to see our daily routines with eyes of faith.
"The key to seeing motherhood as a spiritual discipline . . . is cultivating the ability to stay present in our daily tasks, to reap value from our actual circumstances."
(Catherine McNeil)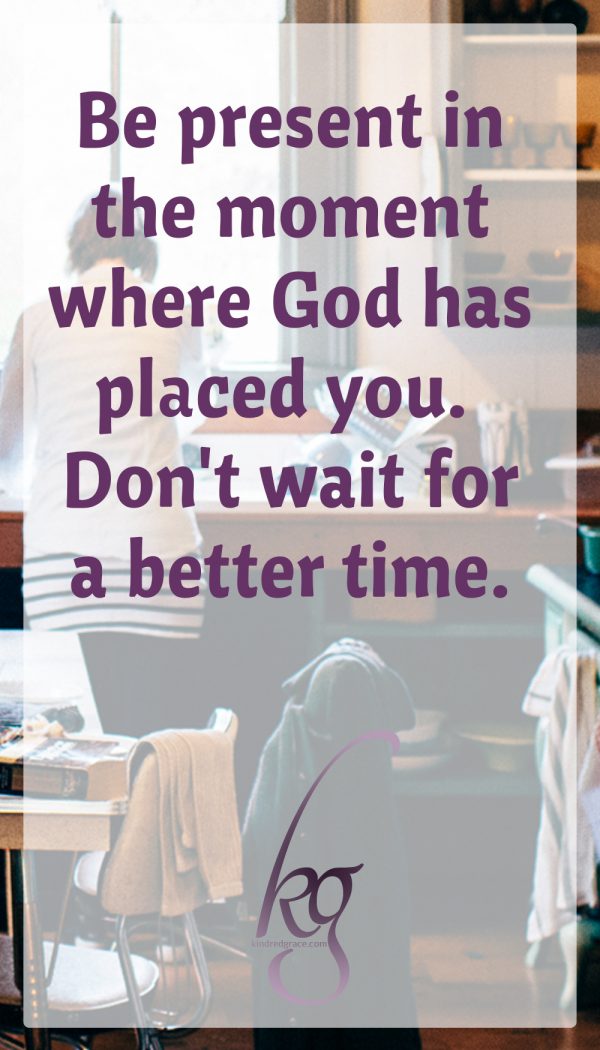 Long Days of Small Things unfolds into beautiful chapters exploring how motherhood is a mirror of God's work.
Pregnancy and childbirth, nurturing our children, serving with love and selflessness, and suffering well can all be spiritual disciplines, pointing us to eternal truths and bringing glory to God. Surrendering to Him and persevering through the course He has set for us will grow us into the people He wants us to be.
"By walking through the darkness, taking every despairing step until we reach the land of dawn — this is how we learn to love goodness, to sacrifice for beauty, and to cultivate enough hope for the next time."
(Catherine McNeil)
I've read my share of good books on motherhood recently. But Catherine McNeil's Long Days of Small Things stands out for its relate-ability and poignancy, as well as its immediate accessibility.
I have seen a shift in my own thinking as I take these ideas to heart. Now when I'm walking the floor with the baby at 2 o'clock in the morning — again — far too tired to form a coherent prayer, I mumble, "Lord, I'm doing this for Your sake. I can only love because You loved me. Accept this sacrifice of my body, because I'm completely exhausted . . . .
"Oh, and please let her sleep."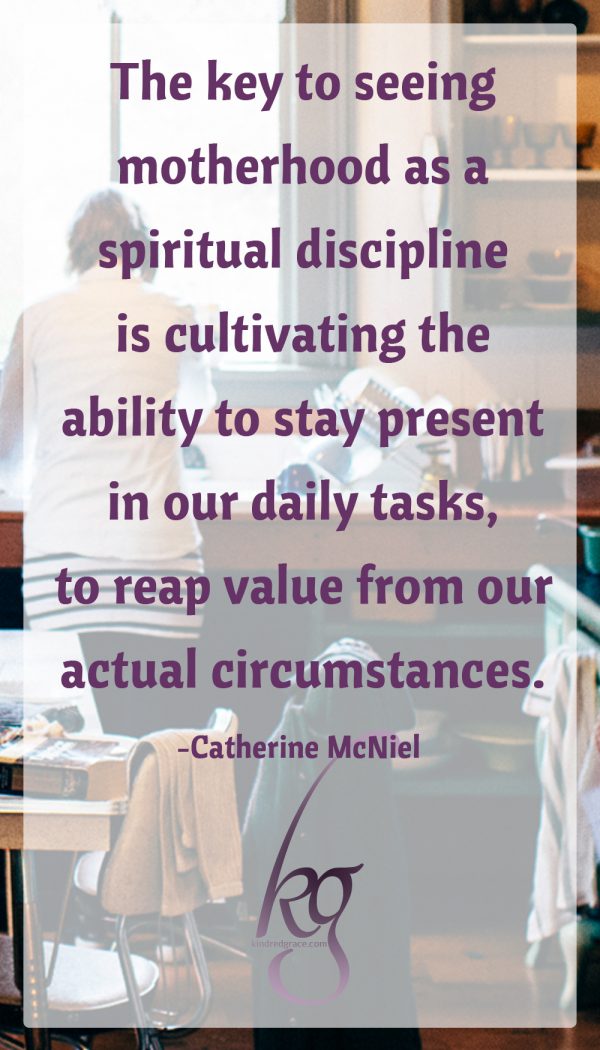 Disclosure: Much to my delight, I received a complimentary copy of Long Days of Small Things from Tyndale House Publishers, Inc. I highly recommend it.
Photography: JenniMarie Photography