Making Time to Read Again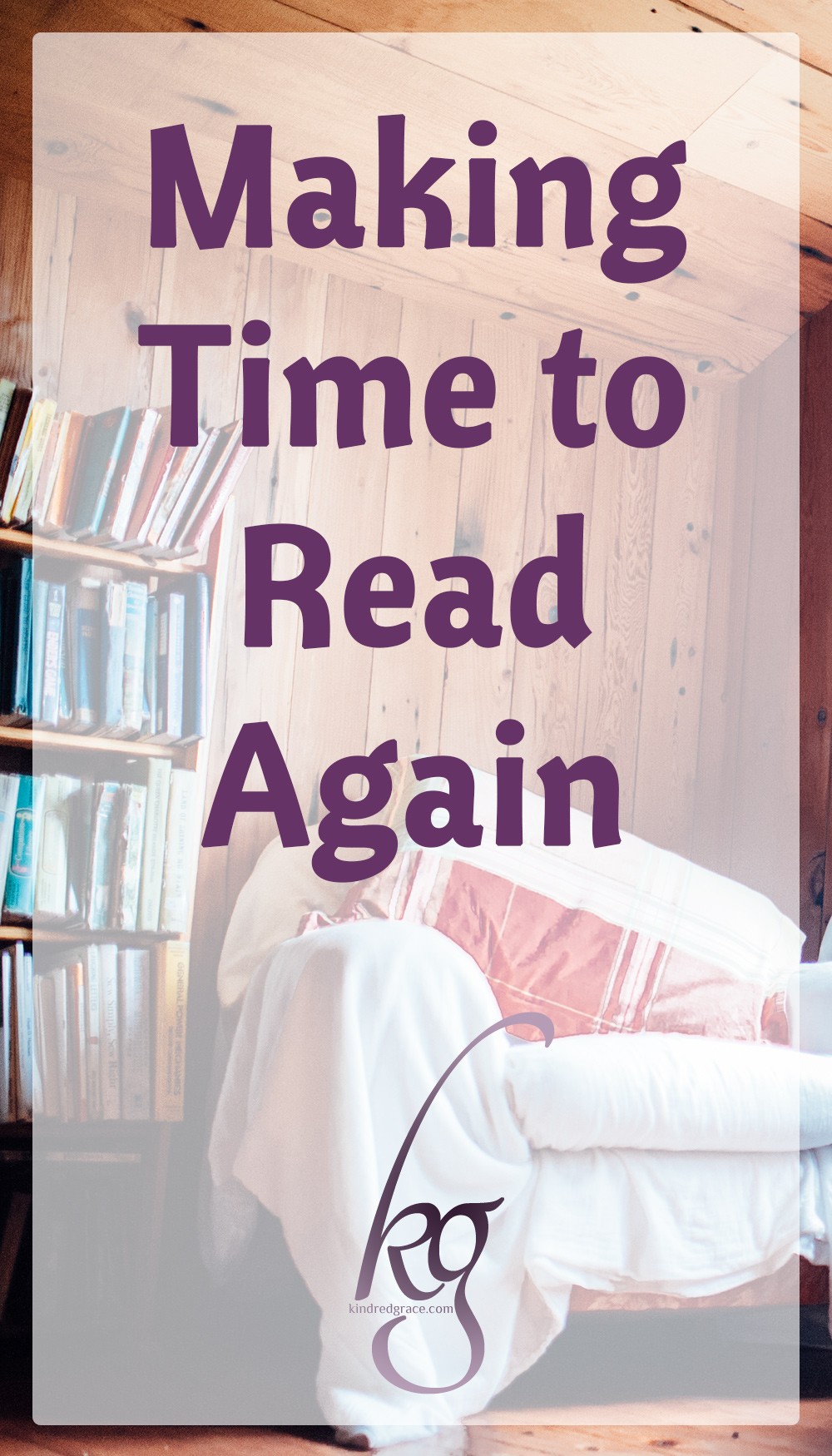 Someone once asked me if I thought I read too much.
Indignant but compassionate, I replied, "I don't think that's possible. Do you think you read too little?"
We laughed.
And I still laugh about that short interaction, though it took place during my teen years when I could (and did!) devour whole books in the space of a few short days. Now, consuming a single title takes me weeks, if not months. I blame my decreased reading time on a new life stage, marriage, and work. I used to fit reading into every day. Lately, I have to work to block off times to read every week–and sometimes I only succeed when I put on an audiobook while I'm folding laundry.
But there's nothing quite like a good book, so I still invest in the struggle to find time to read. Here are some of the ways I prioritize reading.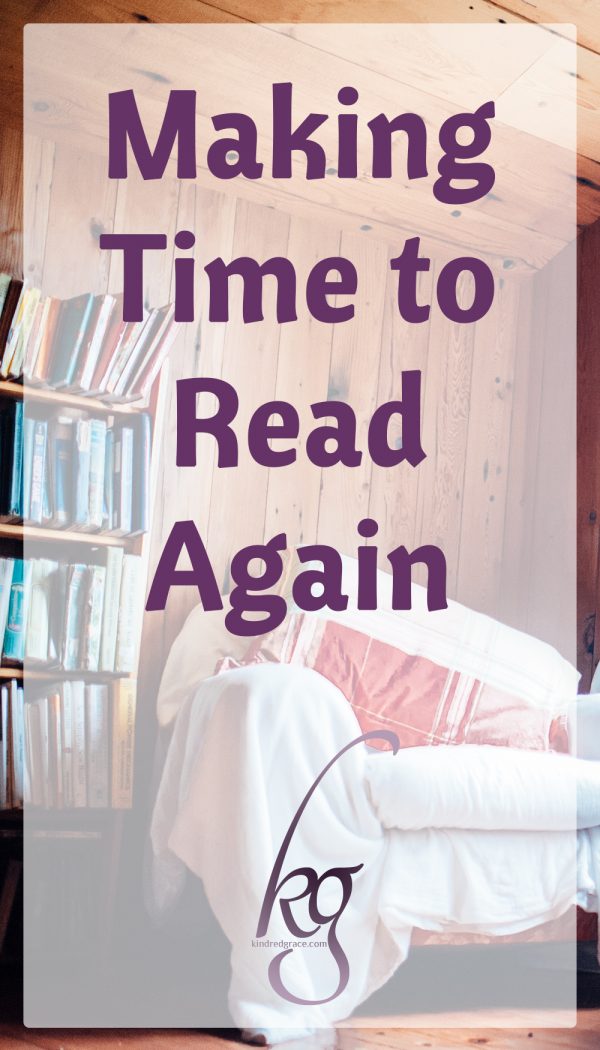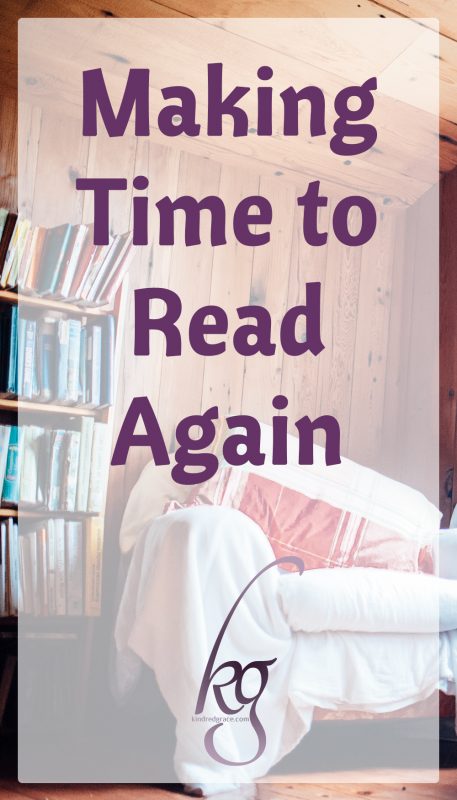 Set a Reading Goal
At the beginning of 2017, I set my loftiest reading goal yet. I set out to read every single one of the tomes on my to-read shelf. Yes, I have a whole shelf devoted to none but my to-reads. I have kept them set apart from the rest of my bookshelf because, when I bought them, I was just sure I would read them next. Instead, many have languished there because I just haven't gotten to them yet. In fact, a great many of them traveled with me when I moved into my newlywed home last summer.
That bookshelf held 17 books on January 1. Today, it holds 15. I'm quite proud of the fact that I'm making progress, even though I know that means I'm not well on my way to completing my goal before December 31–but that seems like such a long way away!
It's a powerful thing to have that bookshelf in the corner of my living room, reminding me regularly that I'm making progress. I know that even if I don't knock out the whole shelf (especially since other books will undoubtedly join the space!), reading the titles I've wanted to for years will feel so rewarding.
What reading goal can you give yourself for this week, month, or year?
Create a Reading List
That rewarding feeling doesn't have to come from a bookshelf you're noticeably cleaning off as you read, though. You can easily achieve the same gust of goal-keeping energy from a simple list scratched on paper or saved in the Notes app on your smartphone. Perhaps you desire to read those titles you've been saying you'll "get to eventually" like I have, or maybe you want to work your way through some classics.
Whatever your lofty reading want-to's, challenge yourself to put them somewhere tangible. You will be more easily able to hold yourself accountable, as well as feel the satisfaction of being able to check some off your list.
Need some ideas? Enjoy these book lists for readers of all ages and tastes!
Whatever books you decide to put on your list, remember to give yourself grace in meeting your reading goal or finishing your list. Reading isn't about checking off to-do's; reading is about expanding your mind, nurturing your soul, learning something new, and so much more!
What books will go on your list?
Carve Out a Reading Time
I mentioned above that I enjoy listening to audiobooks while I fold laundry. But there's just something about a book in my hand. Even though I can do nothing else while I read a physical book, I am doing something: expanding my mind with a theology tome, nurturing my soul with a gentle love story, or learning something new that not even Pinterest can teach me. I find that remembering that truth helps me prioritize reading time when I'm tempted to write it off as unproductive.
Here are some examples of times in my current lifestyle and schedule I've found are easily converted to reading time:
Early in the morning after my husband's gone to work (most often becomes my devotion time)
Late at night when I'm waiting for him to come home and can't sleep
Over breakfast
On my lunch break
Whenever I'm waiting on a friend to arrive for our lunch or coffee date
One tool I've found especially helpful for reading in between times is the free Kindle app. Although I try to have a book on hand at all times, it's much easier to read in the grocery story checkout line straight from the Kindle app on my smartphone.
What days/times could become prime reading opportunities?
Keep a Reading Log
I love keeping a log of the books I've read. Perhaps it is the recovering perfectionist and over-achiever in me that feels proud of all I've read. Perhaps it is that books bear memories for me that I forget to remember until I touch the spine or read the title and recall how the story touched me.
An easy way I keep track of what I'm reading is the social media site for bibliophiles, Goodreads. I love that I can easily scan a book using its barcode from the convenient smartphone app. Even if it's an older book without a barcode, Goodreads' exhaustive library always has the book I'm trying to track.
Of course, a good sturdy notebook or a detailed Excel spreadsheet works perfectly well, too! Whatever process works for you, adopt the method that suits you and your life best. Then read away, my friend, and see where the words take you.
How do you log what you're reading?
"Books are the quietest and most constant of friends; they are the most accessible and wisest of counselors, and the most patient of teachers."
(Charles William Eliot)
Photography: JenniMarie Photography