Little Women – Inspiration for Every Day
I have a confession to make. I was 22 years old before I read Louisa May Alcott's Little Women from cover to cover. Then I wished I'd read it years before.
I'm not even sure how I didn't manage to read it sooner. Of course, I'd heard enough about over the years. I read about Louisa May Allcott. I read reviews of the story. I was told I was a bit like Jo. I'd even read the Christmas Story for a literature class one year in school.
But when I found a copy a a sale for a dollar, I grabbed it. I figured it was time. I did expect that I'd love the story. (I did!) But I didn't expect how much I'd love it, or how much I'd glean from the story. Or that I'd go on to read it about 10 more times in the next few years!
I find my love for reading is best kept in balance when I treat story books like dessert after a good meal. But when the stories are rich with life lessons? I don't feel so bad about having dessert for breakfast once in a while.
Part of the reason I picked up Little Women at first was because of Pilgrim's Progress. I grew up loving and hearing and reading Pilgrim's Progress. The references and the way that the author wove the book through the story caught my attention. I felt like I knew the March girls because they grew up with Pilgrim's Progress just like me. Like many others before me, I couldn't help but find myself in the March girls' lives and struggles. (I'm a bit of Jo and a bit of Beth, by the way.)
But the reason I really love Little Women is because it is so very real. It isn't some far-fetched tale. Joy, sorrows, every day annoyances–it's all the things we face every single day and know all about ourselves. It's relatable. It's realistic. And worth learning from.
It is a book about strong family ties, strong faith through hardship, and making the most of what you have. It's about finding love, and keeping love. And once you read the book, you will think about it again and again.
I love it because it is honest about real life struggles. Meg struggled with being accepted and wanting things beyond her means. Jo had a temper and didn't like to be told what to do. Amy was vain and proud and thought too highly of herself. Beth was shy and quiet–but she struggled with fear.
Their mother wisely pointed them to the only source that could help them to meet their personal "apollyons": God's Word. She encouraged them to take it as their Lamp on the journey, as their Source of strength no matter what came their way.
Sometimes I feel like Jo–awkward, clumsy, blundering and like my "one true beauty" has always been my over abundant hair. Often I feel like Beth–quiet, shy, and afraid of things that no one else would ever think to be afraid of. I'm more comfortable dusting than trying to find a place in the "real world." Occasionally, I feel like Meg. I want to be the perfect wife and housekeeper, but often fall quite short of my aspirations. Like each of them, I have my own funny shaped little "burdens" to carry up the Hill Difficulty, and my own personal giants to face each day. While my Apollyon is rarely my temper, like Jo's was, her mother's advice holds true for any temptation and struggle. I think of it often, just as she said it:
Watch and Pray, my dear, never get tired of trying, and never think it is impossible to conquer your fault.
And Mrs. March's marriage counsel to Meg is something every girl should read and take to heart:
Marriage…requires infinite patience as well as love.
Don't let anything spoil the love and happiness no matter how much patience and forbearance it may take.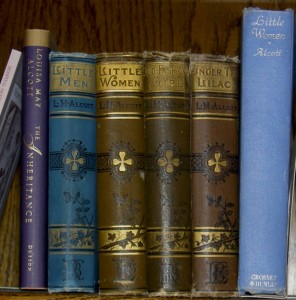 My advice? Read Little Women before you are 22 years old, if you can. And read it often.
If you haven't read it yet, it's time to pick it up. Just be sure to read it slowly. Take your time and look for the gems hiding in the pages. I'm sure you'll find not only friends in the March girls, but a few lessons to tuck away for yourself too.
You can read Little Women free online, if you don't own a copy. But if you look on PaperBackSwap you might just find a copy all for yourself.