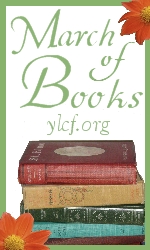 From old classics to children's books, Christian living to Christian fiction, we've reviewed our favorites from our very own bookshelves here in the March of Books.
Now it's your turn.
We don't just want to see what's on your bookshelves—though that was a delight for a bibliophile's eyes! We want to hear about those books and how they have touched your lives.
It's time for the March of Books review carnival!
Review a favorite book—or two or three.
Post the review(s) on your own blog.
Be sure to link to http://ylcf.org and mention the March of Books in your post (click here for button link code).
Copy the exact URL of your book review (not just your blog address) and share it below.
Please use the book title as the link title.
The YLCF Team reserves the right to remove any links we deem inappropriate.