How to Find the Connection You Crave in Your Friendships
Disclosure: This post contains affiliate links which won't change your price.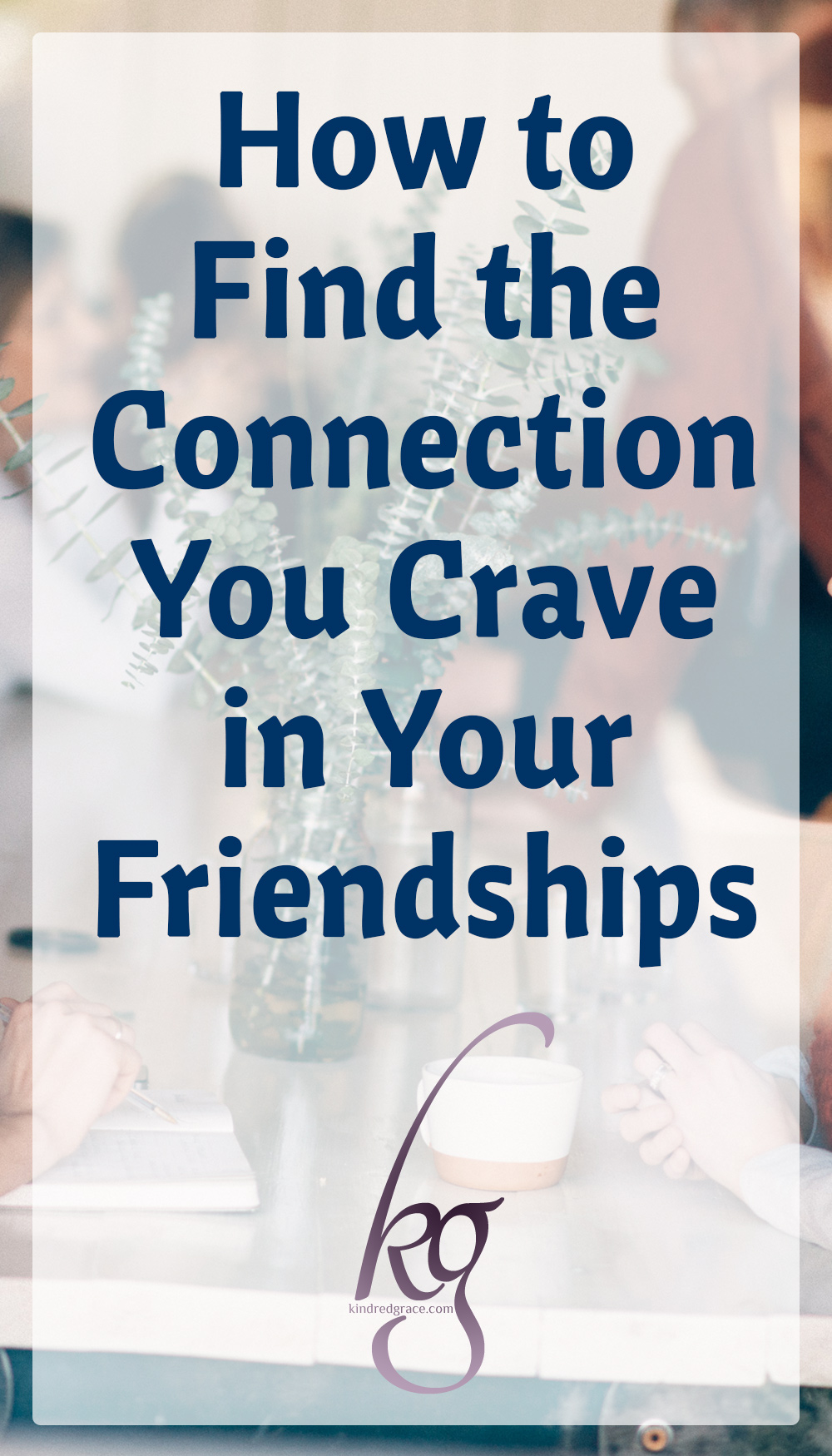 It's embarrassing to admit it but somehow I have reached my mid thirties and still am not exactly sure how to crack the code of creating authentic, especially local, friendships. No matter how I try, I feel perpetually floundering when it comes to making friends as an adult. Even though my introverted self would have denied it back then, making friends really did feel much less complicated as a child.
But one of the things I crave the most as an adult woman is authentic, real relationships. I want to go beyond the surface level of smiling and nodding at church, or commenting about the weather to fill up the awkward quietness of standing next to someone in line at a function. But that's where I start to flounder.
I know I am not alone in my struggle with knowing how to create friendships as an adult woman. I reached out to my social media connections and found that a surprising number of introverted and extroverted women all felt that many of their "friendships" were only as strong as a Facebook like. Many couldn't remember a time when someone genuinely asked how they were doing. Most felt like they were drowning in a solo life. And many said they didn't think they had found a place in their local communities.
In our online-centric world, I can't help but wonder if we aren't losing sight of the intentional relationships that we created in the past before friendship was so entwined with "liking posts" and sharing selfies. I'm embarrassed to say that, when I'm honest, it's not often I prioritize the people who are already truly my friends. Instead of investing the time into actual conversations (like the letters I loved to write and receive growing up, for example!), it's too easy to click a like button or leave a superficial comment that does little for creating and maintaining healthy and meaningful friendships. I've found myself more isolated now than ever, in spite of instant communication options, and I put the blame for that squarely on my own shoulders.
I know that in order for us to build better, more authentic, and lasting friendships that go beyond Facebook, we have to learn to be intentional again. It means going back to the basics, and re-evaluating our time and efforts. And yes, it means learning to create healthy boundaries and knowing our God-intended limits, as well.
I'm on a quest to refocus and dig deeper into how to be a friend in this season of building my own business and being a full time wife and mama. Last year, I started reading books about intentional friendship, creating community, and about being a real friend.
I still don't know that I've cracked the friendship code. But I've been inspired and encouraged to appreciate the relationships that God has blessed my life with–both locally and online. I'm praying that God teaches me new lessons this year about making time to put effort into growing my community.
We aren't supposed to be doing this life thing on our own. God made us to need each other.
So…let's be friends, okay?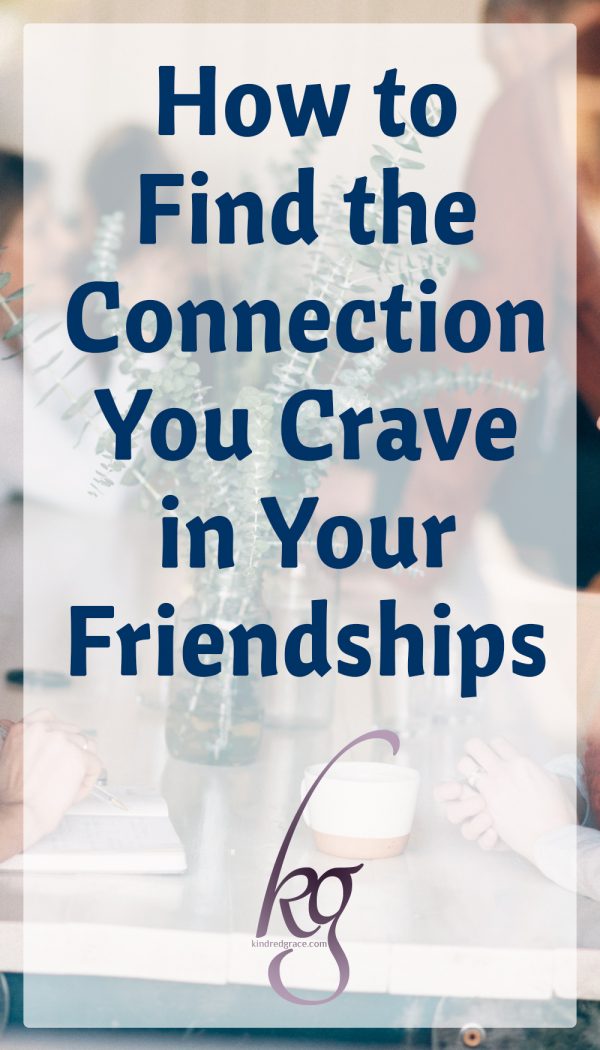 Books About Intentional Friendship and Community
What better way to start my journey through my friendship stack than with this book of trust short stories about friendships? This compilation is filled with heartwarming tales about friends who stick with you through thick and thin, good and bad, embarrassing moments or just those mundane everyday moments that no one else gets. The Gift of Friendship is an homage to friendship, and to the women who aren't ashamed to bend down and dig in with you in your messes. It is a sweet, fun, heartwarming read that reminded me of the friends in my life for whom I am truly grateful.
If you struggle to know how to connect and build meaningful, deep relationships, this might be the book for you. The title was the first thing that grabbed me: Craving Connection. Yes, that is exactly what I am looking for, and yes, I do crave something more in many of my relationships. Something that digs beyond the surface smiles and gets to the deep places. In this book, many familiar authors join together to offer encouraging words, sweet examples and very practical advice for being intentional about our friendships. I loved that each chapter ended with a simple set of "connection questions", a short prayer, and a challenge to connect.
This book was a little different than the others I'd read. It encourages us to reach out of our comfort zone and befriend others like Jesus did. It speaks to the healing, restoring power of a true friend in the lives of those often considered unloveable or untouchable. It dealt with how often the modern day church is more about isolation than it is about outreach. "If you aren't like us, then you aren't worthy of a second glance." The thing I loved more than anything else about Befriend was how Sauls took us to the very root of true friendship–which is love. God's love for us inspires love for our fellow mankind, even when it's messy and costly, and risky.
Everyone is the "older woman" to someone. This book was a wonderful encouragement of how to be a safe place and a godly mentor to the younger women that I have been blessed and honored to know and love. The author goes over five different practical things that will give us tools to grow relationships or talk about difficult issues such as sexuality or what forgiveness actually is.
Friendship has never felt so risky as it does for women in this generation. With many of our relationships being built primarily through online communication, there is so much more room for misunderstanding, unkindness, and a false sense of who are true friends really are. Ending "friendships" is as easy as clicking a button. If, like me, you fear rejection (again) and being hurt (again), making it hard for you to really connect with people, you'll really want to read this book. Never Unfriended addresses some of our great fears in forging relationships and gives us guidance on how to start building something lasting and beautiful. In spite of the risks, real relationships (and you can have them online!) are valuable and worth fighting for. And of all the people I know online, Lisa Jo is one of the best people I can think of from whom to learn how to be a friend.
As a working mama with very young children, creating local connections feels daunting, maybe even impossible. But sometimes we make connecting and community much more difficult than it has to be. I found Kristin's story of her turquoise picnic table heartwarming and encouraging to me that building connections (which is what we all crave!) is sometimes as simple as providing a table. Along with Kristin's story of The Turquoise Table, she gives such sweet encouragement to view hospitality in different ways, and to break down the hang ups we may have about building connections in our own communities.
Having real friendships is so important. But it's so hard, too! I think it's safe to say that all of us have been devastated by a woman we counted as our close friend. And sometimes it's hard to get past that hurt and let someone in again. I think this is one of the hardest things for me. I appreciated this author's gentle insights on how to work through conflicts and how to know and create healthy boundaries in relationships. This made me feel so hopeful as I create and maintain relationships in the future!
Have you ever felt excluded because you weren't "enough" to fit in? I think this fear of rejection is perhaps one of my biggest hurdles in relationships. While Uninvited is not specifically about friendships, but relationship in general, it does delve deep into the struggle with rejection that we often face as women within our friendships. Lysa deals directly with the lies that Satan uses to cripple us, beat us down, and tell us we aren't good enough. Because through Christ we are enough, and His Love enables us to create healthy, healing and beautiful relationships with the women around us!
Life is hard. Sometimes we desperately need community to step up and surround us while we are at our worst. It's really popular to talk about community, but when things get rough is when we find out if our community and relationships are authentic. Anne asks, "Who do you lean on?" and in turn, "Who leans on us?" It's a two way street. Lean on Me takes a deeper look at community and relationships and being intentional and consistent.
There are a few more books on my reading pile that I haven't quite finished yet. The following aren't all from a Christian perspective, but I still hope to glean valuable and solid advice from them as I read!
The author goes over common friendship problems we as women face and talks about how to develop a deeper, stronger relationship with the women in our lives which she has called "frientimancy".
The more you care, the more you can get hurt. It's a risk worth taking, but when friendship goes "wrong", sometimes it's incredibly difficult to heal. This book is helpful in recognizing harmful relationships and how to grow from them to create ideal, and healthy relationships.
I grew up the sole introvert in my family of extroverts. Making friends looked so easy for my siblings and parents and I had to learn how to not let my own personality get in the way of making friends. This talks about common introvert problems and how to work through them.
Do you have a favorite book or storybook about friendship? I'd absolutely love to hear your recommendations, too!
Photography: JenniMarie Photography