3 Tips: When You're the New Girl
The spotlight. She was standing in the spotlight. A crowded room of young adults turned immediately claustrophobic as the shaft of light illuminated only her wide-eyed panic. Twenty-five pairs of eyes reflected outside that ring of light, and there wasn't so much as a twinkling kindness among them. Everyone stared in contempt at her makeup…or her shoe choice…or maybe her stray hair…or maybe, well, just her. At least, that's how it felt. Being the new girl feels just that miserable: in the spotlight, unkempt and judged.
Being the new girl means embracing that miserable spotlight and jumping in, building community, and finding a new normal. It's not easy, but it's possible. Eventually.
1. Jump in.
Jump in, yes, but give yourself lots of time. Lots of it. The newness of everything can be (and will be!) overwhelming, disconcerting, exhausting. Depending on the extent of your move, you could be dealing with new roads, new grocery stores, new library, new church, new house, new cultural idiosyncrasies. See? That's a lot of newness! With that much "new", there's nothing comfortable about everyday routine, and that's just exhausting. Some days, it's completely legitimate to sit on the couch with a cup of tea and a Bach CD. And if that's all the energy available, that's okay.
(Note: this is different than wallowing. Wallowing in self pity is distinctly not okay. Resting in the little comforts amidst all the newness? Completely okay.)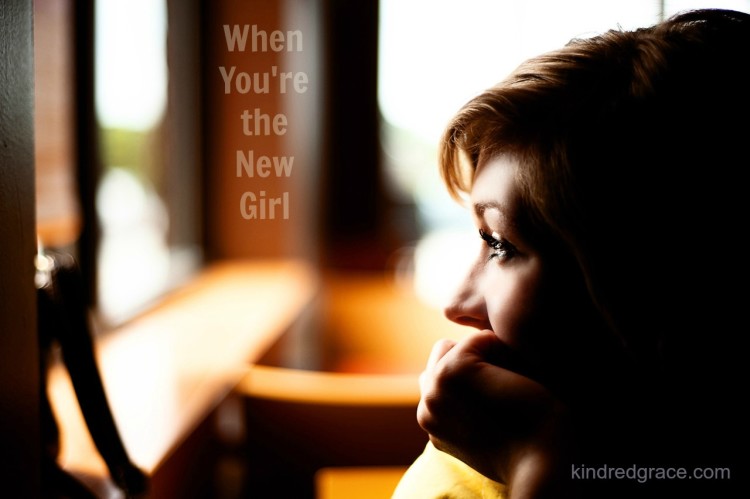 Go ahead, jump in while the energy is there, do what you can, and then rest when the reservoir of energy is depleted. Small and manageable bites of newness is your friend. It will be more beneficial, overall, to pick one newness to tackle at a time rather than trying to jump in over your head and embracing every single new thing all at once. Drowning in newness is not good. Return to tea-and-Bach. Again and again, as necessary.
2. Find a place to start building community.
Sometimes that's church, sometimes that's a Mommy group, sometimes that's a work environment. After my cross-country move, I found a women's Bible Study to participate in and a homeschool co-op that needed a weekly babysitter. As you pick a place to just show up at, then you're in the place to meet people, build relationships, and eventually make friends. Sometimes it's painful, sometimes you won't have the energy to do more than just show up, but at least you're doing it.
Focus on finding one person you can relate to and connect with. Manageable bites, remember? You don't need to be friends with everyone — just be friendly with everyone you meet and pursue relationships one at a time. A caution: as you start to build those relationships, don't compare new relationships to seasoned relationships. It just won't work. I promise. That BFF that you left behind on the other side of the continent was a friendship melded and formed through many life experiences, late night conversations, and gigglefests at Starbucks. You can't build that type of relationship in one coffee date, but neither should you let the comparison game poison your new and budding friendship.
3. Find something to be your "thing".
Find an activity that can start building into your new normal. When I moved into my new country and community, I made a list of activities I wanted to try to participate in. It included book club, Bible study, and exercise classes. I never did find a book club (yet!), but the Bible study turned into one of the biggest blessings of my new life. At first, it was painful to go to yet another new thing with still more new faces adding to that never ending flood of newness. But consistency eventually won. Even when the move was overwhelming, even when the newness was stifling, even when showing up meant arriving late and leaving early, I plodded on. It took a year, but one day I realized that it was no longer an act of duty, but a delight of my week; that these faces were not strange stares, but new friends.
But, most of all, as the new girl, you must embrace that it's hard. Give yourself lots of grace. Request lots of grace. Drink lots of tea. As you meet people who care for you and welcome you with kindness and love, be real and honest. Admit your weaknesses and inabilities; let them in to the huge challenge of adjustment. Sadly, you will face critics who will scoff at your challenges and scorn your transparency, but eventually you will find a champion and a friend. A friend who understands, relates, encourages, loves. And then you won't be the new girl anymore. Promise.