I think it started with the cookies…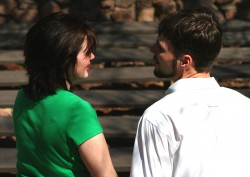 the story of Becca & Nick
Getting a little homesick one day, I attempted to make chocolate chip cookies in my "easy bake." Since there were only two other girls in my apartment, and I'd made an overabundance, I decided to share my cookies. So I brought some cookies to an older gentleman who was sort of like an adopted grandpa to me. Word got out…
Don't look to the world. The world wants you to think that your happiness depends on finding the perfect guy – or girl. But this just isn't true. If you are a believer in Christ, then your joy is found in Him. Do look to the Word of God. Read the classic love stories found there, follow the instruction of the New Testament, and don't forget the wisdom found in the book of Proverbs.
(Lisa Jacobson in "Essential Dos and Don'ts for Courtship and Dating" at Club31Women.com)
Looking for more love stories?
Visit the love story collection, find love stories in print, or browse more love stories in the same category as Becca & Nick's: Long-Distance Love.
Life as Kim and Krickitt Carpenter knew it was shattered beyond recognition on November 24, 1993. Two months after their marriage, a devastating car wreck left Krickitt with a massive head injury and in a coma for weeks.When she finally awoke, she had no idea who Kim was. With no recollection of the…
Find on Amazon