I always knew he'd come back.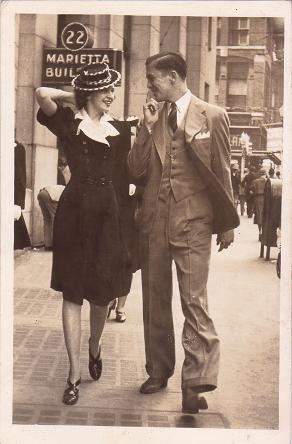 Laura Alice & Claude Jr.
"I was sitting on the front porch," the story went, "and I looked up and saw two young men come in the little gate and amble up the walk. But I really only saw one of them. And I said to myself, 'Why, that's Claude Jr.—and that's the boy I'm going to marry."
It was just like that. Both of them testified to 'love at first sight'. And though that's a rather dubious concept in our 'enlightened' age, I have to say that I believe them with all my heart.
He officially asked in the fall of 1941. A moment's bliss—and then the war. Grandma's eyes always grew misty when she got to that part in the story. Granddaddy was one of the first to go, and one of the last to return.
"Forty-eight months in the South Pacific," she would murmur, as if to herself. "And I always knew he'd come back."
God is "the best maker of all marriages," and I'm convinced that He loves to do it! He brought Eve to Adam. He prompted Eliezer's prayer for guidance, and then answered it by matching Rebekah with Isaac. He arranged for Ruth to "accidentally" bump into Boaz, inspired Naomi when she counseled Ruth to consider this man who seemed so beyond her grasp, and fueled Boaz's determination to finish the matter that very day.

This is a picture of God's heart. This is what He wants to do for all His children. This is what He wants to do for me.

If someday I live out my love story in light of the gospel, who can help seeing the pure and unconditional love of Jesus? That's an exciting thought!
(Elisabeth in "His Love Stories" at Boundless.org)
More Love Stories