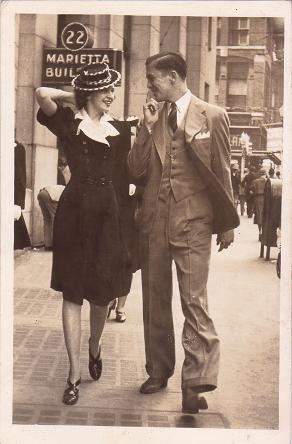 the story of Laura Alice & Claude Jr.
"I was sitting on the front porch," the story went, "and I looked up and saw two young men come in the little gate and amble up the walk. But I really only saw one of them. And I said to myself, 'Why, that's Claude Jr.—and that's the boy I'm going to marry."
It was just like that. Both of them testified to 'love at first sight'. And though that's a rather dubious concept in our 'enlightened' age, I have to say that I believe them with all my heart.
He officially asked in the fall of 1941. A moment's bliss—and then the war. Grandma's eyes always grew misty when she got to that part in the story. Granddaddy was one of the first to go, and one of the last to return.
"Forty-eight months in the South Pacific," she would murmur, as if to herself. "And I always knew he'd come back."
I am always encouraged to read or hear of a love story that truly reflects God's fingerprint, His perfect timing, and the evidence of God in each of the individual's lives. Love stories that were not manipulated or brought about by human scheming; each detail was obviously constructed by our Creator. Love stories that are a picture of Christ continually wooing and winning His bride; loving us when we least deserve it and accepting all of the ugly. Love stories in which the man desires to lead and the woman wants to be led and loved like the church. It helps me to believe that the kind of dreams and prayers that we all should have are not too big.
Looking for more love stories?
Visit the love story collection, find love stories in print, or browse more love stories in the same category as Laura Alice & Claude Jr.'s: Love Stories from History, Love in Uniform.

Share the thoughts of soldiers and their loved ones, and reflect on the letters they exchanged when their hope was most dim and their words most sincere.
Find on Amazon