the story of Bonnie Kate & Max
I wanted to share how God can take something that was meant for evil, something as evil as a movie theater massacre….and somehow, even if a little bit use it for our good and His Glory. And to encourage people that there are girls out there worth fighting for still….and there are guys out there still willing to fight. Because I believe through all I have come to know that a life of self renouncing love is one of liberty.
read and watch their story:
"If you're single, real-life love stories can reassure you that God works through all different kinds of circumstances. Don't read with an eye to copying them in your own life, but take note of His faithfulness. Rest assured that He is equally faithful to write the details of your life story, whether or not it includes marriage."
(Jeannie in "Humorous & Authentic Real-Life Love Stories")
Looking for more love stories?
Visit the love story collection, find love stories in print, or browse more love stories in the same category as Bonnie Kate & Max's: Long-Awaited Love.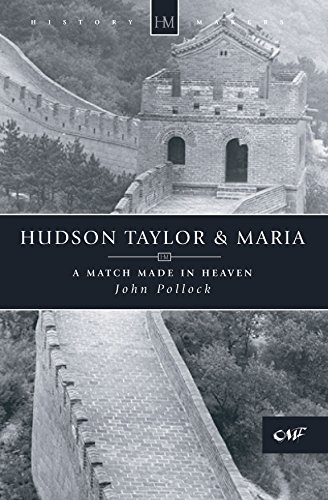 There are few love stories as enchanting as that of Hudson Taylor, the pioneering missionary, and Maria Dyer. Their relationship and short marriage flourished in the bitterest of circumstances because their lives were firmly rooted in their devotion to God, as well as to each other. They were a perfect match, (though not perfect people), a couple who show us how to share our lives at the deepest level.
Find on Amazon