How to Make It Feel Like Christmas Even When You're Newlyweds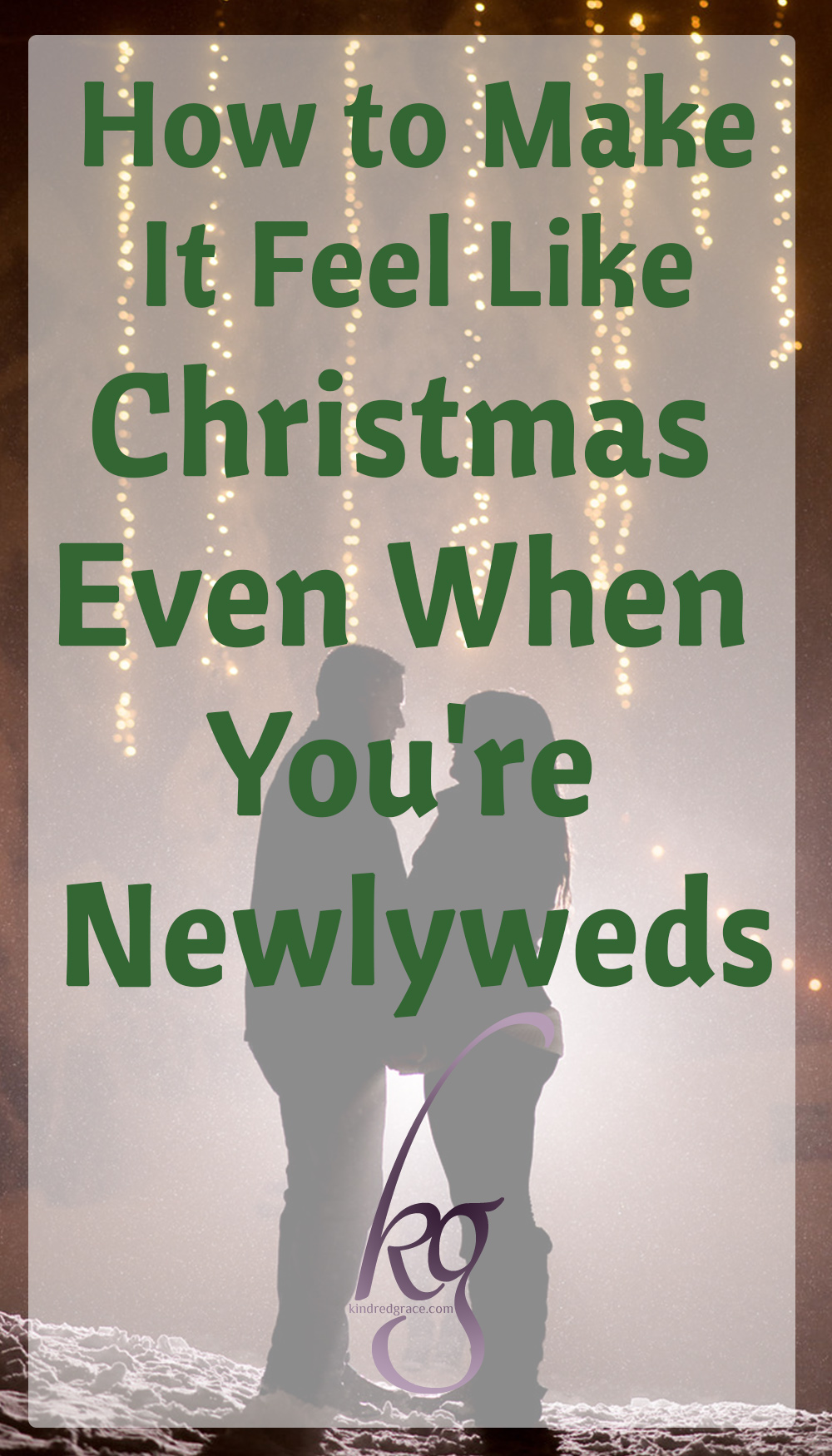 My husband and I will celebrate our first married Christmas this December. Although we were dating last Christmas and spent some of Christmas Day together, it feels different this year in a lot of ways.
For example, practically, we're making a home together, so we have decorating decisions to make. I have my own kitchen now, so there are recipes I'll tackle for the first time on my own. But most importantly, we have two families and two sets of traditions to balance, as well as our own to make.
Here are some thoughts I'm keeping at the forefront of my mind this holiday season as we approach our first/newlywed Christmas.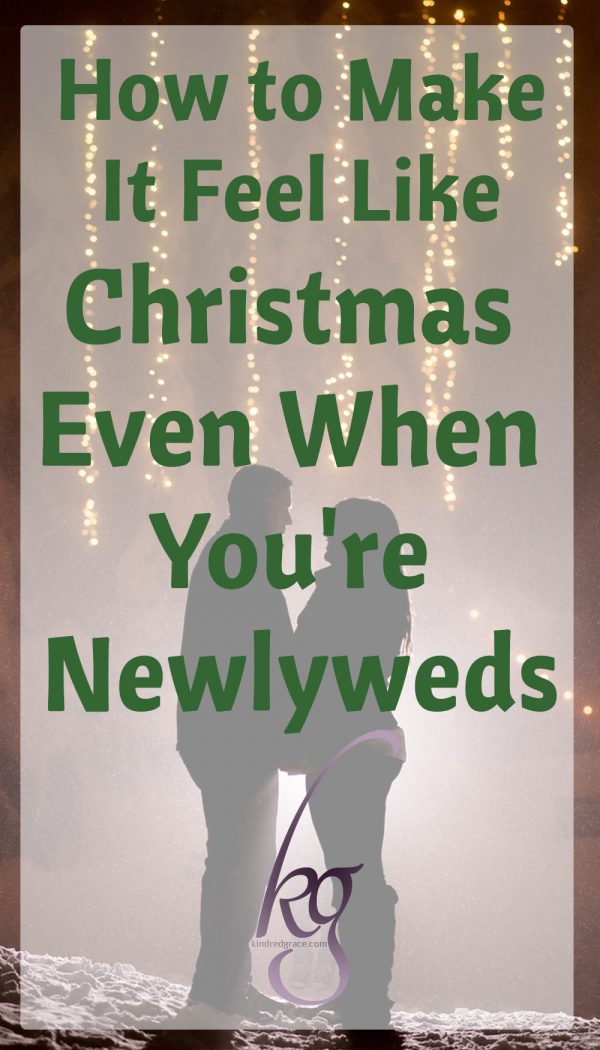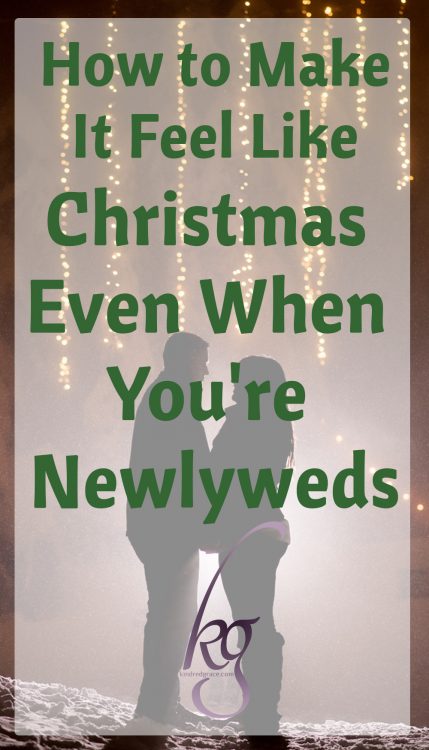 1. Remember Your Husband in Your Holiday Decorating
Since I was a little girl, I've collected Christmas decorations. Ornaments that my mom no longer needed or wanted, which I discreetly plucked out of the donate pile. Reindeer oven mitts I picked up who knows where. And the yearly ornament that my grandma has given each of her grandchildren since before I could remember–always lovingly chosen to reflect an individual interest (for example, I have Elsa and Belle ornaments revealing my love of Disney princesses).
My husband and I have different decorating tastes we're endeavoring to blend.
This once led to a compromise in a Target homeware aisle when we couldn't decide on couch cushions. He was eyeing black-and-white, and I had a clearance set of orange patterned pillows already in my arms. We compromised, bought both, and I still smile over our comfy, colorful couch.
One thing was a nonnegotiable to both of us when we broached the subject of Christmas decorations: the tree. We both wanted one. But what kind? We each had different tree ideals: he liked the idea of a white tree, I'd only ever had a green tree. We both agreed that artificial would best suit our apartment, and pre-lit would be most convenient!
We ended up purchasing our Christmas tree exceptionally early. A walk through the Walmart in October (that's right, October!) revealed a sale on a four-foot, pre-lit, white-frosted-tip Christmas tree that would fit perfectly on a side table in the corner of our living room. We took it home and set it up that weekend "just to make sure the lights work." We haven't taken it down since. I've been elated to have a bit of Christmas waiting expectantly in the corner since before it was even chilly.
Just last night, I asked him when he would like to decorate it (read: when's the earliest I can hang ornaments and yet-unbought star?), and he answered, "I thought it was already decorated." I glanced again at that naked tree and laughed over our differing tastes.
We agreed that sometime after Thanksgiving we will hang ornaments and a star. I'll also get to bring out those reindeer oven mitts, Christmas kitchen towels, and other odds and ends for the very first time, but I'll challenge myself, even in my excitement, to remember to ask his opinion.
2. Give Yourself Grace in the Kitchen
Perhaps, like me, you're not hosting Christmas your first year as a wife; you're just bringing one dish. That certainly makes things simpler, but whether you're responsible for everything or one thing, there seems to be a certain pressure that comes with bringing something to Christmas dinner. I'm not even sure yet what dish I'll be responsible for on Christmas Day, but I do know what I'm to bring on Thanksgiving at my in-love's (my husband's family): the sweet potato casserole.
The sweet potato casserole just so happens to be my favorite part of both Thanksgiving and Christmas dinners.
My husband really enjoys it, too. Perhaps those are the reasons why I'm anticipating being responsible for it with both joy and trepidation. I really like this stuff, so knowing that it will be my great-aunt's delicious recipe promises therefore to be a welcome, familiar dish on a day when much may be different from previous years.
I know that Thanksgiving will go much more smoothly if I give over my self-imposed expectation that the sweet potato casserole be perfect. I may do a practice run of the recipe, even though I've made it many times before with limited help (but in an entirely different stove!). I'll probably also enlist my husband's help–honey, you've been warned.
New wives, let's remember, our worth is not based on the beauty of our casseroles this Christmas season.
3. Honor Your Families' Traditions
My husband and I are blessed to live within three minutes of his family and twenty minutes of mine. We're also quite glad that his family highly values celebrating Thanksgiving together while my family prioritizes Christmas festivities. This somewhat simplifies the question of where we'll both be when, but there are still adjustments to make. We're celebrating the holidays with more people than ever before, so there are considerations to keep in mind.
Whether you live near your family or have to balance holiday vacation time and travel, remember to give each other grace. This is an adjustment for your parents and his, too.
For example, my mom decorates the Christmas tree the day after Thanksgiving while we watch Tim Allen's "The Santa Claus." This spells Thanksgiving to me just as much as that sweet potato casserole. Thus, my husband and I will be at my in-love's home on Thanksgiving day, then we'll be at my parents' on the day after for leftovers, Christmas movies, and tree-beautifying. This is made easier by the close proximity, certainly, but even if you're having to choose which family you'll spend what holiday with, try to honor those traditions that your families' miss you being there for all the time now. Even if all you are able to do is FaceTime from miles away, it will probably be most appreciated.
4. Create At Least One New Tradition
I once heard a then-engaged friend of mine mention that her premarital counselor strongly advised that every married couple should endeavor to create at least one new holiday tradition their very first year. I was just dating my husband then, but I could see the value in that advice. Now I'm immensely grateful I've remembered it.
My husband and I haven't decided what our one new tradition might be, but we're already discussing it. A few little things have been thrown out on the table, such as the faux mistletoe I hung over our bedroom door during July (Christmas in July!) coming out again for the month of December–or the idea of cinnamon rolls for Christmas morning breakfast.
Another friend of mine and her husband have a Christmas Box that comes out only on Christmas Eve. Inside are Christmas pajamas that they wear as they watch a particular holiday movie. Begun with the idea that they would treasure this tradition with their future children, it has become an anticipated part of their Christmas season as a couple.
Christmas is such a special time of year.
Sometimes for newlyweds and early-married, the holidays can spell stress, adjustments, and hard decisions, maybe even sorrow. But it is meant to be a time of good news and great joy, a time of reflection on Christ and His coming. Keeping that as the focus of your newlywed Christmas is most important.
Do you have a lesson from your newlywed Christmas? I'd love to learn from you! Share in the comments!
Photography: JenniMarie Photography