Eating Mud Pies – a Love Idol book review
Disclosure: This post contains affiliate links which won't change your price.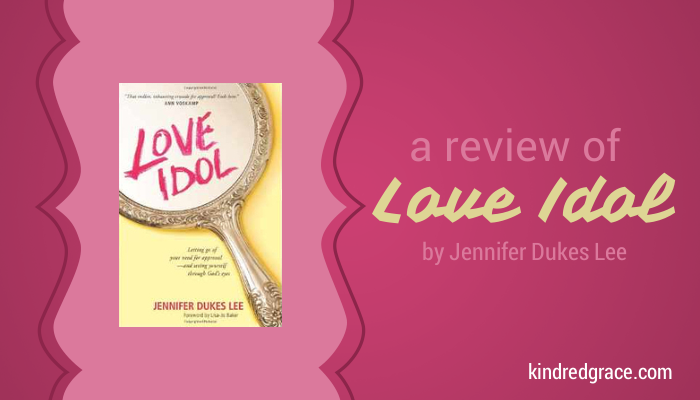 I've never considered eating mud. Even as a tot, the thought of slurping up some murky sludge didn't cross my mind. Some children are much more adept at creating something desirable out of nothing, but no amount of pretending could make me believe dirt and water was actually a chocolate silk pie with clouds of whipped cream. While my neighborhood friends had tea parties with mud pies in the backyard, I stuck to reading and real snacks. So why, as a twenty-something, have I developed a taste for mud masquerading as pie?
Well, it wasn't intentional. Like many harmful habits, my tastes changed slowly so that the shift was almost undetectable; the repercussions piling up before I was aware of the negative effect. I had apparently become better at make believe because I was consuming dirt and calling it delicious. The dirt was approval and it was burying me alive. I had dug so deep to keep that dirt supply fresh, I was six feet under without even realizing it.
The mud pies I have been forming with such attention to detail – a number on the scale or the number of blog subscribers and social media followers, the shape of my body or the shape of my home – start to disintegrate before they even reach my stomach. I haven't been living a life with a thriving mind, body, and soul because I'm ingesting things that have no substance.
Jennifer Dukes Lee elaborates on this destructive mud pie diet in her new book Love Idol.
If we continue to live life for our own approval – in a mad chase for worldly significance – we will never truly live from our approval. Instead of feasting on Living Bread, we will be filling our bellies with metaphorical mud pies.
My metaphorical mud pies have been artificially filling my belly for longer than I'd like to admit. I've let the world's standard of beauty, motherhood, femininity, and success dictate my worth. In so doing, I've let my love of approval become an idol. Jennifer shares my destructive love language and chose to write about her journey as one way to break its fluency in her life.
As a former news journalist, Jennifer knows how to engage a reader. She has a story many can relate to and conveys her story with a passion that both encourages and exhorts. Though I'm not proud of recognizing myself in that cycle of striving and approval seeking, I nodded knowingly at many of the situations she described: from the internal pressure to get straight As to trying to cover sleep deprivation and extra weight with make-up and designer clothes.
But, there is hope! Jennifer shares the powerful truth that we are pre-approved by a heavenly Father.
If we are deeply moved by the sight of his love for us, it detaches our hearts from other would-be saviors. We stop trying to redeem ourselves through our pursuits and relationships, because we are already redeemed.

-Timothy Keller
We don't need to place our worth in the hands of others when God has formed us perfectly with His own mighty fingers. He gives us the key to freedom from our love idol. He prepares a feast so that we don't have to eat mud pies.
Do you have a love idol that needs to be demolished?
Thanks to Tyndale, we have 3 copies of Love Idol to give away! Comment and enter via the Rafflecopter form below for your chance to win a copy of Love Idol.
You can join the #loveidol movement on Twitter, Facebook, and Instagram. (I've particularly enjoyed Jennifer's Instagram feed!)
Thanks to Tyndale for providing the review and giveaway copies of Love Idol.