June Brides ~ Ten Year Perspective
But the June Bride hears the song of a spring that lasts all summer long…
As Ashleigh and I were both celebrating such milestone anniversaries this year, and as our weddings were exactly five years and one day apart, we thought it would be special to post a series on our wedding days and the journeys we've taken since. Part One is here. And look out later this week for a very special forty-year perspective in Part Three!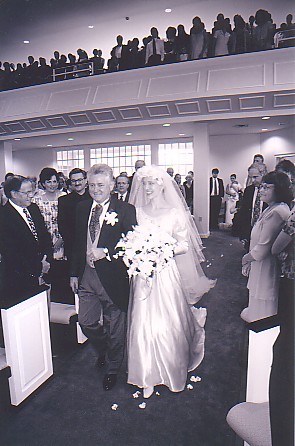 Ten years ago, on a Sunday afternoon in June, I stood at the church doors, one hand resting on my Daddy's arm, the other clutching my bouquet of sweet peas and gardenias. I remember how the petals trembled under the waves of joy that crested and broke over me as I watched my pretty maids in their pale pink gowns all walk so solemnly down the aisle ahead, preparing the way with a joy of their own. Then the great congregational hymn, the loved ones and friends filling the sanctuary with a triumph of praise to our Lord who had been so good to us. And on the last verse, I knew, even if I couldn't see it, my beloved would be walking out from a side door with his groomsmen and the pastor that was to unite us before God and men in holy matrimony.
And suddenly, dreamlike, it was my turn. The doors opened at the touch of unseen hands, the strains of the Handel aria I had selected as a special surprise for Philip soared around me, and together, Daddy and I stepped into the church. It was filled to capacity—either the sanctuary didn't hold the 500 people that the church administrator had promised it would, or there were many more people there than we had expected. Whichever way, it was a sea of loving, smiling faces that greeted me that day, all beaming with a happiness that is so tender and tremendous for me to consider, even all these years later. But of all that beloved throng, I saw only one face. Shining out from all the rest, so handsome in his morning coat with a gardenia in his buttonhole, smiling back at me with a joy that made me want to break into a run. Philip—my groom.
Everything was as I had always dreamed it would be—my mother almost single-handedly saw to that. From the urns of roses and the garlands of smilax that graced the altar, to the sweet little cones on the pews holding the offerings of friends' summer gardens, the church was a picture. The morning's rain that had threatened our outdoor reception had gone to its own place and the June sunlight pouring in at the tall windows was like a benediction. Each member of our wedding party had played such an important and valued role in our lives, and they had flown in from literally all over the world—Australia, Poland, France. The man that married us was the man that led my Daddy to Christ; the dress I wore had been worn by my mother and my grandmother before me. Every detail was fraught with meaning and significance and we were humbled, overwhelmed, by the loving support that had brought us to this place and this time.
But in that instant, timeless in its lucidity and standing out from all the blissful haze of that precious day, the only thing that mattered was that Philip and I were going to be man and wife at the end of it all. Each step brought me closer to the desire of my heart; each moment that passed was one less of a solitary journey. I received my Daddy's kiss and heard him give me away; I passed my flowers to my sister and placed my hand in Philip's. I heard our minister begin the recitation of the lovely old vows from the Book of Common Prayer and I repeated them back with all my heart. Friends later teased us over the brevity of our ceremony—any guest a quarter-of-an-hour late would have missed the wedding altogether. But we had one object, two-fold in its implication: to be married; and to lift up our Lord Christ who had brought us together into a union we had hardly dared to dream of.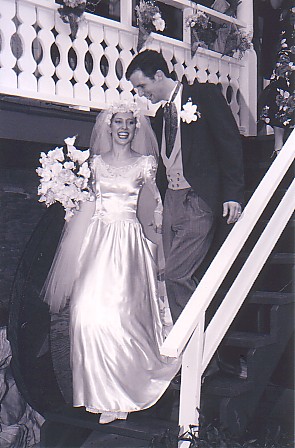 That done, to simplicity and joy, we were off to our reception at the farmhouse that was to be our home when we returned from our honeymoon—the home that Philip had worked so hard to prepare for me from the day he placed his engagement ring on my finger five short months previous. When we pulled in the driveway the policeman directing traffic informed us that the pastures were full and that no more cars would be permitted. That until I leaned forward with a sly smile and a wave and he broke into a laugh and ushered us in—to our reception and our new life together.
My mother-in-law was more gracious. She met us on the front walk as we bustled out of the car.
"Welcome home!" she cried with a radiant smile.
And I wondered if any bride had ever had a happier homecoming.
This June I've been wandering around the yard, looking at the roses we'd planted and the trees under which the white and green tents were pitched; at the vine-covered trellis Philip built specifically for us to enter our reception beneath and the wide expanse of lawn that had been trampled by the feet of dancers in the Virginia Reel and Marie's Wedding. The back porch where the fiddler stood and the front porch where friends had served lemonade from a frosty silver bowl. The perennial garden my mother helped me plant. The stone steps where I stood to pitch my bouquet into my sister's willing hands, and the stone walkway lined with dear ones down which we raced back to our car in a pelting flurry of lavender.
"Ten years??" my heart keeps demanding. "How could it have been ten years?"
It just doesn't seem possible that a decade has passed since our wedding day. That we've reached such a milestone and that ten years of long talks and lingering dinners and breakfasts on the fly and books read and rooms renovated and dreams dreamed lay between that day and this. Journeys abroad and blissful homecomings; rooms full of friends and silent Sunday afternoons; tears dried and laughter uncontrollable. I just can't believe it. But even more amazing to me is the thought that there ever was a time that we weren't married. That idea strikes me as almost ridiculous—and has with impartial force on every single anniversary we've celebrated. I can't believe it's been that long; I can't believe it's been only that long. Emily Dickinson says it well:
How odd the Girl's life looks
Behind this soft Eclipse—
I think that Earth feels so
To folks in Heaven—now—
So what great insight can I offer after ten years of marriage? What pearl stands out from the others as I cast my mind and heart back over all that these beautiful years have meant? What hard-earned truth is mine, wrested from the quarry of experience?
Above all, only this: that I am utterly undeserving of the least part of it. The love that my Philip shows me–that has characterized and sanctified my married life from that day until this–flows from the very heart of Christ Himself. As Christ loved the Church—he has lived it out. It is unconditional and unremitting and unstinting—and this from the man that knows me better than anyone else on earth! How can it be that he could look into the soul of this sinner and still grow tender-eyed? How could he truly know me, in all my weaknesses and vanities, and still greet me with joy at the end of each day? How could he forgive with such abandon and love so lavishly? I do believe, after a decade of such day-in and day-out constancy that Love is the most humbling thing that could ever happen to a person. If I was overwhelmed on my wedding day by the outpourings of family and friends and the sight of my groom waiting for me at the altar, then I am speechless today. Words, my old and trusted friends, have forsaken me utterly and I can only stand upon this precious milestone with a heart full of love and gratefulness. To my husband, and to our faithful God who joined us as one.
Allow me, in my incapacity, to borrow from the poets once more: lines penned in praise of the believer's relation to Christ, but no less applicable to the earthly union that is an image of the heavenly one:
Love bade me welcome, yet my soul drew back,
Guilty of dust and sin.
But quick-ey'd Love, observing me grow slack
From my first entrance in,
Drew nearer to me, sweetly questioning
If I lack'd anything.
George Herbert
A marriage made in heaven? Absolutely. A gift of God before which we both stand in awe. As our minister reminded us before we were married, the very best matches are those in which each partner believes that they have gotten the better part of the deal. After ten years I know that I have. But it's a deal of mutual wonder and joy, undimmed by a decade of loving and being loved. It truly only gets sweeter–and more beautiful–with each year that passes.
Thanks be to God.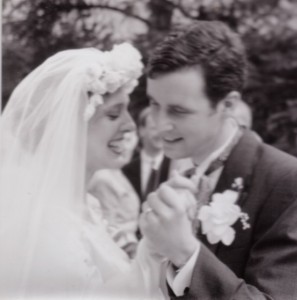 June 27, 1999