How to Never Miss a Harvest
He that observeth the wind shall not sow, and he that regardeth the clouds shall not reap.
-Ecclesiastes 11:4
That thing about reaping we tend to forget is that we need to sow. And we need to sow now, not waiting for perfect moments and a perfect family.
Not waiting for the well-planned and the well-executed days.
We can't wait for the best spiritual days. The most fulfilling days. The walking on the water days. Or the joyful, no tears days.
We have to plant on the windy days. The days when the Santa Anna winds blow insane heat. The days when the Nor'Easter blows the frigid cold and snow. Waiting for the gentle breeze days robs us of the greater percentage of planting days.
And cloud watching? Waiting for days with no clouds? Days when we're less busy? Less stress? Less bruised, less fearful? We lose decent planting days when we wait for only the sunny days to sow seeds for harvest.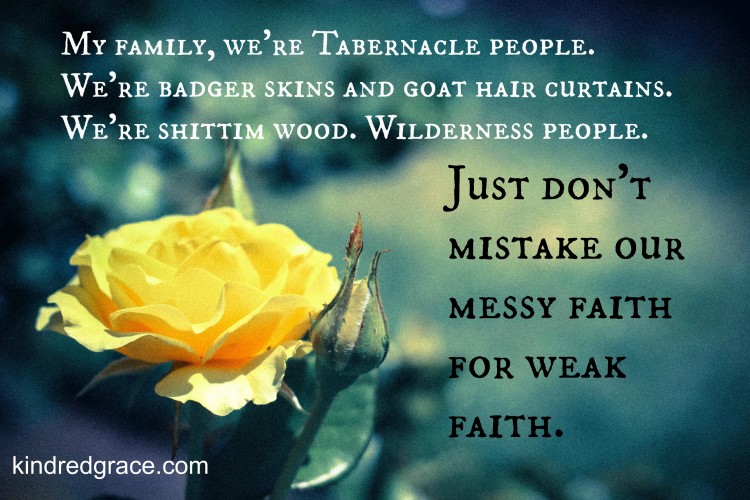 My family, we're Tabernacle people. We're badger skins and goat hair curtains. We're shittim wood. Wilderness people.
We are a first generation of healthy, non-toxic Christianity. We require Pillars of Fire and Cloud to lead us. We can't navigate the terrain at all by ourselves. We've never been free before and we don't know what we're doing or where we're going, but we're following and we're moving forward in faith. We get big visuals to build a big faith. We're not here out of punishment. We're detoxing.
We're filtering out the religious life and ways from true Christianity. It's a season and place of questions, of substantial sowing and growing. It's turning and tilling land and plucking of weeds. You've heard people say they had 'messy faith'. These are the people with it. Tabernacle people. Don't mistake messy faith for weak faith. It is anything but weak. It's just that they, we, me…..we're in the field with the fresh-tilled dirt. We're sowing like no one has ever sown in this place, in this family. And we're just rough and messy. Certainly not glamorous.
I've wished we were Temple people, longing like King David who wanted to give God something so beautiful, something so solid. I'm yearning for solid, unmoving splendor and glorious displays of worship and holiness.
I see families that are Temples displayed on blogs, pictures, and Facebook feeds. I'm reminded in my heart that somewhere back with momma or with grandpa, someone lived the first generation of faith and following God. Someone endured the tabernacle years, the years between bondage and beauty. And what I'm seeing is a harvest of that work.
Raising generations to follow God and love Him requires sowing of the hardest and best kind. We're planting with hope and promise of what is to come, not having realized the fullest potential yet in our own life and faith. I want to get there. I want my grandchildren to love God and have a third generation of healthy Christianity follow long after I'm gone. I want it to extend to their children and grandchildren. I want a harvest and I want a long season of it.
So I can't pay attention to the wind and the clouds today. If I listen to the wind, I'll delay the work of today. If I look at the clouds, I'll put off the sowing that needs, that can be done today. Because one day, there will be a reaping. A great, magnificent harvest of all the seeds of faith and Gospel planted. It's coming to me. In faith and by the authority of the Scripture I believe this.
And it's coming for you too, but momma, you have to plant. You have got to sow the seeds now. It doesn't matter how cloudy or how windy today is in your life: there is a seed of kindness you can sow. Or a seed of faith, or of gentleness, or joy, or thankfulness. Whatever you offer and invest into that little face and life today will not go into a void but into a soul.
And though you may feel like you are the Tabernacle people and your representation of a life of faith is badger skins and goat hair, do not discredit the presence of God. He was every bit as present and as glorious as when He was in the Temple. And don't be worried about how long you're here. God will never leave you. And if you are still planting seeds into souls that are grown up, don't believe that it's too late. Temple days are coming. The reaping of every godly seed will come to pass. And you will never miss a harvest season.