Farmer's Markets from the Farmer's Perspective
Tuesday morning, 8 am. It's pouring down rain, and I mean buckets. Little rivers of water are running down the driveway. I can't complain, because we've been praying for rain for weeks, but it is Farmer's Market day, and none of the produce is picked yet. Not only is it hard to harvest lettuce in the pouring rain, but rainy days mean few customers, and as this is the first market day of the season (yes, it's been a very cold, dry year so we are late getting started!), we are hoping for a good turnout. Betsy did the baking last night, so at least our baked goods are ready.
It stopped raining around 11:30. My sisters and I rushed to the garden to pick the small amount of produce we've been able to grow so far this summer. I really hadn't planned to go — how embarassing to show up with four heads of lettuce! — but closer examination revealed that we also had spinach, onions, chives, mint, sage, parsley, and eggs, along with the baked goods. Of course, everything outside was soaking wet and mud-splattered, so it had to be washed and drained before bagging.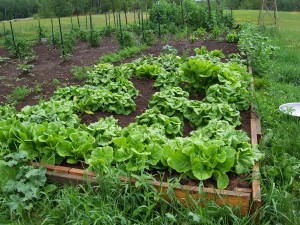 I ran to the basement to make sure the eggs were ready to go. Experience has taught me not to assume anything — like "each carton contains a dozen eggs" or "all the eggs were washed when they came in from the barn." No, to be on the safe side, I now not only open each carton, but I pick up and inspect each egg. Dirty ones are cleaned, cracked ones are for the dog. There were five dozen "market ready" eggs when I was finished.
Meanwhile, Betsy was making labels for her baked goods on the computer. They looked both cute and professional. Presentation is such a big part of a sucessful farmer's market, and we try to make our table and goods as attractive as possible. To those of you who shop at farmer's markets, remember that none of this just happens. It takes time to find the right basket to display the onions, to make the cute signs, and to price everything.
Ah, yes, pricing. Can you hear me groan from where you are? Try pricing things that you haven't bought for months (or in some cases, years!). Make sure it's a fair price, because you don't want to overcharge your customers. At the same time, you have to make sure you're making a profit. And don't undercut the other growers, because they are your friends even if they are your competitors. Oh, and do you sell things by the unit or by the pound? What if you don't have a scale and have to weigh your produce on another vendor's scale? Needless to say, the pricing is the worst part for me.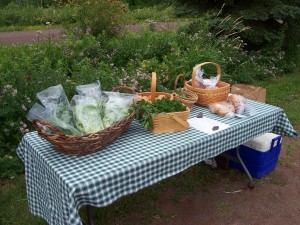 Finally everything was ready to go. I ate a quick lunch, helped with the dishes, then began loading everything into the trusty (and rusty) minivan. It's actually a pretty long process. "Did you get the spinach from the crisper drawer?" "Do you have a basket for the baked goods?" Slam, slam (that's the screen door as I run in and out of the house with loads of stuff!). "Here's the table cloth." "Do you have the calculator and the price sheet?" And then, just as I'm ready to go, "Do you have change?" Change — how could I forget!? A quick scramble through everyone's purses and the "change box" which was unfortunately just emptied and taken to the bank, but we did eventually find enough change.
So the next time you go to a farmer's market, think about all the work that is represented there. It's even more than growing the produce! And be patient if the farmer has forgotten bags, or can't find twisties for the bread, or has to borrow the next vendor's scale. But if the eggs are dirty, point it out. And if you don't know what to do with parsley, ask! We love to talk to our customers. And we love providing you with fresh, healthy produce.