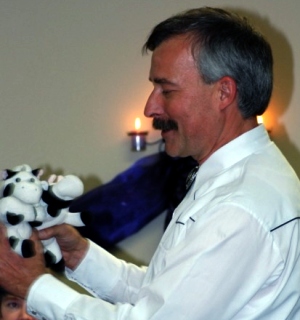 Chantel has written several beautiful posts capturing the love and happiness of her wedding day. But I just had to tell you about two of my favorite details from Scott and Chantel's wedding…the vows and the cows!
At the reception, everyone laughed when Scott presented Chantel's dad with twelve cows…little stuffed ones, that is! It was a reference to Chantel being a "twelve-cow wife" in the spirit of the legend of Johnny Lingo's eight-cow wife. And it made this farmer's wife think of all our joking references to my being a so-many-ton wife—ton of hay, that is, since Merritt traded hay for my ring!
But the part of Scott and Chantel's wedding ceremony I hope I never forget was a line from the beautiful bride's vows to her new husband. The word picture of a wife's heart being the graveyard for her husband's faults and mistakes is one I want to not only remember, but live out in my marriage.
I take you, Scott, to be my lawfully wedded husband, my partner and my companion in life and my one true love.

I will cherish our union and love you more each day than I did the day before. I will trust you, honor and respect you, laugh with you and cry with you, loving you faithfully through good times and bad, regardless of the obstacles we may face together in this life, and staying by your side through sunshine and storms. My heart is the graveyard for your faults and mistakes and by God's grace I will always do my best to uplift and encourage you in your best.

I give you my hand, my heart, and my love, my all, from this day forward for as long as we both shall live.

Photos by Bethany Tiss