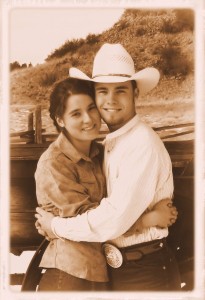 The four and a half months of our engagement were filled with an amazing amount of work, thought, planning and a reasonable amount of confusion and crazy-ness, some tears and a lot of laughing. We worked against several odds during those months, and it took time to find and make the elusive plan two dreams become somewhat of a reality for both Scott and I. Yet, as Gretchen often reminded me when I began to feel stressed and pressured into a million different courses of action by well meaning folk, it was our wedding that we were planning, and in the end, I am thankful that I stuck to that advice the best that I could.
I knew we wanted a family wedding. We wanted it to be close and small. We wanted it to be a happy time for everyone. We wanted it to show the happiness and beauty of True Love, and our desire to grow and learn and live that love in deeper ways each day.
In the smaller details, we wanted real flowers–Tulips or Sweet Peas or Lilacs.We wanted a deep purple, and we wanted to include a little bit of Western Theme to the day, and we wanted our family to be included as much as possible. I'm not sure that a whole lot else mattered so very much.
Since Scott and I lived far apart, we registered right away at a couple places all in one day. It was quite the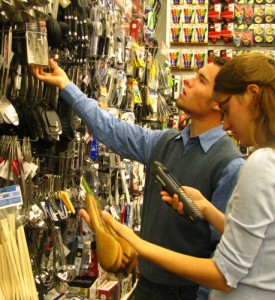 overwhelming feeling to wander among aisles and aisles of things and try to think of what we would like or want in our own place, and trying to reach our "minimum" that the lady who started us off gave us of 300 items, was impossible while being practical, so we had a little fun and finally, hours later, hungry and foot sore, we finished up and both agreed that we were glad that it was over with.
With three holidays coming up, all of which would slow down mail orders and local shopping, time was short and we needed all the head start we could get. It was just a few days after our engagement that I bought the dress that Scott and I picked out.
Yes, we picked out my wedding gown together. There weren't many stores in Colorado that carried the kind of dresses that we were looking for, so we spent quite a while sorting through website after website of dresses (I have quite the collection of sites to choose from- if anyone would ever need it!), weeding it down to a couple favorites, and at last decided on one that was not only pretty but that wouldn't break the budget right from the start. I was rather nervous, and totally excited after I hung up the phone from placing the order. I was told to expect about an 8 week delay in the shipment, but it "just happened" that they had one in my size in stock already, and shipped out my dress the day I ordered. I got it not even a week later, and I could not believe how perfect it was- more of what I really wanted than I hoped to find. And the brides who have had multiple and trying trips to get their beautiful and delicate gowns altered will understand my absolute excitement to find that the size I ordered fit me perfectly. All I needed was a hem.
Right at that moment, I felt very blessed. It was just the first blessing through out the whole process of planning and preparation, for God continued to show His goodness in blessing after blessing. (And, no, Scott didn't get to see me wear it until I walked around the corner of the church on our wedding day!)
I had bought just one book on recommendation by several other brides: Bridal Bargains. I planned to get it through PaperBackSwap, but in the end, I had to buy it from Amazon.
That book was filled with so many details and ideas, and I gleaned some good links to give me a starting point in narrowing down my search for flowers, candles and got tips on a lot of other necessary things.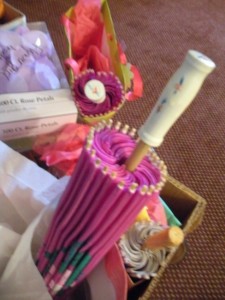 I also found a style of bridesmaid dress online that Scott and I right away agreed was perfect- it matched my dress, and was simply just what we wanted. The price, though, was much too steep, and we didn't like any of the colors. That left just one option: sewing them.
Months before, I had happened to be in the only JoAnns Fabric in Colorado Springs, and caught sight of a lovely purple taffeta in the formal section. I told mom it was "exactly what I'd pictured" for my maid's gowns' if I ever got married and if I had purple in my wedding. Thankfully, Mom was more on the ball ( or maybe just more informed? 😉 ) than me, and insisted that I get a little piece to keep, because "you never know if you might need it sooner than you think!", she said, and it never hurts to have it for matching purposes, at least. So I did, and I was pretty glad I had after we were engaged and I realized how much had to be done from such distances! Incidentally, Scott had also thought that a purple wedding would be very pretty, so it really wasn't hard to settle on our colors.
I pulled out the fabric strip, the prices I'd written down and my calculator, and gulped at the cost, but it was still much better than the online dress. I had no idea that the store even still had the fabric, and was ready to try to settle for something a little different, when I found it. Not only was it 40% off the original price, but they'd order me a whole bolt, if I wanted.
Of course, not everything goes perfectly smooth for any wedding-in-planning. The bolt arrived, but it was a totally different shade from the yardage I'd already bought- and a color that I simply do not like at all. Sale fabric is usually not returnable, but they took it back, and called ahead to other stores to put holds on the bolts that remained. Once again, I felt humbled and blessed.
The day Scott flew home after his two week stay, April was convinced to be dragged around Denver as a fabric consultant and 'tour guide' to help keep us country folk from being too hopelessly lost. She also agreed to try to create the picture I had in my head, with the picture I found online, and with nothing but experience, imagination and two unrelated patterns, and some trial and what can I say?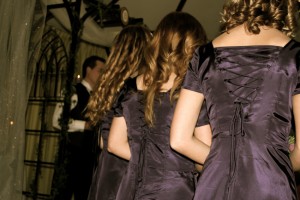 They were more than perfectly what I had hoped for. I still don't know how she did it, but it wouldn't have been possible with out her! Later on, I hand sewed the beads on the front, and we did the hems just before the wedding. The only wish I have is that I could have had one too- they were so pretty!
The guys wore black jeans, with silver vests that we purchased through Amazon. We bought them bolo ties from Western Wearhouse as their gifts, and they wore those for the ceremony and we were able to get cowboy boots for a good price through the boot barn online as well. Scott had to have his hat, and the little Wagon Man was totally thrilled when I found one for him too. Matching Scott made him feel pretty important.
I'd long said I didn't want to wear heels at my wedding. In part, this was a playful statement directed to a girl who we teasingly hold responsible for our marriage- my childhood best friend for whom I was Maid of Honor two years ago. That's where I had to wear heels for the first time in my life- three and a half inch spikes at that. (It's also where I met Scott, her new husband's brother, who was best man. But who would have guessed then that we'd be getting married ourselves, especially since we had no interest in each other then!) Well, things change with time, and Scott thought that small heels were more elegant than flats, and I was happy to try to find something moderate that he would find attractive, too.
I ended up buying all of our shoes from Amazon.Com. They were just $16.99 and they all matched. Plus, I got free shipping by buying them all at once, and every penny saved meant a lot! Mine were pearly white, and the girls' were black.
Scott and I only had some vague idea of what we wanted our "style" to be.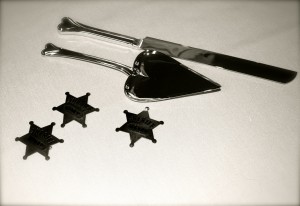 Elegant with a touch of Western, but that could be interpreted in a lot of ways, and it was really not as easy as we thought to figure out the littler details.
The dream of an outdoor wedding vanished with the rain that nearly spoiled the wedding that we met in, and with the fact that mid March in Idaho can't be expected to be very warm, thus we turned to dream two: a little, white, country church.
The first few never materialized, and the one option wasn't so good, and then we found the Methodist Church tucked away in Asotin, and could not believe that the only wanted $150 to rent it. They were so kind- offering to let us use candle holders and lights and to do all that they could to make it work for us- including renting it Sunday afternoon, instead of Saturday, since that was when our wedding was to be.
I never saw the church until two weeks before the wedding- but Scott took pictures, and I knew if he liked it so much, it'd be perfect for me. And it was! The only thing that I had wished for was that the bell would work- but it was out of repair at the time of our marriage.
With a very tight budget, and with not knowing how the church would look, mom and I set out to try to make sense of the Elegant Western Wedding that Scott and I kept wishing for. The Goodwill and local thrift stores turned out to be our main shopping center. A little paint turned candle holders into like new items that cost us likely a quarter of the original cost. We also got some of the serving dishes for our reception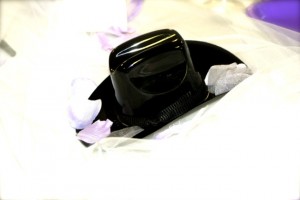 meal, and I even got our crystal goblets and the flower girl baskets there. We also were able to get amazing deals from Hobby Lobby– between the weekly coupon and the weekly sales, we were able to save a lot of money on the little details- like tiny silk roses and the wedding bubbles.
Of course, shopping sales and the goodwill meant many, many trips and a lot of patience and creative thinking, and a little giving and taking. Sometimes the mental images we build in our minds aren't always a must have, and learning to be a little flexible with details that really didn't matter so much was something that gave me practice for learning flexibility in Marriage.
I couldn't pass ebay by, either. I ended up getting all the candle holders and plenty of candles for the reception tables for a fraction of the cost elsewhere. I felt bad when they accidentally sent me double what I ordered- but they laughed and said, "Well, count it as a gift to you for a happy wedding!". That was one thing I had more than enough of!
Mom and I spent hours searching the internet for the best deals on tulle, plates, and other items we couldn't find elsewhere, and I fell in love with these hand painted parasols, and they did add a special touch. Ruth's little one was my very favorite of them all! (I still have many other links and lists of places I ordered from- if there are any brides to be planning out there, feel free to ask!)
Dad built the wagon that Ruth rode up the aisle in. I couldn't believe how hard it was to find a simple radio flyer wagon! Apparently the things that amused me for hours in my childhood are things of the past already, but Craig's List saved the day on that one, and Dad did a great job turning it into a buckboard wagon to match our western theme.
There were bumps along the way- besides the initial fabric scare. I was tempted to be frustrated, overwhelmed and worried more than once. I got to where I was so tired of trying to figure out what flowers I needed for bouquets and reception, what candles needed to go where, and who needed to do what at the reception that I wished it was just over with.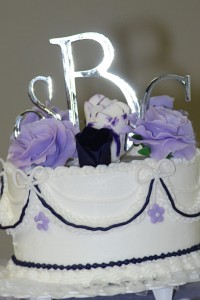 But, God works all things for our good. I learned that this means not only that I don't need to worry. I can trust our God to work out the little details as well as the big, but that this sometimes means that He sees what we don't, and that what is best for our characters isn't necessarily what is always best for our pocket books.
When I couldn't find anyone to do my cake, and thought I'd have to do it myself, when unexpected setbacks made it so I couldn't afford a photographer, when the candles we ordered custom color just didn't show up, I took a deep breath and kept going. One by one, those things did work out, but when the "much better deal" that a local florist offered me turned out to be a big cheat, and my bill was more than double what I was expecting and was quoted, and I had to be firm and challenge a very angry stranger on the phone just two days before our wedding, and the flowers were not the color I had ordered, I broke down and cried. I felt very upset, and cheated and close to angry. Then I laughed. What was I doing? Hadn't God worked out the other things too?
When I saw my bouquet, and the girls' bouquets against their dresses, another amazing accomplishment of April and some of the other sweet girls I love dearly, I knew that He had. The color was perfect- better than what I had planned originally.
And even though there were stresses and tears, planning our wedding was a lot of fun for us all. Setting up the reception, and being with dear friends on top of it, made it all so much better.Watching Scott and Aaron discuss and try to figure out seating for the reception was amusing, and the commotion that was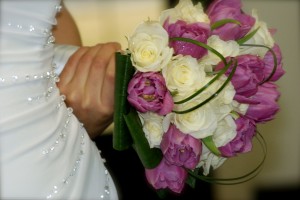 our rehearsal actually turned out to be productive after all. In away, I wished those lingering moments would never have ended.
Yet, I am thankful that it is over, and that the endless details and plans did have an end, because when I stepped around the corner into the aisle, and saw my man, my beloved standing waiting for me, the church filled with family and surrounded by the dearest friends ever, all I saw was a perfect day. None of the little, missing details were even noticed. It was beautiful, it was happy, and it was full of memories to treasure. I married my best friend, and we have begun the happiest home ever. And that is what matters the very most, after all.