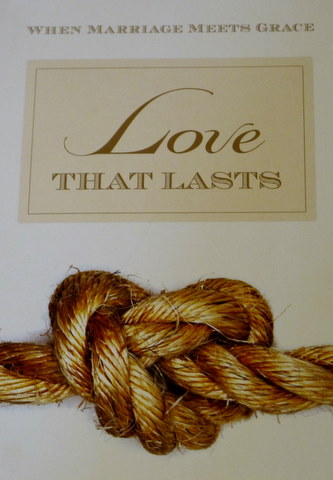 I read a lot of books about relationships in my late teens and early twenties. Enough to know that they aren't all helpful and encouraging. And they most definitely are not all must-reads.
When I got married, there were the few books I didn't pack — the ones I kept handy for reference as I started on that new venture of being a wife, his wife! But it took a few years of marriage for me to come across some of my now all-time favorite books on marriage, and even more for me to hone down my list of must-reads.
Once in a while, though, I'll find yet another that simply has to be read by every married couple. Gary and Betsy Ricucci's Love That Lasts: When Marriage Meets Grace is one such book.
What happens when you combine the belief that your theology (what you think about God) should affect every aspect of your life, with a passionate desire for the best for your marriage? Love That Lasts.
Love That Lasts reminds me a lot of Feminine Appeal, and indeed the Ricuccis often quote the books of C.J. and Carolyn Mahaney. (It's neat to know that the other two books which have had such a positive impact on our marriage are written by a couple who is so in love with each other and with the Lord that everyone else points to them as an example — even in published books!) But the beauty of Love That Lasts is that it is written to and from both the husband and the wife, and makes the perfect book to read together.
In fact, it is the kind of book that, if read together by a couple who desire to obey God and love each other, will change your marriage. It is the kind of book that reminds you no marriage will have ever "arrived" — being married is a daily commitment to selflessly serving each other. It is the kind of book that you want to read slowly in order to absorb its lessons. It is the kind of book that will challenge you as it encourages you.
Obviously, some of it is timeless wisdom you may have heard or read before: but it is compiled in such a short, easy-to-read book that it feels as if you're reading it for the first time. Other themes of their book are those that are not so popular in the "relationship section" of the average Christian bookstore. And that is why this book is such a gem.
…men and women are equal, just as the Father and the Son are equal. And when the Son serves the Father, he is not in the least diminished by his service… To submit with joy to our husbands is to be like Christ, who submits joyfully to the Father. Submission follows and reflects the pattern of the Trinity! (Love That Lasts, p. 58)
I've read plenty of books filled with stories of marital problems. The Ricuccis take a better approach: they show you the good, the holy, the biblical why's and how's of loving each other. They inspire you to change without making you feel like a failure. They give you practical ideas without being so specific it doesn't apply to your marriage.
Marriage is not about a deliriously happy couple getting to the altar in a flush of excitement…and then spending fifty years merely relishing the memories of an intoxicating engagement. One of the great joys of marriage is realizing that the wedding isn't nearly the ultimate in closeness. It's only the beginning! God created us to communicate, and the real adventure of relational intimacy simply awaits our ongoing cooperation with the grace of God. When we pursue communication and fellowship with humility and honesty and spiritual discourse, there is no limit to the breadth and depth of relational intimacy we can enjoy! (Love That Lasts, p. 78)
Love that Lasts is now at the top of my must-read-books-on-marriage list, right along with Feminine Appeal (which is a great read for women of all ages, married or single). If you are engaged or married, read Love that Lasts. It can't help but improve your relationship with your spouse — and your Savior. (And check out these free MP3 message downloads from the Ricuccis, as well.)
What is one thing you've learned about relationships? (Please comment and tell us about your own "must-read" marriage books, too!)
(Congratulations to Clariss on her upcoming marriage — and for winning the giveaway copy of Love That Lasts.)