I can't remember where I first saw the book Letters of a Woman Homesteader. I think it was a "Books Recommended for You" link on either Amazon or Goodreads. The wonderful cover caught my eye right away and the title was intriguing, but the clincher was the fact that I could read it right away on my iPod — for free! (I'm not the biggest e-book reader, but it's helpful at the moment when I have very limited space.)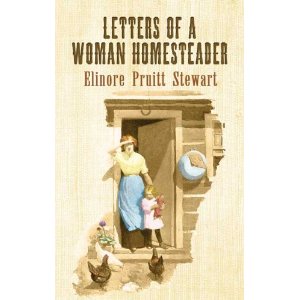 I was not disappointed. In fact, it was so thoroughly enjoyable that I've already recommended it to several people, and will probably buy a hard copy. I even want to read it aloud to my husband Evan. Not only is the premise interesting — a young widow with a small daughter who decides to go out West and claim her own homestead — the writing is excellent. Elinore Stewart wrote wonderful, descriptive, humorous letters to a friend, and through them we are offered a glimpse of real life in Wyoming at the turn of the century.
I love her understated ways of telling news of utmost personal importance. You feel like you've met her friends and neighbors, especially the taciturn Scotsman she "housekept" for, delightful Mrs. O'Shaughnessy, and sweet, hard-working little Cora Belle. And the way Elinore gets into scrapes will remind you of a grown-up Anne of Green Gables — on the frontier. Delightful!
Want to read it now? It's available as a free download several places:
Kindle download
Project Gutenberg e-book
If you have an iPhone, iPod, or iPad, make sure you download the free iBooks app, then search for Letters of a Woman Homesteader. (And I just learned that the app includes a free download of A. A. Milne's classic Winnie-the-Pooh, so make sure you get that, too!)