Beyond the Hope Chest: Preparing for Marriage (Or Not)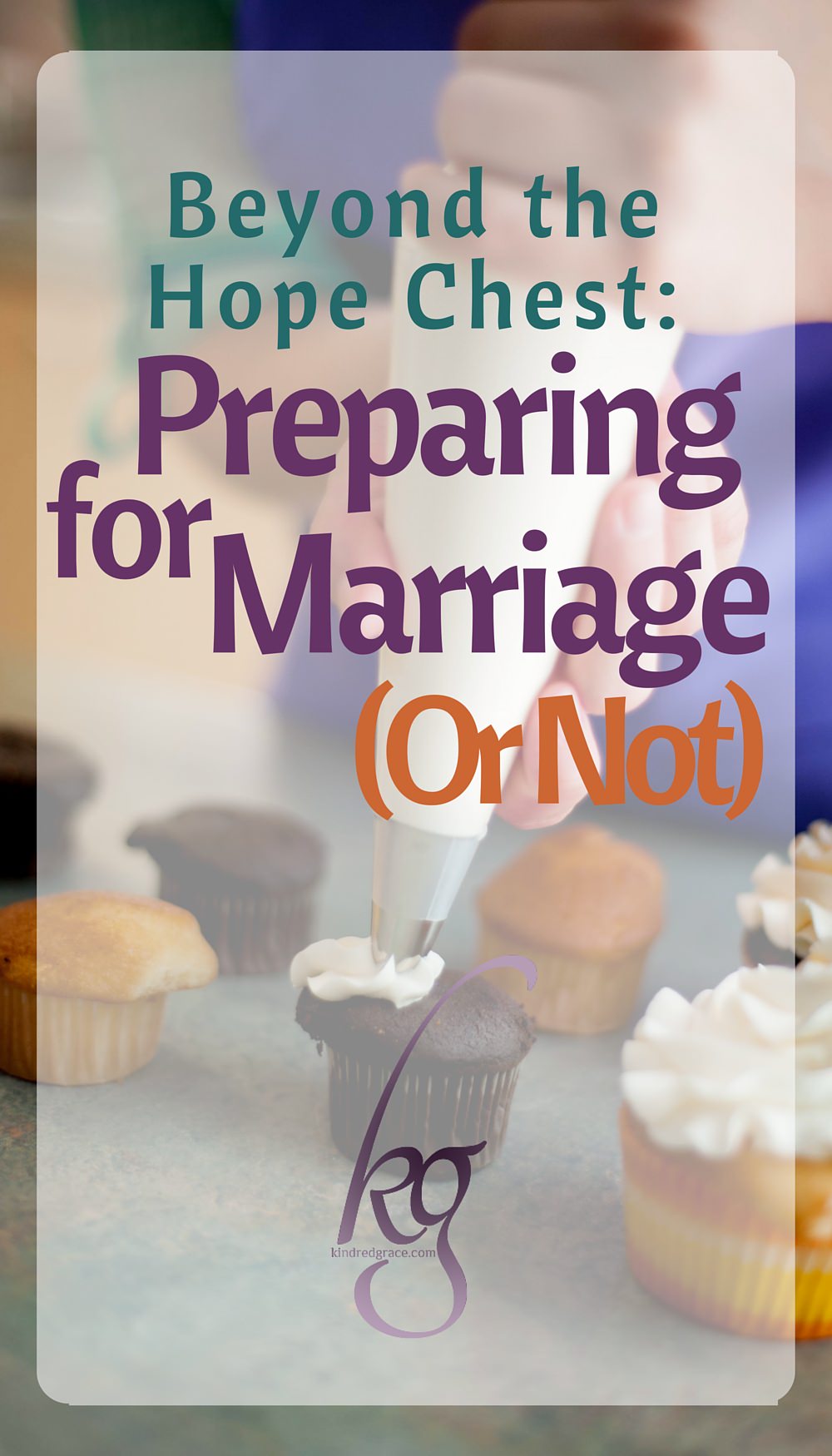 I sat looking glumly at my overflowing hope chest. Once the darling storehouse of my dreams – or at least the place where I stored things for my dream life someday – it seemed to mock me now. How many years had some of those items slept in the chest? I was 27, and after a rough breakup, marriage seemed further away than ever.
With a sigh, I closed the chest and turned away. If only I could have seen into the future, for two short years later I would begin my life as a married woman. And now, three years into marriage, I know that there are ways to prepare for marriage that are more useful than any amount of kitchen towels, quilts, or even homemaking skills. These areas are essential for everyone, regardless of your life stage, and developing them will serve you well even if you never marry.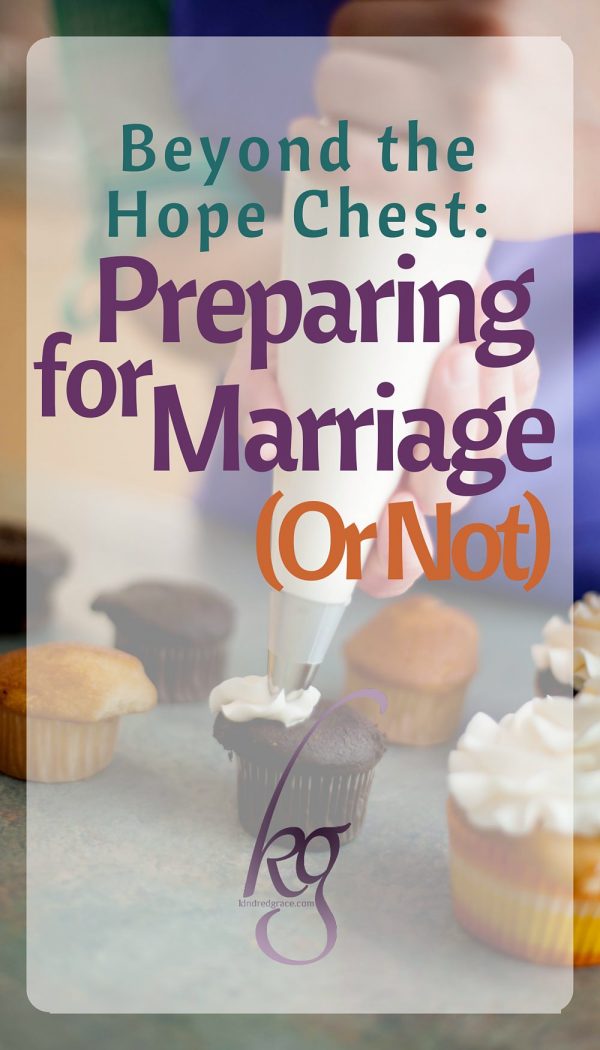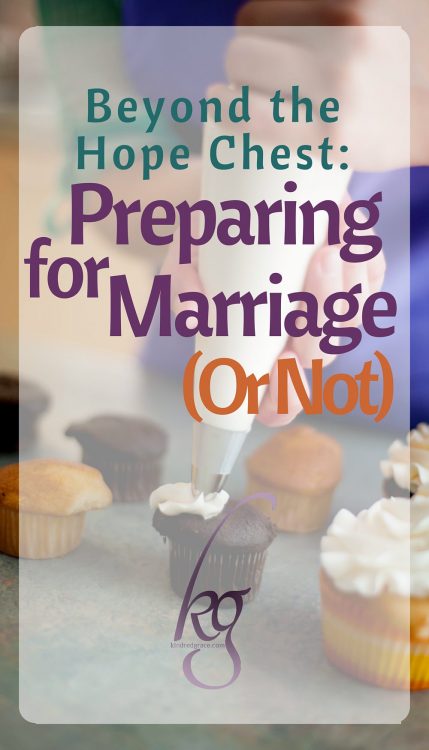 Know Your God
How Can We Know Him?
Regardless of what life may throw at you, a solid foundation is essential. In my circles of friends, we often talk about wanting our marriages to have Christ at the center. That's wonderful… but hard to do if you don't know Him very well. And if you are single, your relationship with God is unique and wonderful, as He fulfills the very real lacks you face emotionally and relationally. There is no point in our lives where we could use less of God.
But how can we know Him? The Ruler of the Universe, the Creator of all things, the Immortal?
Oh, the depth of the riches and wisdom and knowledge of God! How unsearchable are his judgments and how inscrutable his ways! For who has known the mind of the Lord, or who has been his counselor? Or who has given a gift to him that he might be repaid? For from him and through him and to him are all things. To him be glory forever. Amen.
(Romans 11:33-36)
It is a mystery to me that God would even desire fellowship with us, but He does, and it brings Him joy when His children want to know Him more fully.
Think about how you would get to know another person. Obviously, we can't go out for coffee with God, but we can still have conversations with Him. The more familiar you are with His Word, the closer your relationship will be. I still have a long way to go in this area, but there have been many times that I have asked Him for advice and applicable Scripture will come to mind. It's always so exciting to have those conversations with God! And while the "two-way" feeling is wonderful, I do always look up the passage to make sure I'm remembering it correctly, and not taking it out of context. It's not enough to merely think you know God or to base your relationship with Him on an image that you've created.
Knowing About Him
When I was first getting to know my now-husband, Evan, I wanted to find out as much about him as I could. This is not the same as knowing him, but it's another way to get insights into someone's personality. I stalked him online, talked to his friends, talked to his family. Each new revelation showed me a little more of who this man was. In your journey toward knowing God more, spend time in His creation. What does it tell you about His character? Talk with saints who have known Him deeply for years. Read theological works, hymns, and poems written about His attributes. Just make sure that in your quest to learn more about God, you don't forget to know Him and have a real relationship with Him.
Knowing your God is the best possible preparation for life, single or married. If you are His child, your identity is found in Him, and everything else flows out of that. Lay your solid foundation now… you won't regret it.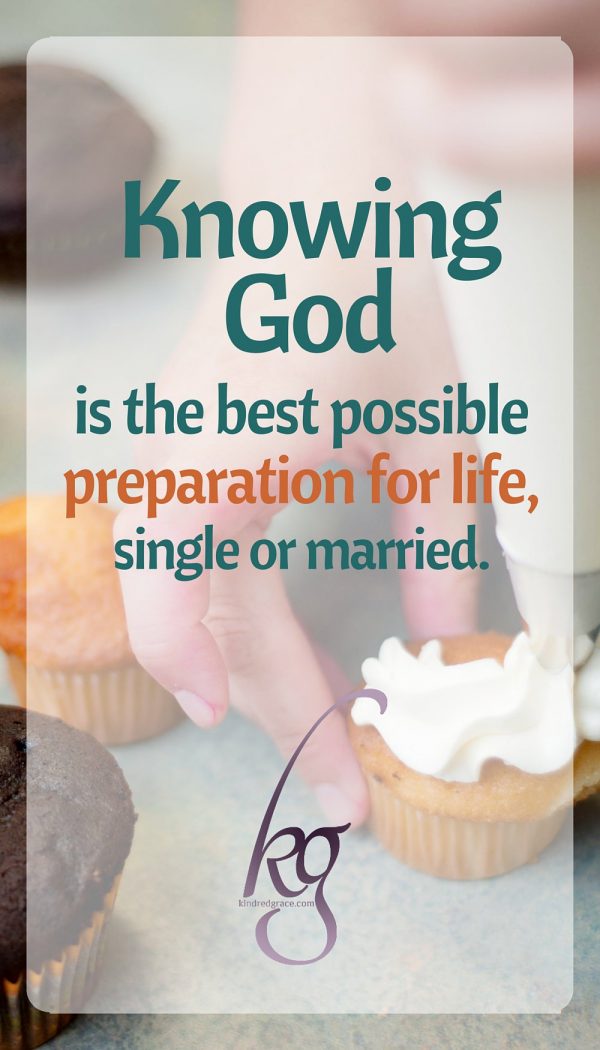 Know Yourself
There seems to be an idea in some circles that in order to be good Christians, we need to suppress our personalities, somehow eliminate "ourselves," and that if you think of yourself at all, you're not being humble. But I'm not sure that is Biblical. God made us all unique creations, and I believe that our very personalities bring Him glory as we display His incredible creativity…no two people are alike!
Why Should You Know Yourself?
God deals with us as individuals. We have a real relationship with Him, and He understands us more fully than anyone on earth ever can. So it would make sense that we learn about the way He has created us personally. I find the more I know God, the more I understand myself, and the more I know myself, the more I appreciate and love my God. I see the talents and gifts He was pleased to give me, and I'm humbled. I see the sin and weaknesses He forgives, and I'm humbled further.
Knowing yourself is excellent preparation for marriage. While it's not good to be inflexible, understanding your basic personality, preferences, and beliefs makes you a more confident person, and better able to evaluate whether or not you are suited to a particular man. I was in a relationship that was not healthy, and looking back I can see that one of the red flags was that I didn't feel free to be myself with him. But in order to see that, you have to know what "being yourself" looks like!
Learning Who You Are
So, how do you get to know yourself? I have found journaling to be very helpful. I can see patterns in my thinking. I see what tends to anger me, the sins I fall prey to, and the things that bring me joy.
Talking with close friends is good for me, too. I have a few friends who are especially good at helping me sort through my thoughts. They are friends who ask questions like, "How are you really doing?" "Why do you think you feel that way?" and "What did you learn from that experience?"
Understanding your basic personality type is not only helpful, but fun, as well. I love reading about personality types and taking quizzes, although I don't fit in boxes well. Here at Kindred Grace, we have many articles and links on this topic: start here and explore a bit!
It's Not Easy
Knowing myself better has required much more intentionality than I expected. It's kind of like making a new friend. And like everyone else, I keep changing with time and life experiences! I'll suddenly realize, "I don't really care for that style of décor anymore," or "I'm not sure I still believe that is the correct interpretation of that Scripture passage." The busier our lives are, the less time we leave for introspection. That's unfortunate, because introspection is much more important than we realize.
Of course, introspection can be taken too far. I'm not suggesting we become narcissists or think that we are the most important people. Having the mentality that everything revolves around you is a recipe for misery! But so is realizing that you have no idea who you are, what you believe, or what your life goals are. Take the time to know yourself, and you'll be a stronger person whether married or single.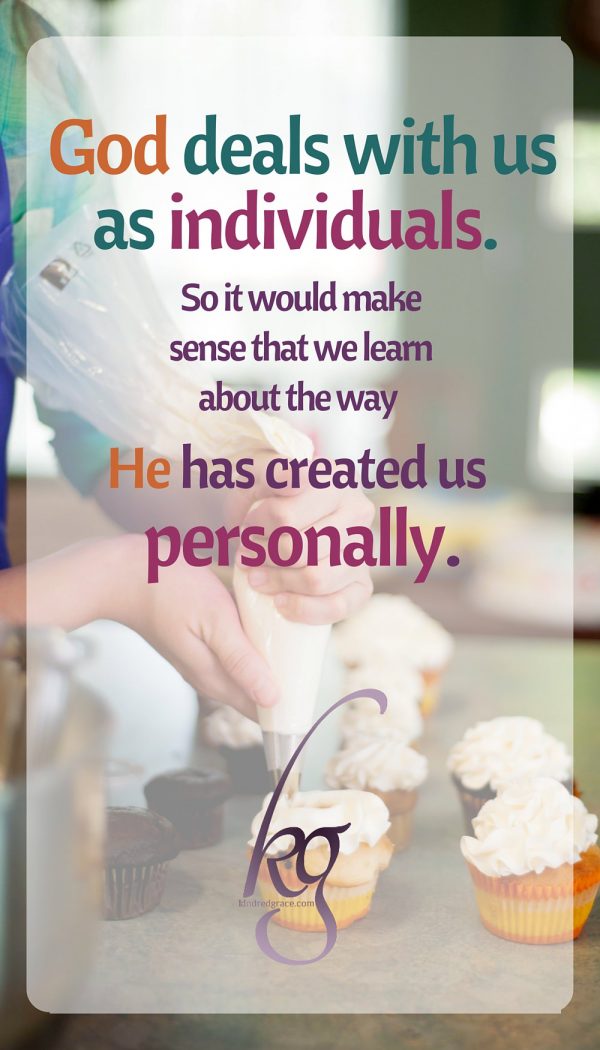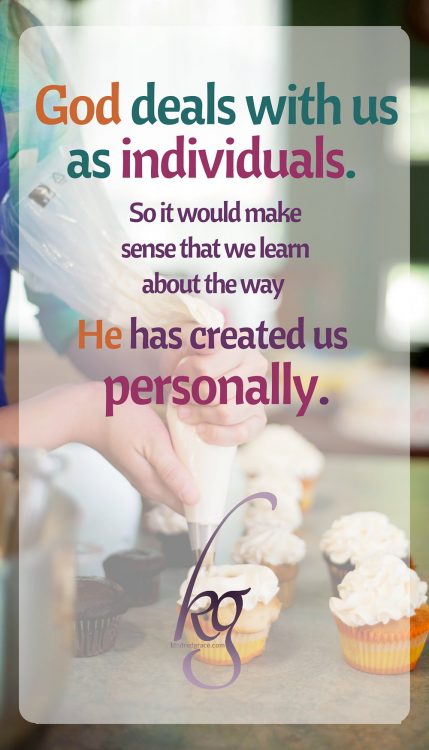 Improve Your Communication
"I just wish I didn't communicate so clearly. People always understand what I'm trying to say!"
"It's so annoying. My husband and I have great conversations."
"If only my friends and I could have more misunderstandings."
I doubt you've ever said any of these things, and the reason is obvious: communication is important, and it's not easy. Misunderstandings abound in all relationships, and when you throw the intense emotions of marriage into the mix, it can get ugly very quickly. Add the inherent differences in the way men and women communicate, and unless you pray for grace and work really hard, you can be in serious trouble before you know it. Even if you never marry, good communication skills are invaluable.
Are You Listening?
My dad, a college professor, teaches a concept called "active listening." Hearing and listening are two different things. Sometimes when another person is speaking, we hear what we think they are saying, rather than what they are actually saying. It can be helpful to recap what the other party just said to make sure you understood correctly, especially in a serious conversation. Don't make assumptions!
One thing I've had to really work on is not trying to multi-task all the time. It can be fine to chat with someone while you cook. But sometimes a conversation really needs your full, undivided attention. Especially when I was single, I thought I could do a lot more at once than I really could. Marriage and motherhood have humbled me in that area, but I'm still learning. I have to confess to checking my email and only half-listening when I was on the phone more than once, and later wondering what my friend had said that I completely missed. That's not loving, and it doesn't improve relationships. It also cheats you out of opportunities to minister to someone who needs a listening ear.
Men and Women
And whether or not God has marriage as part of the plan for your life, it's a good idea to understand some of the basic differences in the ways men and women communicate. I read For Women Only as a single girl, and while not everything was immediately applicable, it was eye-opening. Some people feel that book can be a little too heavy on the male stereotypes, and that's true — you should never assume that a real human will be exactly like a book. But stereotypes exist for a reason, and we females should not take for granted that the men in our lives will automatically communicate the way we do. Even if you don't marry, understanding those differences can improve your relationships with your dad, brothers, and male friends.
The Ministry Of Communication
And finally, good communication opens so many doors for ministry. Hurting people are all around us, and most of them just need someone to listen. A real, deep, caring conversation is a beautiful way to be like Jesus to someone in need. Don't shrink back because you feel you don't have answers. If God wants you to counsel someone, He'll give you wisdom, but it's always acceptable to say, "I don't know what to tell you, but I'll be praying for you."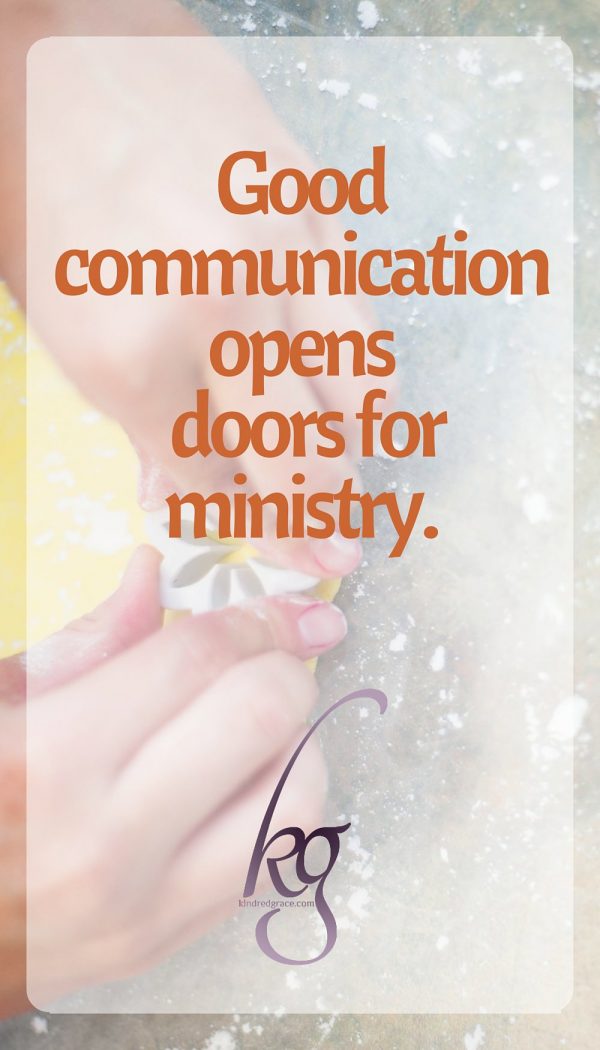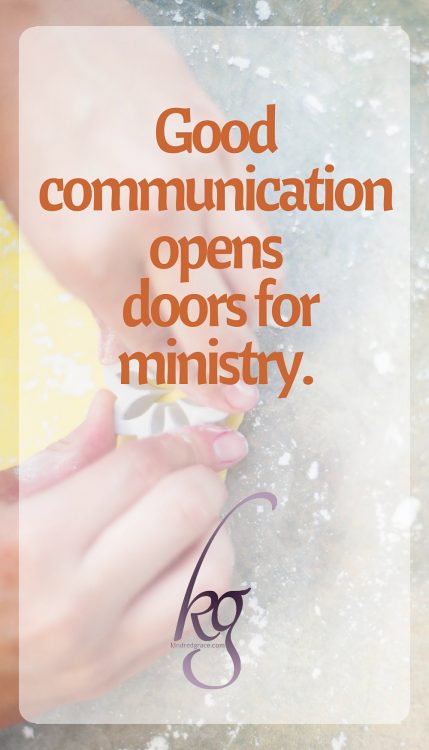 Some of the things in my hope chest have found a place in my home. Others have been sent to GoodWill as my tastes changed and matured as I waited for marriage. But the time I spent getting to know God, myself, and how to communicate continue to bear fruit in my life. Married or single, improving in those areas will never be wasted. And you can keep building on them for the rest of your life.
(originally published in 2014)
Photography: JenniMarie Photography