How to Build Things That Last: Truths From Elisabeth Elliot's Books
Disclosure: This post contains affiliate links which won't change your price.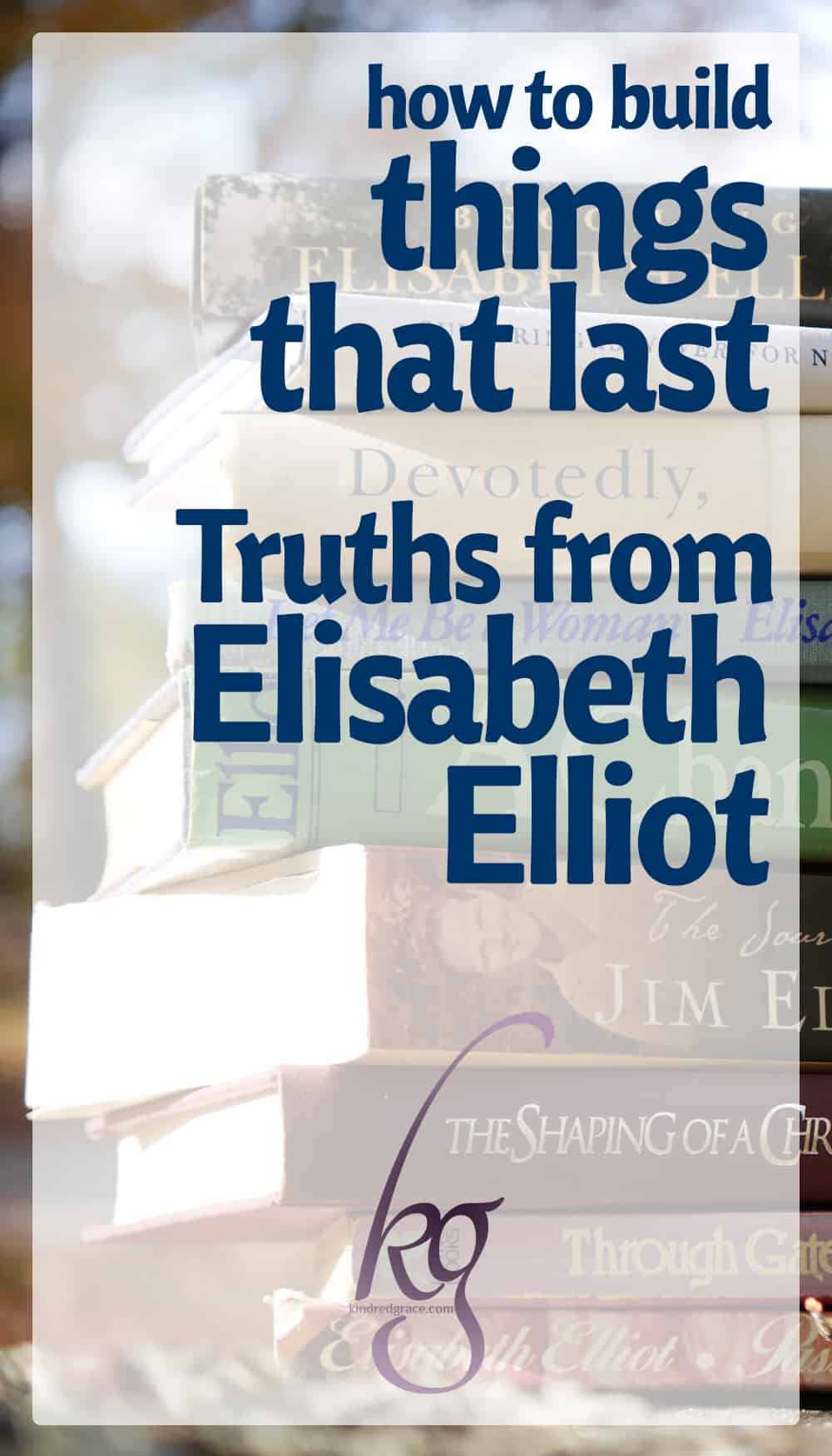 I'm not sure how old I was when I picked up my first Elisabeth Elliot book.
Twelve? Thirteen?
I had read a children's biography of Amy Carmichael, so when I saw Elisabeth Elliot's A Chance to Die: The Life and Legacy of Amy Carmichael, I was intrigued.
I'm not sure I understood much of the book, as it was written in deeper prose than I was used to—but I remember being struck by the story of God speaking to Amy in the street one day, reminding her of the passage in 1 Corinthians 3, where it says that each man's work will be shown for what it is. Gold, silver, precious stones, wood, hay, or stubble—it will go through the fire and the fire will burn away everything not made to last.
I wrote carefully in the margins of the book, "Lord, let me build my life with the things that last."
The next book I picked up was Through Gates of Splendor. My heart was set on being a missionary by that point and when I read through the story of five men dying in an attempt to share the gospel—Jim Elliot's famous words, "He is no fool who gives what he cannot keep to gain what he cannot lose," added to my conviction.
Lord, let me build my life with the things that last, continued to be my prayer.
The next two books I read were Passion and Purity and Quest for Love.
In complete honesty, my biggest take away from those stories was that if a guy demanded I learn another language before I could marry him, I would be royally ticked off. That was all fine and good for Elisabeth and Jim, but I would have probably told him he was ridiculous.
The second biggest take away, however, was that who we marry matters.
If I was going to build my life with things that last—my love life was going to need to be surrendered to Him.
Soon after that, I picked up The Shaping of a Christian Family.
Since I was raised in a Christian home that was vastly different that Elisabeth's, it was fascinating to read how their home functioned and how their parents taught and exemplified Christ to their children. Near the same time, I was reading Jungle Pilot, the story of Nate Saint, and was struck with the wild disorder of his home life versus the structured precision of Elisabeth's.
I also picked up Elisabeth's biography of Jim Elliot, Shadow of the Almighty, which helped me see how another Christian home functioned and raised a young person who was sold out to Jesus.
I learned that the things that will last aren't built by how we order our homes, or how intellectual we are, or how creative or disciplined we can be.
The things that last are built in centering our hearts on Jesus, surrendering all the days and all the moments to the One-Who-Is-Worthy.
After Shadow of the Almighty, I found a copy of The Journals of Jim Elliot and somewhere between the excerpts of his journal entries, I finally forgave him for being so bullheaded about Elisabeth learning a language before they could marry. He had sounded so obstinate and lacking in gentleness—but in his journals I saw his youth and his longings and his attempts at keeping his heart turned to Christ. I admired him for it.
"Father," he wrote one summer day, "let me be weak that I might lose my clutch on everything temporal."
And I recognized that building things that last means living in continual sacrifice.
Over the next dozen years I read whatever Elisabeth Elliot books I could find. These Strange Ashes, that told the story of her first year on the mission field. Let Me Be a Woman, letters to her daughter on the meaning of womanhood. Keep a Quiet Heart, a collection of devotionals that I reread quite often. Discipline: The Glad Surrender, that I marked full of notes and highlights and left feeling discipled and taught in deep but practical ways.
When I had been married a few years, a friend sent me a copy of Finding Your Way Through Loneliness, which I read during my years of infertility and was reminded that the lessons learned through suffering are not worthless.
Then, recently, I was privileged to read a copy of Suffering is Never for Nothing, a book published after Elisabeth's death that was taken from a lecture she gave, which reiterated that truth more clearly and pointedly.
Even through suffering and loss, the heart that is surrendered to God can trust He will build within them the things that last.
This fall, a new biography Becoming Elisabeth Elliot, the first in a two-book biography series on Elisabeth's life, was released and as I read it, I couldn't help but think through the stacks of books she wrote. The thousands upon thousands of words that she shared with the world.
Even the countless letters she and Jim wrote to each other, which we can now read in the book Devotedly: The Personal Letters and Love Story of Jim and Elisabeth Elliot.
In all of it, she was doing her best, as I am, to build with the things that last.
And I am thankful she was faithful, because her faithfulness has inspired mine.
Do you have a favorite Elisabeth Elliot book? We'd love to hear about it!