Inspiring Stories of Women of Faith
Disclosure: This post contains affiliate links which won't change your price.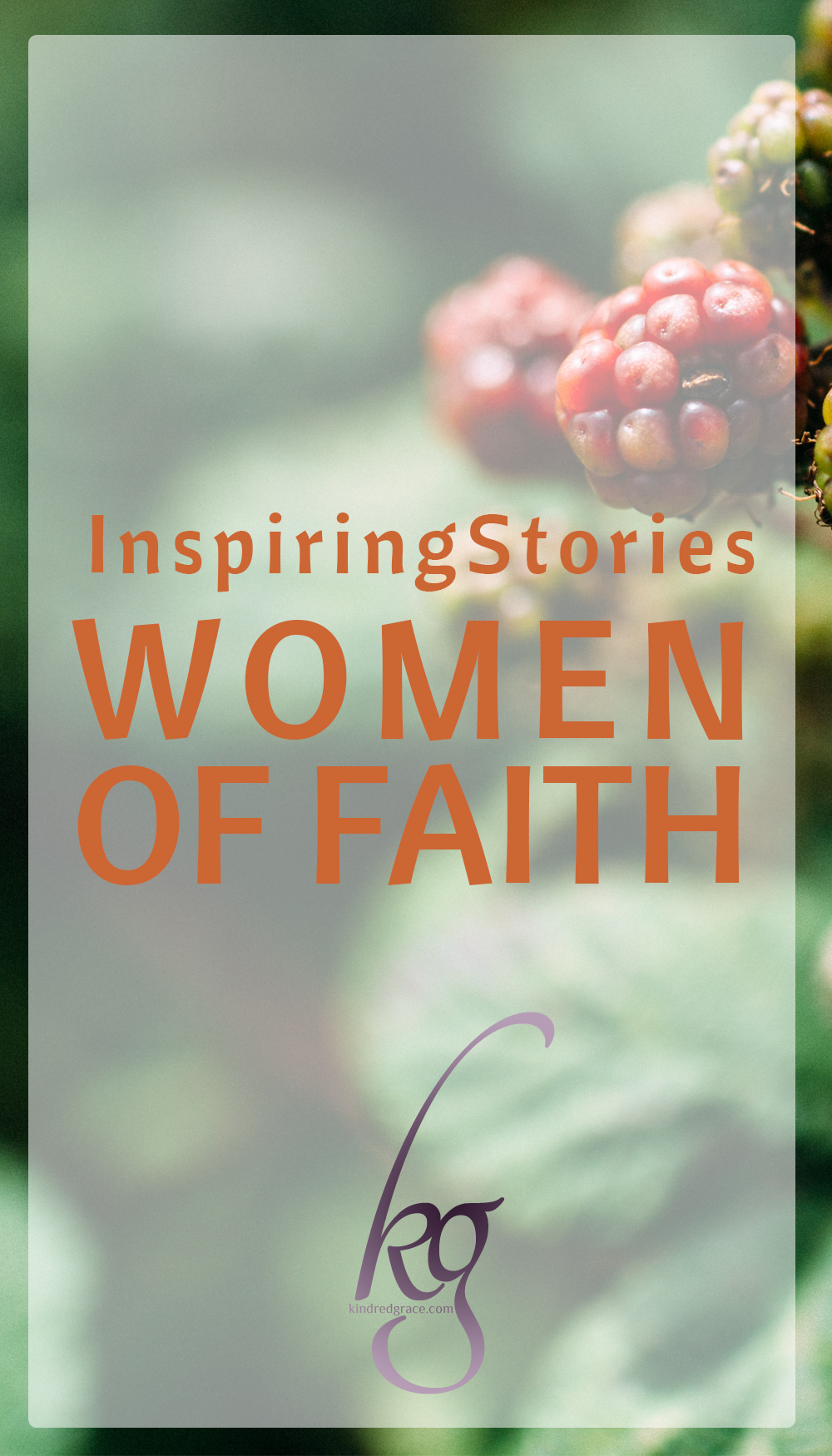 "The preoccupation of seventeen-year-old girls don't seem to change much from generation to generation. But in every generation, there seem to be a few who make other choices. Amy was one of the few."
(Elisabeth Elliot in A Chance to Die: The Life and Legacy of Amy Carmichael)
The thing I love most about women of faith is that each woman and each story is unique. Christ is revealed in different ways through their experiences and responses. Apparently, there's no "one right way" to be a Christlike woman. What a gift that truth is for each of us with our different personalities and lives! I've learned so much from women of faith from days gone by about how to be a Christlike woman. Truly, their stories have shaped my story.
I hope some more of the stories about women of faith encourage and inspire you as they've encouraged and inspired me over the years.

Women of Faith from 17th Century through 20th Century
Susanna Wesley
1669-1742
England
Susanna was born to nonconformist Christian parents not long after nonconformist Christian preachers (Protestants who weren't members of the Church of England – like John Bunyan) were persecuted, imprisoned and executed for their convictions. Susanna was a committed and thoughtful Christian, and after much soul-searching, she became a member of the Church of England and married a conformist minister called Samuel Wesley. The couple had a large family (nineteen children were born but not all survived) including two boys who are famous to this day: Methodism-founder John and hymn-writer Charles. Susanna raised her children to decent and faithful lives in spite of the grinding poverty she and Samuel endured. She famously taught them to read using the Bible as textbook. Susanna often wrestled with doubt about the state of her soul but she remained faithful in her Christian walk and towards the end of her life she experienced the assurance of her salvation.
In Her Own Words:
"Whatever weakens your reason, impairs the tenderness of your conscience, obscures your sense of God, takes off your relish for spiritual things, whatever increases the authority of the body over the mind, that thing is sin to you, however innocent it may seem in itself."
Read More:
Sarah Edwards
1710-1758
America
Sarah was raised in a Christian family and developed a close relationship with the Lord as a young girl. Reports of her deep walk of faith attracted the attention of an awkward but devout young pastor who had already graduated from university: his name was Jonathan Edwards. The couple married and Sarah became the wife of one of the greatest ministers and theologians of the Great Awakening. She and Jonathan were a devoted couple throughout all the years of their marriage. Sarah made a home and raised the eleven children she and Jonathan had together, as well as offering spiritual encouragement to the guests who entered their home. It has been said that she gave the world her husband by allowing this great Christian philosopher and writer to work with the support of love and home. During the Great Awakening, Sarah seems to have had a spiritual encounter with God which changed her life and increased the work of grace in her heart for the rest of her life.
In Her Own Words:
"My God lives; and He has my heart."
Read More: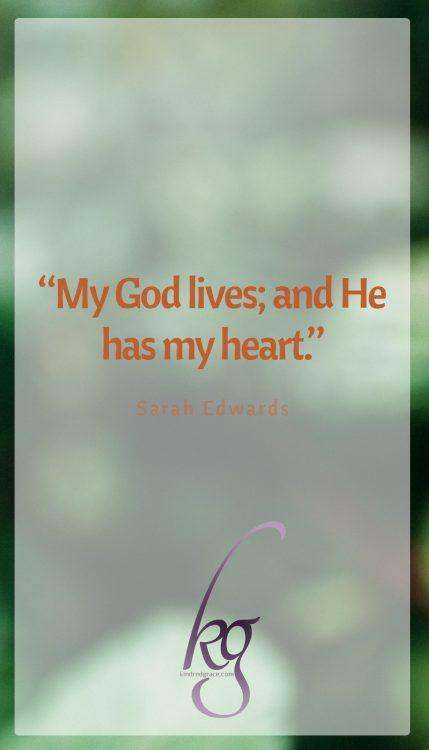 Catherine Booth
1829-1890
England
Catherine was a tender-hearted, compassionate woman in spite of a challenging childhood; her faith was forged in the fire of a long illness and loneliness. She was a young woman of deep faith and great conviction when she met a young preacher called William Booth. The couple fell in love almost at first sight and established a strong relationship by writing letters. Catherine married William and became a mother while accompanying her husband to tent revival meetings around England. Later the couple founded the Salvation Army in a heartfelt desire to reach the poor of England for Christ. Catherine was a quiet, reserved woman but overcame her shyness because of her desire to serve Christ and her commitment to help women know and love Christ. She softened and supported her strong-minded husband and united their family of eight children. Finally, she served an early and painful death with unswerving faith.
In Her Own Words:
"I know not what He is about to do with me, but I have given myself entirely into His hands."
(Catherine Booth)
Read More:
Susannah Spurgeon
1832-1903
England
Susannah was raised in a Christian home but her faith grew cold in her late teens and early twenties. She was brought back to Christ through the London ministry of her pastor, a Baptist minister in his late teens who was already famous for being "the boy preacher of the fens": Charles Haddon Spurgeon. Pastoral care and girlish respect soon blossomed into romantic love and Susannah and Charles were married after a unique declaration of love! Susannah began her married life in a small house where she waited alone for Charles to return from church preaching and pastoral visiting. She learned to give him back to God for His use in this season of loneliness. In the course of time, she became her husband's comforter and encourager by way of letters when he was at home or away. Susannah became the mother of twin boys and was later plagued with chronic illness and pain but remained her husband's secret source of strength even when she was confined to a sick room or bed. From her home, she started a charity for the distribution of her husband's books and sermons to poor ministers who couldn't afford such resources for their own study and work. After her husband's death, Susannah compiled his autobiography from his diaries, letters, and records, as well as writing a devotional of her own which reflects her deep, quiet faith in God.
In Her Own Words:
"The moment we come into any trial or difficulty, our first thought should be, not how soon can we escape from it, or how we may lessen the pain we shall suffer from it, but how can we best glorify God in it."
(Susannah Spurgeon)
Read More:
Maria Taylor
1837-1870
China
Maria was the orphaned daughter of missionary parents but her own faith was strong and tenacious by the time she met a fellow missionary called Hudson Taylor. Maria considered China her home and spoke the local dialect fluently. In spite of opposition, the couple married, Maria endorsing her new husband's controversial but effective approach to missions: that of dressing like the Chinese people he was trying to reach for Christ. The young couple loved God and each other and on this foundation, they built their ministry which eventually became the Inland China Mission. Hundreds of young men and woman devoted their lives to taking the Gospel into the inaccessible and hostile interior of China and Maria supported her husband and raised their children while training single woman from England to work as independent missionaries in China. She was willing to sacrifice every comfort and convenience for Christ and set a firm and inspiring example for younger missionaries to follow – surviving even a life-threatening riot with calmness! Only four of her nine children survived childhood but all four served as missionaries in China. Maria died young and was buried with her youngest child in China but her faith never wavered.
In Her Own Words:
"As to the harsh judgings of the world, or the more painful misunderstandings of Christian brethren, I generally feel that the best plan is to go on with our work and leave God to vindicate our cause."
(Maria Taylor)
Read More:
Lilias Trotter
1853-1928
Africa
Lilias was a well-born girl from a happy home with a great gift for painting. A famous artist told her that she could be the greatest artist of her generation if she committed herself completely to art. But Lilias chose to commit herself completely to something else – or, rather, Someone else. Lilias was artistic and poetic but she was also a committed Christian. She ran a mission for street prostitutes in London and gave the girls and women all the help she could. Later she started a mission in Africa on her own. She was a pioneer missionary although she never stopped painting and writing. She didn't create artwork for fame but simply in an effort to honour God with her gifts. She lived and ministered in Africa for the rest of her life and is remembered for her compassion and generosity but also for her beautiful way of seeing the world and putting it into pictures or words for others to discover and enjoy too.
In Her Own Words:
"Take the very hardest thing in your life – the place of difficulty, outward or inward, and expect God to triumph gloriously in that very spot. Just there He can bring your soul into blossom."
Read More
Amy Carmichael
1867-1951
India
Amy was born into a life of abundance and love but also a life of deep, disciplined faith. Her own faith grew and matured throughout her childhood and it stood firm when grief and troubles came. She began her life work by ministering to poor, uneducated girls who worked in English mills. Later she became a missionary in Japan and then in India. Here she followed Hudson Taylor's example and dressed like the Indian people she was trying to reach. She rescued girls from temple prostitution and raised them with other children in an orphanage. She personally oversaw their care and education and was called Amma (Mother). Amy regularly wrote to family and friends at home about her experiences. Gradually her writing became more formal and she published a number of books. In her personal life, Amy experienced sorrow, choosing her relationship with Christ over the possibility of marriage and motherhood and living for many years in illness and pain but she never stopped serving or writing … or loving God.
In Her Own Words:
"He said, 'Love … as I have loved you.' We cannot love too much."
(Amy Carmichael)
Read More:
Corrie ten Boom
1892-1983
Holland
Corrie was the beloved child of a Christian watchmaker and grew up in a loving Christian home. She developed a secure faith of her own which gave her strength when, as a young woman, her heart was broken and her dreams were dashed. During WWII, Corrie helped her father and sister hide Jews in their home, even though it was illegal during the Nazi occupation. The family was betrayed to the authorities and arrested. Only Corrie survived the concentration camp, but during her time there she followed the example of her sister by reading the Bible to other women, leading prayer meetings in prison huts, and trusting God day by day. She witnessed miraculous protection and provision which increased her faith. After the war, she wrote and spoke about faith and forgiveness, setting an example by forgiving her own guards.
In Her Own Words:
"With Jesus, even in our darkest moments the best remains and the very best is yet to be."
Read More:
Elisabeth Elliot
1926-2015
America
Elisabeth Elliot was a college girl, with a vivid personality and strong faith, when she met a fellow student called Jim Elliot. The couple were attracted but chose to put Christ first in their relationship – even when they parted and thought they might never get married as a consequence of trying to do what they felt was pleasing to God. Elisabeth served in Ecuador as a missionary and it was there that she and Jim reunited and married before having a baby girl and planning a mission to an unreached tribe. Jim was martyred by the people they were trying to reach but Elisabeth went on to live and serve among the tribe with their little girl. Later, home in America, Elisabeth wrote and spoke about faith to others but she experienced more personal sorrow when her second husband died of cancer. With characteristic common-sense and no-nonsense, Elisabeth refused to feel sorry for herself but remained faithful to God in spite of the multiple heartbreaks, eventually enjoying a long and happy third marriage and life as a grandmother while writing her much-loved books. She lived what she preached: trusting God, keeping a quiet heart, and doing the next thing.
In Her Own Words:
"The fact that I am a woman does not make me a different kind of Christian, but the fact that I am a Christian makes me a different kind of woman."
(Elisabeth Elliot)
Read More:
What stories have inspired you?
I'd love to hear about them in the comments! (Don't miss part one of this post, featuring women of faith from the pages of history.)
Photography: JenniMarie Photography