Disclosure: This post contains affiliate links which won't change your price.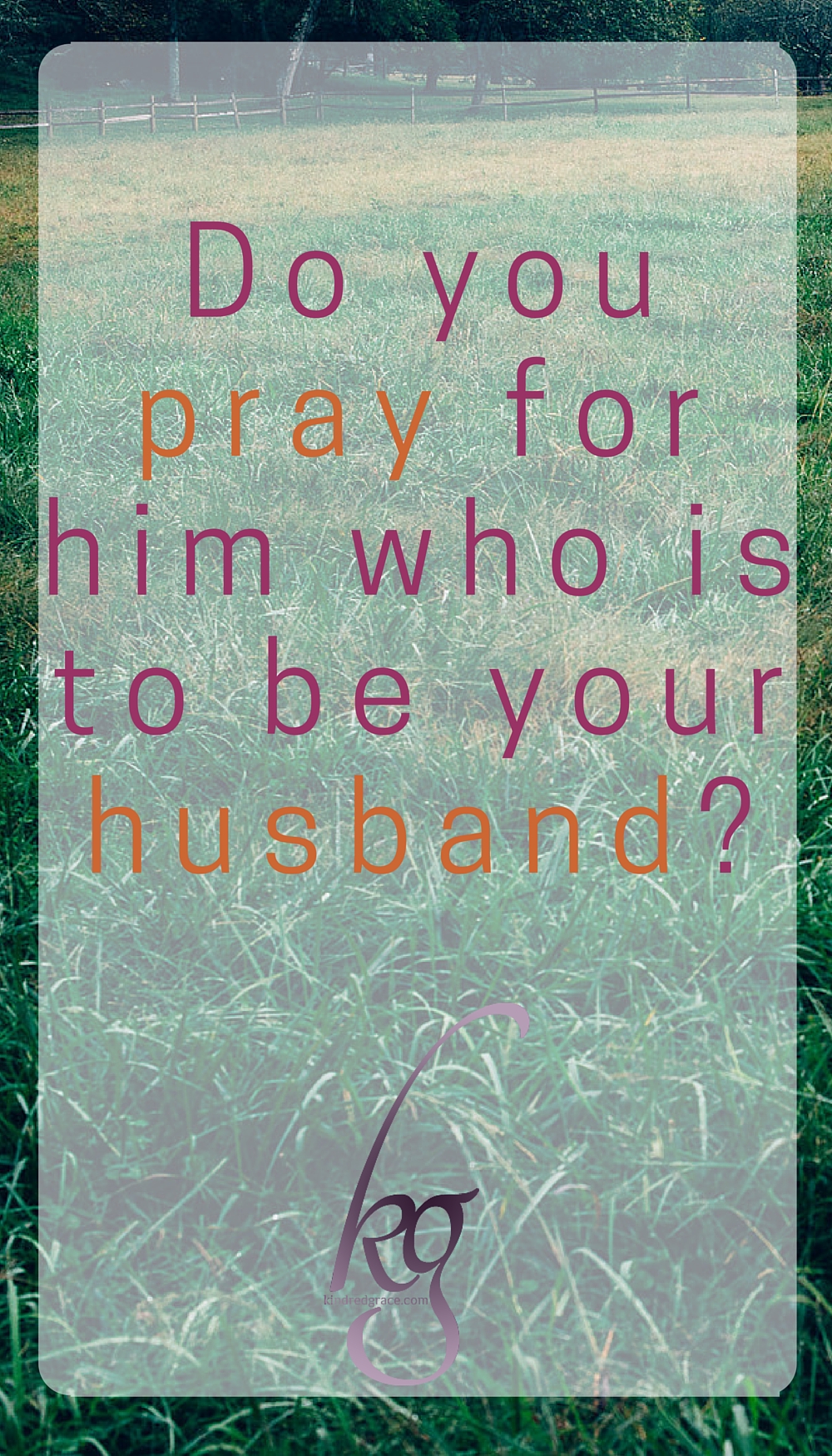 "Once upon a time …" I love stories that start that way! And this is a true story:
A hundred years or more ago there lived a preacher called Charles. He was a young man, but he was blessed by God with great spiritual wisdom and granted the pastorate of a large church in London. Among his congregation was a young lady called Susannah whom Charles encouraged in her faith and baptised. They became friends and they were both invited to attend a social event. They sat together. Charles had a book with him and read out loud from Martin Tupper's Proverbial Philosophy:
Seek a good wife of thy God, for she is the best gift of His providence; yet ask not in bold confidence that which He hath not promised: thou knowest not His good will; be thy prayer then submissive unto and leave thy petition to His mercy, assured that He will deal well with thee. If Thou art to have a wife of thy youth, she is now living on the earth; therefore think of her and pray for her weal.
He paused and – so only Susannah could hear him – whispered, "Do you pray for him who is to be your husband?" Eventually Charles and Susannah were married – and God blessed Mr. and Mrs. Spurgeon's marriage and ministry for many years.
I read this story for the first time when I was seventeen and loved it – partly because I was already praying for "him who is to be my husband". I don't know how old I was when I prayed for him first – all I can remember is praying for him "all my life". I wish I had a record of all the prayers I've offered for "him who is to be my husband". But I thought I'd share some of the things I've covered in my prayers in the hope that, if you don't already pray for him, you're inspired to pray for "him who is to be your husband".
I wonder what God would do if the young women of this generation got down on their knees and prayed that faith in Jesus would be the "one thing" that defines their future husbands – and thus the young men of this generation?!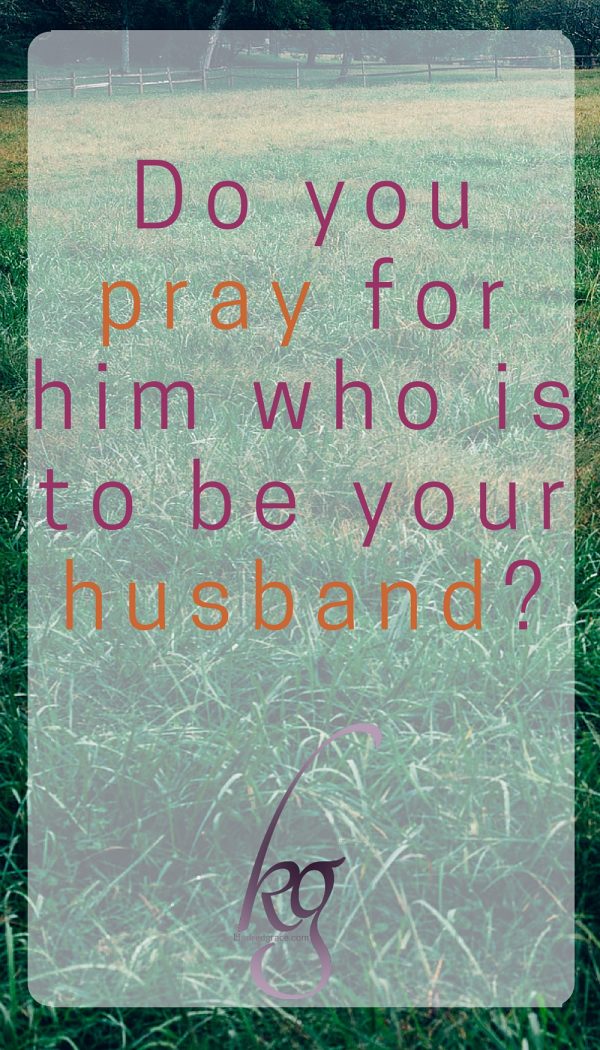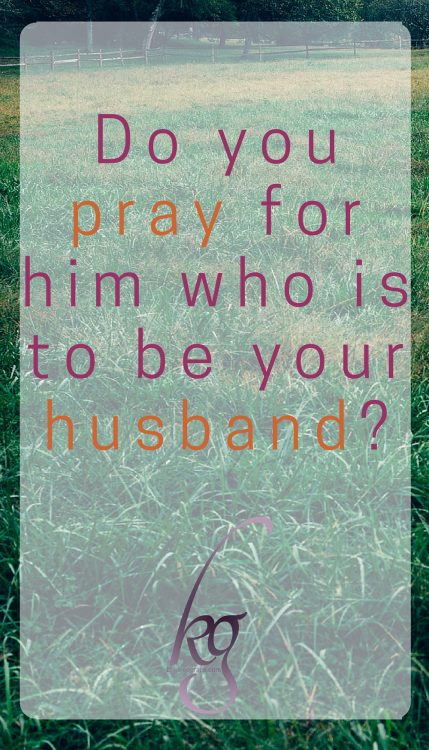 Praying for our future husbands is a wonderful way to follow the example of the woman in Proverbs 31:12 and do our future husbands "good and not evil all the days of our lives." But how do we do that in reality? How do we make it practical? It can be daunting! We don't know the guy's name, his age, his family, church, education and work situation – we don't even know if he's a Christian yet! Here are some ideas …
Pray for the important things in your future husband's life.
There are three things I consider "important" in my future husband's life – his faith, his walk with God and his heart.
His Faith:
Is he a Christian? I've always assumed my future husband is already a Christian, but … he might not be today; and for years I've prayed periodically for his salvation. We can also pray for the faith of our future husbands to grow in depth and breadth, in strength and tenacity, and also in grace. I pray that my future husband will be strong when he is tested and humble when he is refined. The faith of our future husbands will directly impact our faith, our children's faith, our grandchildren's faith … and the faith of countless generations to come if Jesus tarries that long.
His Walk with God:
Faith is the foundation of our future husband's walk with God, but following Jesus is an adventure – and a journey that involves lots of tests: of faith and conviction and obedience. We can pray for our future husbands to walk humbly in faith with God (Micah 6:8) – to have the faith to keep walking by faith and not by sight when it's tough, to maintain their convictions when it's unpopular (even with themselves!), to obey the voice of God at any cost. I pray for my future husband to care more for walking with God than walking with friends or colleagues in following the crowd in pursuit of popularity or riches.
His Heart:
I often wonder about the heart of my future husband – who he is, deep down inside, alone with God. I think some people would call this "personality" or "character" or something – or maybe "soul". I pray for my future husband to increase in his knowledge of God and maturity (Ephesians 4:13), know Jesus (Philippians 3:8 and Philippians 3:10), and be conformed to the image of Messiah (Romans 8:29). We can pray for our future husbands to have pleasant personalities and strong characters. For God to purify them of what is not pleasing to Him. And for their hearts to be true and honest and sincere.
Pray for other areas in your future husband's life.
There are other areas of our future husband's lives that we can remember in prayer. This isn't an exhaustive list, but examples of things we can pray for:
His Vision
Does he have a vision (Proverbs 29:18) for his faith, his life, his marriage, his family, his ministry and / or work?
His Work / Ministry
Our future husbands may be in school or college or university, they may be working, they may be serving in ministry – or even missions! – and I pray for God to bless my future husband's efforts.
His Family Relationships
He's a son – and maybe a brother too.
The Company He Keeps
He has pastors, teachers, mentors, friends, colleagues … and maybe hundreds of "others" on Facebook!
Wisdom
I pray that God grants my future husband wisdom in all his ways.
Purity
Purity of body, mind, heart, soul … this is important!
Generosity
Is he generous – with his time, his possessions, his money … his "self"?
Pray for your future husband from the Bible.
The Bible is "God-breathed and is useful for teaching, rebuking, correcting and training in righteousness, so that the man of God may be thoroughly equipped for every good work" (2 Timothy 3:16-17) – we can be inspired by the Word of God as we pray for our future husbands!
Psalm 15 says "Lord, who may dwell in your sacred tent? Who may live on your holy mountain? The one whose walk is blameless, who does what is righteous …" (:1-2) and Psalm 112 says "Praise the Lord. Blessed are those who fear the Lord, who find great delight in his commands …" (:1) – so I pray, "Dear God, please help my future husband to fear You and love your commands; help him to walk blamelessly and act righteously."
David is described a man after God's own heart (Acts 13:22) and a man who accomplished God's will in his generation (Acts 13:36) – so I pray, "Dear God, please shape my future husband into a man after your own heart and guide him into accomplishing Your will in this generation …"
A number of the men in the Bible portray good, godly characteristics. For example, Moses was humble (Numbers 12:3) and Joshua was courageous (Joshua 1:9 and Joshua 24:31) – so I pray, "Please help my future husband to be humble and courageous …"
Look to God as you pray for your future husband.
It might be easy to become obsessive about praying for our future husbands, but my experience is that it's something that is regulated by God – and, less spiritually, the reality of the life God has give me to life today – in both frequency and intensity.
Sometimes I'll feel that God is laying a special concern about my future husband on my heart and I'll pray for that concern – be it faith or friends or vision.
Sometimes I'll think of my future husband randomly – and offer a quick prayer for him asking God to touch his heart and encourage him by reminding him that he is loved by God.
And sometimes … ? I'm busy living and I'll offer a quick prayer of the "please bless my future husband and keep him safe and happy" one morning a week and that's all.
If you feel led by God to pray for your future husband, you may find God directing your prayers, too. You may even find Him encouraging you to pray for your future husband when you're tempted to feel sorry for yourself and imagine a lifetime of old-maidenhood! I speak from experience …
Ask for a lot in your future husband in faith.
I may be suggesting we ask for a lot, but my prayers are a reflection of my hopes. I know I'll marry a man – a real man who has food fads (which hopefully coincide with mine) and grumpy days (but hopefully not too often!). He won't be perfect, any more than I'm perfect. But I trust God is refining my future husband into the image of my Jesus as He is refining me – and so I pray in faith for my future husband to be a man of God. I believe that is what God desires for all His men – all the men who know and love Him. And I believe this is what God desires His woman to hope and pray for … in faith.
"As you pray for you future husband, don't just focus on your own desires, but on how your prayers can help shape him into the mighty man God has called him to be. If you pray diligently for him and carry this practice into marriage, you will be amazed at how God molds and shapes him into the man your heart desires."
(Leslie Ludy)


See also: Praying for Your Future Husband (a review)
(originally published in 2011)
Photography: JenniMarie Photography