Disclosure: This post contains affiliate links which won't change your price.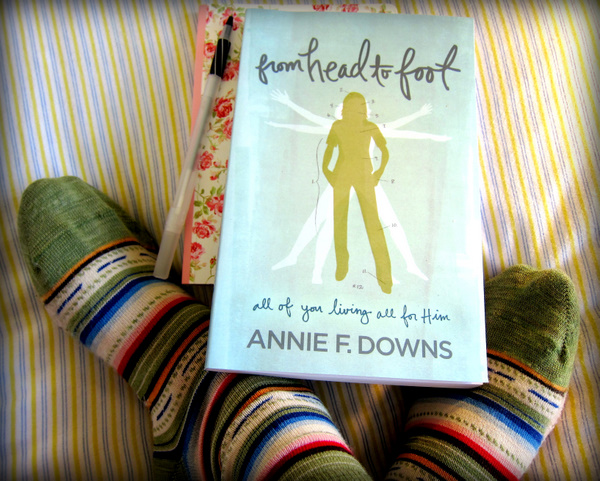 Annie Downs loves Scotland, ice cream, and unexpected shades of nail polish. Even more, she loves Jesus — and talking about Jesus to girls like you…and me.
I'm older than Annie's intended audience. In fact, I'm even a little older than Annie herself. But she had me from the very beginning: from the snow day (that wasn't) to a heart-breaking moment in front of her mirror, to the piercing questions she asks about life and our looks.
What if we don't love our physical selves, even though we know we are crafted by God? How do we love an Artist whose work we don't like?
Whether it's growing pains or greying hair, a shape longed for, or long-lost, it's not always easy to be friends with our physical frame. In that sense, this book is for women of all ages: as an introduction, or a refresher course. From Head to Foot: All of You Living for All of Him takes a trip beyond self image to a whole-hearted overhaul of your life from inside out, for one simple reason: you (and your body!) were made to glorify God.
This journey starts at the top, with a chapter each for your mind, eyes, ears, mouth, shoulders, heart, hands, stomach, knees and feet. Some of Annie's points made me stop and say "Huh! I never thought of it that way before." Others were (quite frankly) convicting. Still others had me nodding vigorously in my big-sister heart and creating an ever-lengthening list of girls with whom I'd like to share this book.
Annie writes like a friend. She opens her heart. She makes me laugh. And she tells me the lessons she's learned the hard way. Annie also writes like a mentor. She's biblical, she's practical, and she's encouraging. She tells me how I can glorify God. I walk away, not only with lessons for my mind, but steps to take with my heart — and my whole body, From Head to Foot.
In what physical feature of yours do you recognize God's design? I'm grateful that I'm the shortest of my sisters, because it makes me travel-sized!
(Congratulations to Emily for winning a copy of Annie's book!)