Of Anne, Kilmeny, and Lanier's Books
What imaginative girl has not been captivated by the works of Lucy Maud Montgomery? With a loving eye and a ready pen she gave to the world a tiny island off the coast of New Brunswick and a little band of girl heroines that have delighted the souls of 'kindred spirits' the world over. How much we owe her, we who cherish the beauty and romantic ideals of another day! Reading Anne of Green Gables at thirteen gave me my very first glimpse of how delightful it was to be different, of the glad freedom in being yourself and not everyone else. Lucy Maud Montgomery was the first of many authors to lead me through the realms of enchantment—and how happy to discover that the magic lay not in flamboyant plots and fanciful settings but in friendship, human love and the beauty of God's creation.

–"Lucy Maud Montgomery" on laniersbooks.com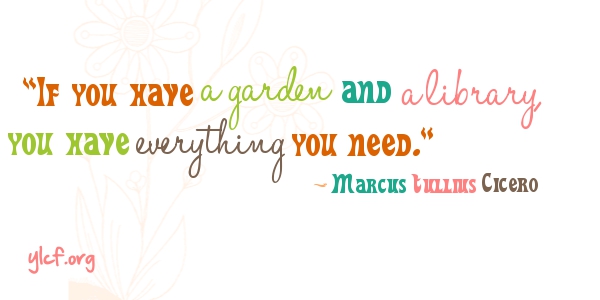 When asked who my favourite author is, many names leap into my mind, but at the forefront is always L. M. Montgomery. Her beautiful prose is like poetry and no matter how many times I've read it, a happy sigh always accompanies finishing one of her books.
L. M. Montgomery is best known for her beloved Anne of Green Gables. Anne and I met as young girls and a lifelong friendship was formed. I've read all eight books in the series countless times and over the years Anne has accompanied me through my girlhood, into becoming a single young woman, then a blushing new bride, and then a mother of little ones. Along the way I also met new friends, each dear in their own way. Valancy and her beloved Blue Castle. Pat of Silver Bush (and later Mistress Pat). The Story Girl and her friends along The Golden Road. Jane and her sweet Lantern Hill. And then there's Kilmeny of the Orchard.
My first enthralling encounter with this lovely little book came washing over me at the opening sentence…'The sunshine of a day in early spring, honey pale and honey sweet'…and I felt like I had been reunited with a long-absent friend. I was well acquainted with Anne when I first met Kilmeny as a teenager, but the fascination of this enigmatic dark-haired maiden and the ardent young tutor who loved her hadn't faded a bit. Some of Lucy Maud's most tender passages and stirring depictions of the rural life so beloved by her readers are tucked away in this small gem of a novel. Indeed, it's all I can do not to go and curl up on the porch swing with it at this very moment.

–"Kilmeny of the Orchard" on laniersbooks.com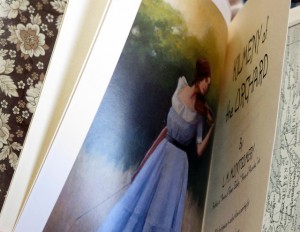 Often overshadowed by Anne or Pat or Emily, Kilmeny is one of Montgomery's lesser-known heroines (like Valancy or Jane…my favourites after Anne). Her story is a short one, and she's not mentioned in any of Montgomery's other works. But her story is full of such sweetness and beauty that it makes up for its brevity. As always, Montgomery's delightful descriptions make me feel transported to the lovely Prince Edward Island. Her words always reawaken a yearning to visit that beautiful place, but they also help to soften the blow that it hasn't come to pass yet.
The first several chapters of the book can leave you questioning how on earth the plot will end up in an orchard with a girl named Kilmeny, but it does happen. And while Kilmeny's story can seem rather unlikely, that doesn't hamper the anticipation of wondering what will happen next.
Recently, dear Lanier at Lanier's Books unveiled a project she had been working on…handbound copies of Kilmeny of the Orchard. And they look absolutely beautiful. Lanier shares:
I selected this title for many reasons, chief of which being that I fell in love with it as an impressionable teenager, and I wanted to honor Montgomery herself and her influence on my life with an affectionately handcrafted edition of her second book.

–"An Unveiling" on laniersbooks.com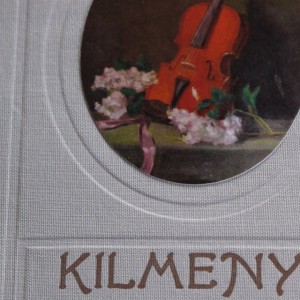 Kilmeny's story is one that can be enjoyed again and again by any lover of beauty. Each reread brings its own sweetness and we're reminded again of what an amazing thing love is.
Kilmeny's love story was like a sweet fragrance wafted over the fields of the unlost past, and it sang a song to me as enthralling as one the heroine's violin might have produced.

-Lanier Ivester, preface to Kilmeny of the Orchard
YLCF is thrilled to being giving away a $20 gift certificate to Lanier's online Book Shop. Lanier's Books specializes in beautiful old books, hand-selected by Lanier herself. All you need to do is visit the Book Shop and comment sharing what you would buy if you won. (Giveaway ends March 30. Congratulations to Tarissa — she's commenter #9, selected by random.org as our winner!)
(All quotes from Lanier Ivester and laniersbooks.com used by permission.
Visit the Art House America Blog for more of the story of Lanier's bookbinding venture.)