humility and grace in a feminist world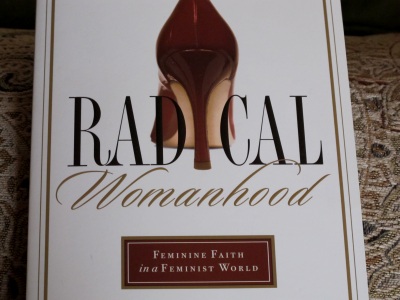 Carolyn McCulley was a successful professional in her early thirties when she first met Jesus. She was a staunch feminist, a position founded on roots reaching much deeper than the more recent challenges of being a professional woman in the corporate world. Her defense of woman was one that began in the schoolyard, goaded by a sense of righteous indignation at playground taunts. Phrases such as 'you throw like a girl!', obviously meant to offend, suggested that being a girl is somehow a bad thing – a misfortune, even. McCulley soon came to the conclusion that while there were some bad things about being a girl, those bad things were wholly and solely the fault of men. Men were the problem, and they were a problem women were going to have to fight against – and hard.
When God became a reality in her life, McCulley started engaging with church and Christians and scripture. Soon, she began to bump up against some unsettling concepts, including apparently politically incorrect conceptions of gender roles, ideas such as complementarianism, and 'unfair' doctrines like submission. But as McCulley engaged with these topics and her spiritual walk developed, so, too, did her concerns with feminism.
Radical Womanhood is the outcome of McCulley's shift in thinking. It is a thoughtful primer which explores the history of feminism by looking at the various waves of the feminist movement and the ripples felt as a result of this 'seismic cultural change'. It is a change which has reverberated both within and without the church, and has repercussions on how we think about and live out concepts of 'womanhood, sexuality, marriage, family, and children.' McCulley looks at the major movers and shakers of the feminist movement as well as its most influential texts, and examines feminism's development and validity from a biblical worldview. Her assessment is measured and thoughtful, neither condemnatory nor condoning. In fact, McCulley agrees that feminism arose out of a natural response to the subjugation and mistreatment of women:
'The kicker is that feminism is partially right. Men do sin. They can diminish women's accomplishments and limit women's freedoms for self-centred reasons. Some men sexually assault women. Some men abuse their wives and children. Many men degrade women through pornography. Feminism didn't rise up because of fabricated offenses… it is understandable, humanly speaking, why this movement did emerge.' (p. 26)
Feminism, however, provided only a partial answer to these problems – and at what cost? 'My concern,' McCulley continues, 'is what we've absorbed from our culture about being women. Feminism (like most other "isms") points a finger at other people for the problems of life. But… Scripture tells us that other people are not the real problem.' (p. 27)
McCulley brings humility and grace into the discussion, engaging in an often contentious topic with Christ-focussed intellectual appeals rather than incensed emotional arguments. The chapters are interspersed with true-life stories of women who looked at feminism for answers and found it wanting. These testimonies, from those who 'found God to be true to His word', provide a practical follow-up to the nitty gritty examination of a biblical complementarian view. These personal stories are not drenched in anti-men bitterness. Rather, they uphold marriage and the biblical picture of gender roles, offering a sense of hope instead of anger or resentment.
As Christian women, we should be informed and engaged with the issues which are integral to our society, measuring the validity of any movement in light of biblical truth. Feminism is one such powerful force in our culture, and Carolyn McCulley's Radical Womanhood is an ideal book to inform and engage in the discussion with wisdom and grace.
YLCF is giving away a copy of Radical Womanhood. To enter the giveaway, comment and share about someone who has been a role model to you of "radical womanhood" in a feminist world. (Giveaway ends March 26. Congratulations to Kandace, commenter #14, for winning a copy!)